MILTON, Ga. — Allie Kantor, a rising senior at Blessed Trinity, is back on the golf course, enjoying the sport she loves after undergoing treatment to treat her scoliosis.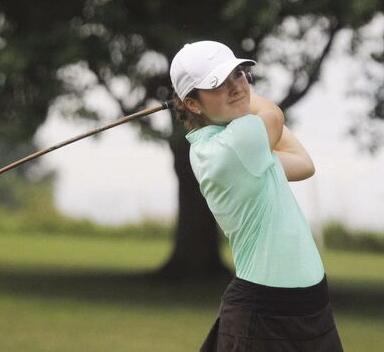 Kantor has a handicap of zero, but getting to this stage meant stepping away from the game to treat her scoliosis that almost required surgery. The Milton resident was diagnosed on her 13th birthday, and her family sought the opinion of Dr. Nicholas Fletcher, medical director of the Spine Program Quality and Outcomes at Children's Healthcare of Atlanta.    
"Being a golfer, a lot of that is spine rotation," Kantor said. "I knew that if I had to get a spinal fusion, I wouldn't be able to golf at the same level as I had before. My curve was noticeable. One of my shoulders was a lot higher than the other. One of my shoulder blades stuck out a lot more."
To prevent Kantor's curve from worsening to the point of needing surgery, Fletcher recommended a new bracing technology called the Rigo Cheneau, commonly referred to as a Rigo brace. It's an intensive bracing method that Kantor stuck to for 18 months. For a full year, she was wearing the brace 22 hours a day.
Kantor said that adapting to the brace was difficult at first, but with the support of family and friends, she had a positive mindset and knew this was what she needed to do for her health and future in golf.
Back in February, Kantor won the Rocket Tour Players Championship at the University of Georgia, marking her first win since scoliosis treatment.
"It was just really great to be able to play the sport that I loved again and to be able to do the things that I loved again because I just really love to compete," Kantor said.
Kantor is glad to be able to play golf again as well as travel for the sport like she has in the past. Though she has limited travel recently, she said she enjoyed past trips to New York and Ireland for golf.
Kantor said she knew she wanted to make a difference for other kids and teens in need of scoliosis treatment. Since the Rigo brace was so new when Kantor received her treatment, she had to travel out of state for her fittings.
Children's Healthcare of Atlanta began offering Rigo bracing in 2018 and is one of the few programs in the country that offer it.
"What Children's is doing is so great. I'm really glad and grateful that so many more kids are getting this opportunity now," Kantor said.
To help other patients gain the same access to the standard of care that allowed her to get back to golf, Kantor began fundraising efforts through American Junior Golf Association's Leadership Links to enable access to the Rigo brace.
"I really wanted to fundraise for Children's because Dr. Fletcher and the Rigo brace saved my life," she said. "I'm so grateful for the care that Children's gave me, so I could get back to playing golf."
Most recently, Kantor played in the Georgia State Golf Association Women's Match Play Championship. She said she hopes to pursue college golf.