FORSYTH COUNTY, Ga. — After trailing by as many as 15 points on the road, Milton boys basketball knocked off West Forsyth to take control of the Region 5-AAAAAAA standings and make another claim as one of the top teams in Class 7A.   
The game couldn't have started much better for West Forsyth. The Wolverines put up 30 points and built an 11-point lead over the Eagles after one quarter. Junior big-man Tyler Lane had a monstrous quarter, finishing with nine points and five rebounds.
The second quarter belonged to Milton, who held the Wolverines to 10 points in the period and cut the deficit to 40-36 at halftime.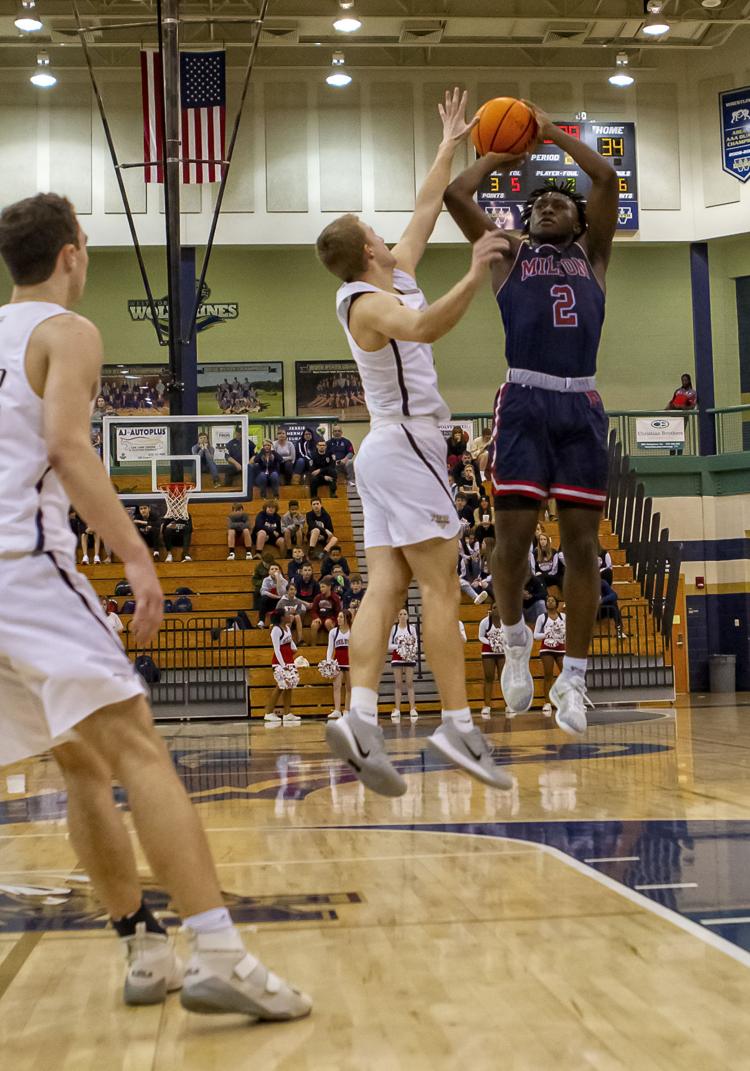 Milton point guard Bruce Thornton posted 12 points in the opening half and had an even better second half — as did the rest of the Eagles.
Milton continued chipping away at the lead amassed by West Forsyth, and with time winding down in third quarter, the Eagles took their first lead of the game. Senior Evan Hurst hit back-to-back threes to put the Eagles up 57-53, and Milton retained the lead the rest of the night.
"We finally woke up," Milton head coach Allen Whitehart said. "Don't get me wrong, they're a really good basketball team. Their kids came out ready and we weren't. I felt like we were asleep at the wheel, and then we made the proper adjustments and defended like we know how to do. That changed the game. I don't think it was our offense, I think it was our defense."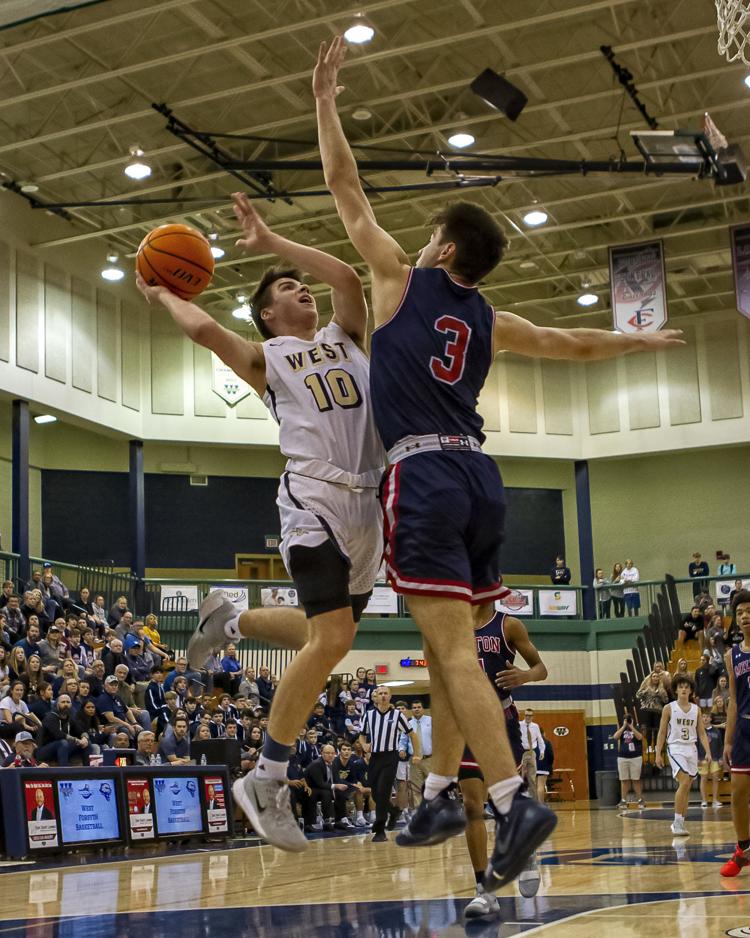 Despite a scorching hot shooting performance from West Forsyth junior Brock Bidwell, who finished the night with 27 points and six 3-pointers, the Wolverines struggled to score after their explosive first quarter. After giving up 30 in the opening eight minutes, the Eagles held West to 10, 13 and 13 points in the following periods.  
Thornton finished the game with 31 points and seven assists, and Milton freshman center Lebbeus Thomas "L.T." Overton added 14 points and 13 rebounds. In addition to hitting the three-point shot that gave the Eagles the lead in the third quarter, Hurst finished with 16 points and five rebounds.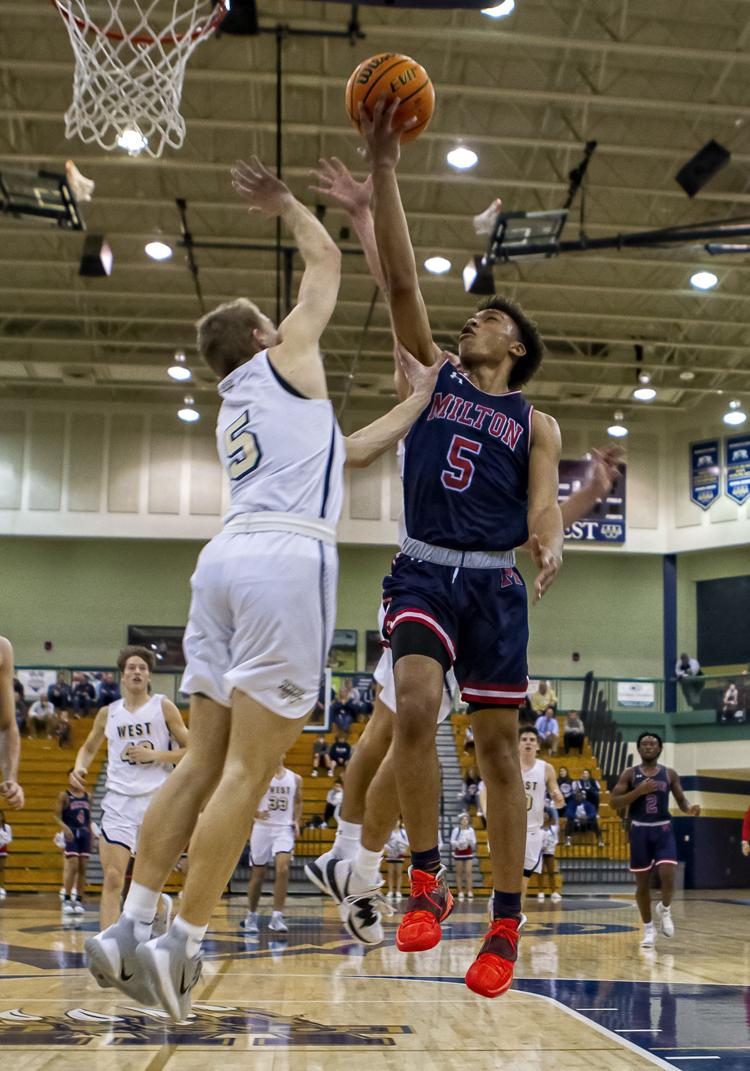 "[L.T.] was massive," Whitehurst said. "He kept the ball alive with a lot of rebounds, and that's what we expect out of him. He hit some key free throws when the game was tight and had some key putbacks. He's a big part of what we're doing."
The victory for the Eagles is significant, a point Whitehart made after the game, with Milton and West Forsyth each entering the night 13-3 overall and 3-0 in region play.
"It puts us in the driver's seat in the region," Whitehart said. "We got to South Forsyth next, and we can create some separation at that point if we can get another win."
GIRLS: WEST FORSYTH 41, MILTON 21
The opening game of the night featured a one-loss Wolverines team against a winless Eagles team. Those trends continued, as the West Forsyth girls captured their 16th win of the season and Milton fell to 0-12.
The Wolverines (16-1, 4-0) were led by sophomore sisters Calie and Kalie Thrower, who combined for 27 of the team's 41 points. Each sister hit three 3-pointers on the night as Calie finished with 16 points and Kalie finished with 11 points.
"Both of those girls can shoot, and they play well together," West Forsyth head coach David May said. "It's good to have that. They can go home and talk about stuff that's going on in the game. But we have to play better than we did tonight. They shot the ball well at times, but I thought we settled for a lot of easy shots instead of good shots."
Despite the 20-point victory, May saw major room for improvement in his team's performance against Milton.
"Tonight we were not good," May said. "Just poor effort and poor focus. It just wasn't good all around. I thought we were pretty bad in every place we could be bad."
The win over Milton matches the Wolverines' win total from a season ago. West Forsyth finished 16-12 overall, 8-3 in the region and was eliminated in the first round of the state tournament. While their success thus far this season might be surprising to some, May is not one of those people.
"The girls worked hard in the offseason getting better," May said. "Tonight didn't show it as much as we would like, but they did a good job in the offseason of improving their game."