NORTH METRO ATLANTA — In mid-March, senior athletes laced up their cleats, put on their uniforms and competed in their final high school competition. Though, they did know it at the time. 
The suspension and ultimate cancellation of the spring season brought an unexpected and unfortunate end to the high school careers of all senior student-athletes. Local schools have taken to social media and used other means to celebrate their seniors, and many are now turning on the lights at their stadiums to celebrate the class of 2020.
Schools, including Roswell, Centennial, Johns Creek, Northview and others are turning on the stadium lights at certain times to honor the seniors who had their final season cut short. Some school are turning on the lights at 8:20 p.m. each day for 20 minutes, while others lit up their stadiums for 20 minutes on April 20 in the 20th hour of the day.
Logan Faust, head girls lacrosse coach at Johns Creek, said the school has been looking into honoring its seniors any way it can, and lighting up the stadium is just one way to do it. Faust said some schools in neighboring counties had started the trend, and Johns Creek followed suit.
"We have been throwing out so many ideas on how to honor them," Faust said. "How can we show them that we are still thinking of you, still love you, and show that you are in our hearts and in our minds?"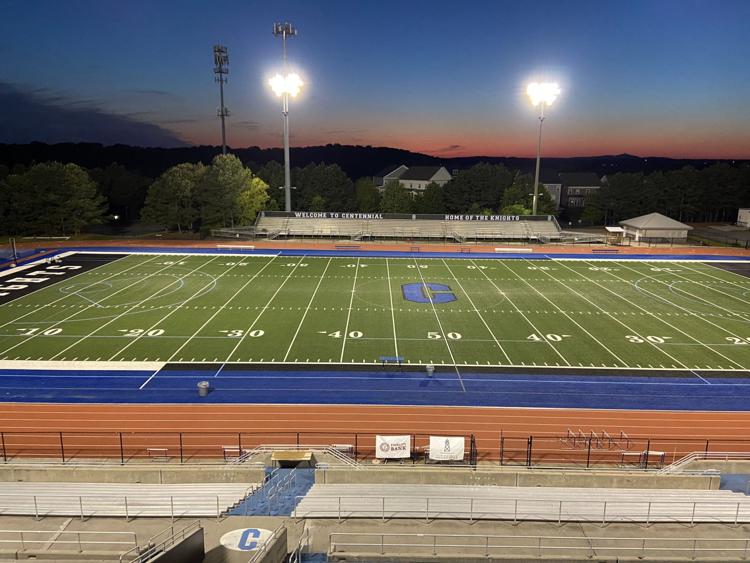 Of the 26 players on the Gladiators' lacrosse roster, 12 were seniors who played their final high school game March 6 with a 14-10, region win over Centennial. Four players — MJ Tredway, Avery McIlwaine, Sandy Salit and Lexi Dawson — will play collegiately next year.
"I hate it for this group," Faust said. "Last year they made it far into the state tournament, and I felt like this group was gaining momentum. They were the reigning region champs, and I think they could have done that again, and I saw us going even farther in the playoffs."
Though the cancellation of the season was devastating news, Faust's message to her seniors was still optimistic.
"I did not want it to be a message of sadness," she said. "I told them to take it as another chapter in their books, use it as a method of growing. This was a short chapter, but it's time to close it and start writing the next."
Centennial High School also turned the lights on at its stadium to celebrate seniors but took a different approach. The school illuminated The Fortress for the 20th hour of April 20.
Athletic director Jeff Burch said the celebration turned into a bit of an event. He said many seniors gathered at the Kohl's parking lot directly across from the stadium when the light switch was flipped.
"All the kids were spread out and officers checked to make sure, and they were doing great," Burch said. "Everyone was on top of their cars, yelling to each other from a distance. It was nice to be able to give them at least some face time together. It's so cool to know the simple act of turning the lights on got them together."
It can also serve as a positive memory for the seniors amid an otherwise melancholy time.
"It was cool to see [the stadium lighting] was meaningful," Burch said. "We want to give them some meaningful experience to take the place of what they have missed out on."