MILTON, Ga. — Milton boys basketball is living up to its high expectations, and the Eagles added credence to those who believe they are among the top teams in Class 7A with a controlling win over region foes Lambert Friday night.
Milton shot out of the gates and gained an early lead, largely behind Kanaan Carlyle's shooting. The freshman guard nailed three 3-pointers in the opening minutes of the game, and the Eagles led 20-11 after the first quarter.
The Longhorns showed some fight in the second period, but the Eagles' offense was relentless. Carlyle finished the half with 15 points and four rebounds, and Milton led 38-30.
The Eagles built on their lead up in the third quarter and entered the final period ahead by 15 points.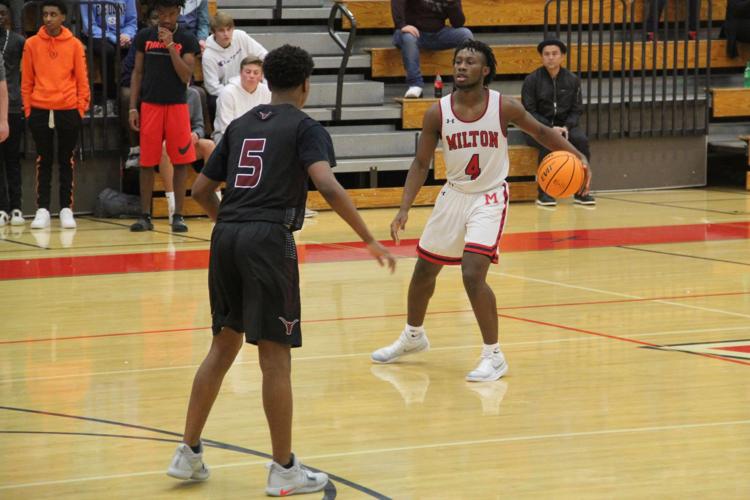 Lambert used its size mismatch in the paint to its advantage all night. Senior Colin Granger, listed at 6-foot-9, helped keep the Longhorns in the game with 17 points.
Ultimately, Granger's performance wasn't enough to bring his team back from behind. Milton took the win, 78-65, to remain atop the Region 5-AAAAAAA standings.
Carlyle led all scorers with 23 points on the night in addition to his five rebounds. Eagles senior Evan Hurst finished with a double-double of 18 points and 11 rebounds, and Bruce Thornton finished with 15 points, eight assists and six rebounds.
"It's a big win," said Milton head coach Allen Whitehart. "That's a great program. We've split the last two region championships, and [Lambert head coach Scott Bracco] and I are really great friends off the court. These are major wins anytime against Lambert."
Milton (7-1, 2-0) plays Westside in the Hawks Naismith Holiday Classic before traveling for tournaments in Florida and North Carolina over the holidays. The Eagles return to region play on Jan. 7 at North Forsyth.
Lambert (6-6, 0-2) will spend its winter break hosting the Lambert Holiday Classic and playing in the Tournament of Champions Holiday Classic at Wheeler. The Longhorns return to region play Jan. 7 against Forsyth Central.
Girls: Lambert 54, Milton 32
Lambert got the better of the winless Eagles, 54-32, as freshman Briley Elder put on a Steph Curry-like shooting display.
A competitive first half ended with the Longhorns up 19-9 over the Eagles. Elder scored 16 of Lambert's 19 points in the half, making four 3-pointers and four free throws.
Elder's scoring prowess continued in the second half. The freshman guard poured in four more 3-pointers in the third quarter, and the Longhorns held a 40-21 lead over Milton heading into the final eight minutes of play.  
Elder finished the game with 32 points coming off eight 3-pointers, six free throws and one layup.
"She made some shots tonight," said Lambert head coach Brian Moon. "She's had games like that this year where she's made a bunch. I'm probably a little more excited about how we defended them. We were able to get their best player in foul trouble which was huge. The girls showed grit tonight and drew a couple of charges. It was a good win for us."