JOHNS CREEK, Ga. — Coming off a season in which it made history multiple times, Johns Creek head coach Matt Helmerich can't help feeling a bit disappointed. 
The Gladiators had Valdosta on the ropes in the Sweet 16 of last year's playoffs, but they were unable to advance to the Class 6A quarterfinals. The feelings of elation from finishing undefeated in region play and winning the first playoff game in program history were quickly washed away, as the Gladiators season came screeching to a halt against the national powerhouse Wildcats.
"I've coached state championships and coached some big games, but I've never felt anything like that in the stadium that night," Helmerich said. "That was a really cool thing to be a part of. Obviously, we came out on the wrong end of it, and it's bugged me to the core about some things we could have done different."
Helmerich preached "finishing" to his team throughout the offseason and preseason in an effort to take the next step as a program.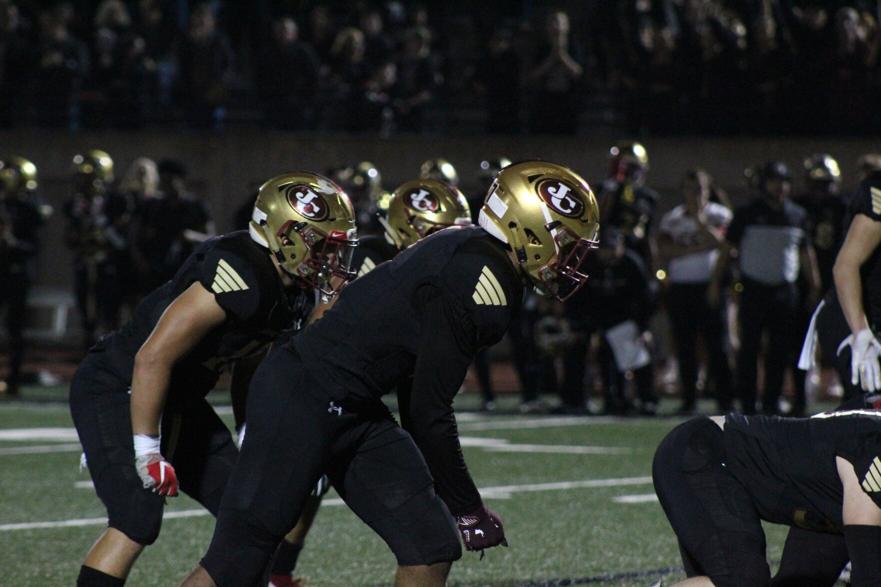 "We've talked about it since the winter, just being able to take that next step and finish," Helmerich said. "We were winning that game, and we didn't finish."
The Gladiators will have a different look on the field this year, as many key players from last year's team have moved on to college.
Not only will the Gladiators be without 3,000-yard passer Ben Whitlock at quarterback, who now plays at West Georgia, but they lost nearly their entire receiving corps to graduation. In addition to Whitlock and running back Will Watson graduating, the top seven receivers for Johns Creek all graduated, including several three- or four-year starters.
"We had a really good team and we had some seniors on that team who were three-year starters and had been with the Johns Creek program for life," Helmerich said. "Those are Johns Creek kids through and through. It's a really tough group to replace."
Taking over at quarterback will be senior Quinn Teeples, a veteran of the program who nearly won the starting job last year, Helmerich said.
"Quinn gave Ben a run for his money last summer," Helmerich said. "That decision was not made in June. It was made in mid-August that we chose Ben as our starter for our first game, and he had a great season throwing for over 3,000 yards. Quinn [Teeples] is more than capable of running the offense…He's an athletic kid, and we fully expect him to lead the team this year."
Helmerich and the Gladiators have been forced to think creatively finding targets for Teeples to throw to.
Defensive players, such as seniors John Stegenga and Jack Yensel, have received practice reps at receiver, along with senior defensive lineman Cole Nelson. Helmerich said 6-foot-3 junior Rowan Darnell was the surprise of the summer with his athleticism and ability to "go up and get the ball."
Luckily for Johns Creek, any woes finding their groove in the passing game will be eased by a big offensive line and what Helmerich described as a "two-headed monster" of running backs. The Gladiators return senior running backs Tank Pritchett, a Colgate University commit, and Dylan Parr, a player who was ineligible a season ago.
Helmerich said the Gladiators will run the ball more often and better than they have in the past thanks to their rushing duo in the backfield and a monster of an offensive line.
The Gladiators' offensive line features 6-foot-5, 285-pound junior Tyler Gibson, who already holds college offers from LSU, Oregon and Florida State. Senior David Alexander, who has started for the Gladiators since his sophomore year, also returns on the line, and senior Andrew Song will likely start at center after helping out on the line season ago.
"As good as our offense was last year, we had two guys on our offensive line who were under 175 pounds," Helmerich said. "This year, we're closer to averaging 230-240 pounds, easily."
Helmerich said the strength of the defense will be its front seven.
A large part of Helmerich's confidence comes from senior defensive end Cole Nelson, a Virginia Tech commit. Nelson is widely regarded as one of the top defensive linemen in the state. Alongside Nelson will be David Alexander and Charlie Leon, two big-bodied veterans of the program.
At safety, Helmerich offered high praise for senior John Stegenga, the defensive MVP of last year's team. Stegenga earned MVP honors as a junior while playing for a defense featuring several players who went on to play college football.
Helmerich also highlighted Justin Hunter and Tremonte Barnett who will hold down the linebacker positions. He also praised specialists, like long snapper Kurtis Robinson who is ranked a five-star prospect by Kohl's professional camps. At punter and kicker, senior Josh Huiet returns. Helmerich said he's never seen a specialist work as hard in the weight room as Huiet.
"I truly believe we have the best set of specialists in the state," Helmerich said. "Those two are big weapons that not a lot of people talk about."
The Gladiators will also be playing new teams in Region 7-AAAAAA due to the region and class realignments made by the GHSA following the 2019-20 season.
"I think we've developed a good rivalry with Centennial and Cambridge, and Hooch is always going to be a big rival for us," Helmerich said. "The only rival we really lost was Northview. It will be nice to play some new teams."
The Gladiators went 16-0 the last two years in Reg. 7-6A, and they have a chance to extend their winning streak in region play and win a third straight region title in 2020. Ultimately, though, Johns Creeks' sights are set on taking the next step as a program.
"I think these kids can taste it," Helmerich said. "They were so close last year, and I think they want to build off that. They're not relishing in last year's success. They know what takes to get to that next level. You have to be able to finish. This group is ready to take that next step."