ALPHARETTA, Ga. — Johns Creek boys basketball left the Alpharetta gym Saturday night with a 13-point victory after trailing the Raiders by as many as 14 points in the third quarter. 
The Gladiators entered the contest the favorites, but the Raiders bucked expectations and took a demanding lead early in the first quarter. 
Alpharetta senior Jayden Stephens began filling the stat sheet with 11 points, four rebounds and one assist, and junior Malachi Chipp hit a three-pointer at the buzzer to put the Raiders up 19-9 after one quarter.
In the second frame, Stephens picked up where he left off, and the Raiders kept the lead entering halftime. Stephens ended the half with 19 points, seven rebounds and one assist, and the underdog Raiders led 34-28 over the Gladiators.
As the second half began, it appeared that Alpharetta was going to cruise to an upset victory over one of the top teams in the region. That changed midway through the third quarter, when Johns, trailing 50-36, went on an 11-0 run to cut the lead to three.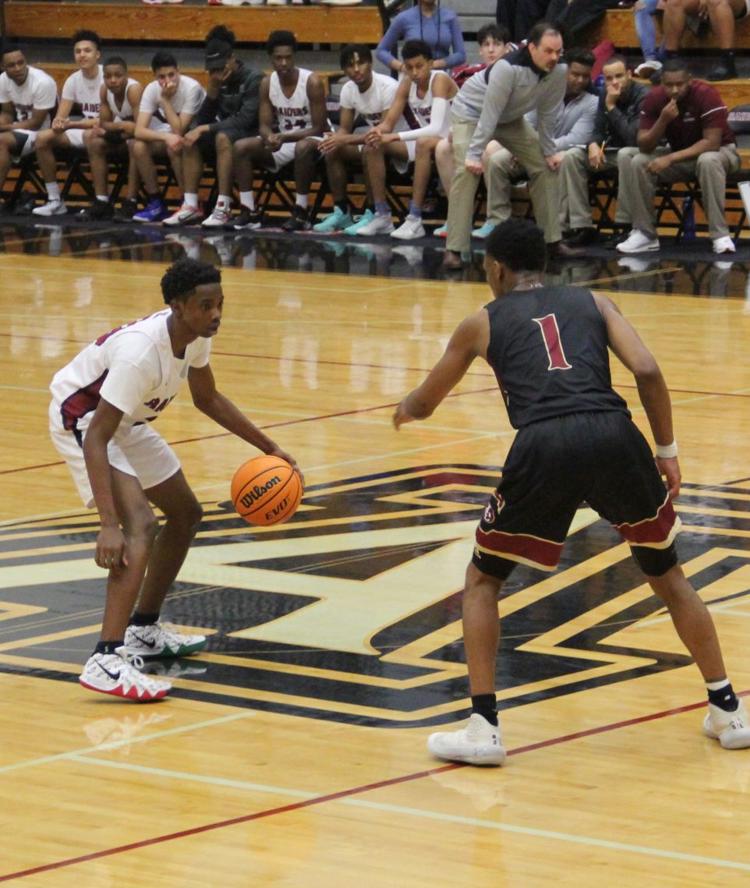 Junior guard Steven Lyles, who began the game on the bench, drilled three consecutive three-pointers to power the run at the end of the quarter. 
Early in the fourth quarter, Lyles gave the Gladiators their first lead of the night with a put-back layup. From that point on they didn't look back. 
Alpharetta's record fell to 4-17 overall and 3-9 in region play. Stephens' night ended early, fouling out in the fourth quarter with 30 points and eight rebounds for the Raiders.
With star point guard Jordan Johnson (six points and one rebound) in foul trouble much of the game, Lyles came up in clutch fashion off the bench for the Gladiators. Lyles finished with 30 points and four rebounds, and seniors Chase McKey and Nick Willis added 18 points and 15 points, respectively.
"Steven [Lyles] came in and just played his tail off," Johns Creek head coach Keenan Temple said. "He put us on his shoulders and brought us back. Jordan [Johnson] got in foul trouble, and Steven came in and basically saved the day."
The come-from-behind win puts Johns Creek at 14-6 overall and 8-4 region play. The Gladiators are near the top of the Region 7-6A standings, trailing first-place Chattahoochee and Cambridge by one game. 
While Temple sees the potential his team has, he is far from satisfied.
"The biggest message is that we can't take anybody for granted," Temple said. "We have to come out from the beginning and do what we do. If we do that, then the games are a lot more fun. I told our guys we got a target on our back now, so we have to wake up and be ready to play four quarters — not just a quarter and a half."