ROSWELL, Ga. — Blessed Trinity junior Hannah Miniutti added to her list of accomplishments Jan. 27 when she was named the 2019-20 Gatorade Girls Cross-Country Runner of the Year, earning her the designation as the top female runner in the state for the athletic year.
"I never expected it, and it's really special to me," Miniutti said. "I've been doing everything I can possible to be the best runner I can be, and getting to run with these incredible people around me has pushed me to my limits. In Georgia, there are so many incredible runners, and it's cool to have those people around me pushing me every race."
After struggling with injuries the last two years, Miniutti is now back to full strength, and her Gatorade Runner of the Year award adds to her growing list of accolades over the last few months.
In December, she was named the girls Runner of the Year by the Atlanta Track Club. She also paced the field in the 2019 GHSA cross-country state championship meet to capture the girls Class 4A state championship in November. Her state meet time of 18:51.49 bested the previous BT girls program record by over 34 seconds.
She also took the top spot in the Region 7-AAAA championship meet and the Meet of Champions Tournament.
Miniutti was the only girls runner from Georgia to compete at the Nike Cross Nationals Southeast Region championships where she finished 7th overall with a personal record of 17:46.7. That result allowed the BT standout to qualify for the Nike Nationals in December where she placed 75th out of the country's top 201 girls runners. 
"Competing at nationals was so special, I never could have seen myself getting there at the beginning of the season," Miniutti said. "I had watched YouTube videos of people talking about their experience at nationals, I thought how much of a dream it would be to compete there."
As the cross-country season progressed, Minuitti's coach said she could potentially qualify for nationals. While she believed that might not be a strong possibility until next season, as the year went on she saw her goal of reaching the pinnacle of high school girls cross-country become a reality.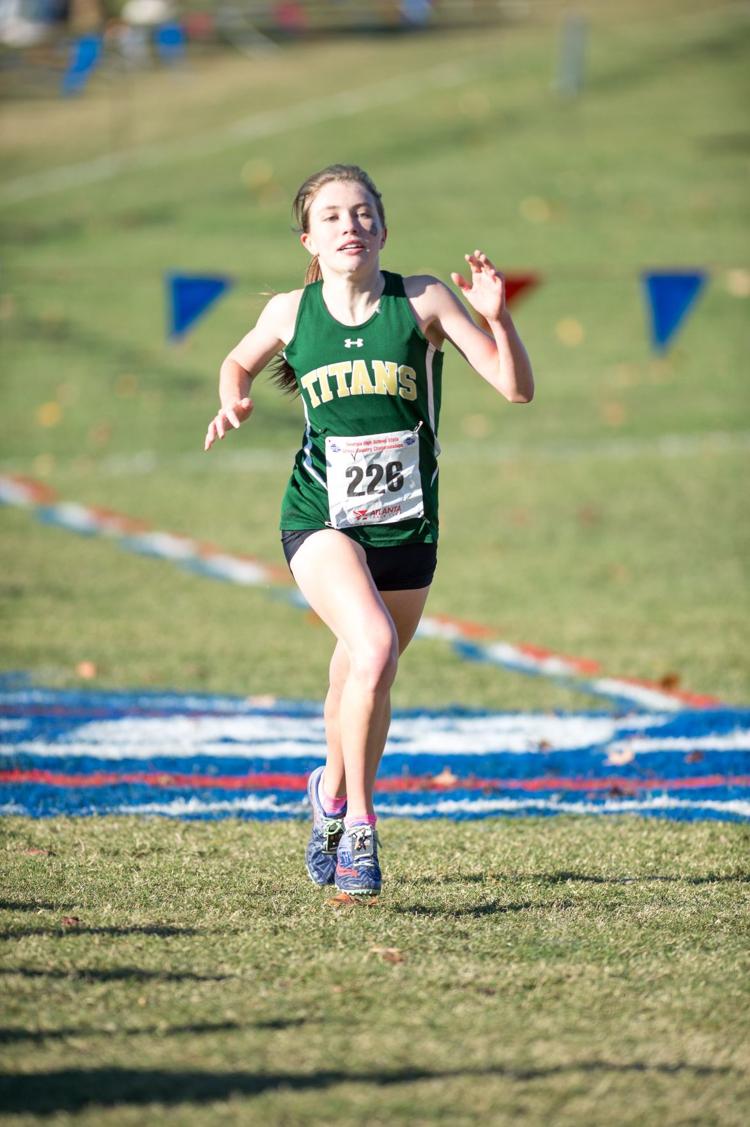 "The experience was unreal," she said. "They go all-out for the athletes. I got to meet so many new people and connections in the running world, and it is inspiring to have those runners by you."
For all her success, Miniutti is quick to thank Greg Johnson, the Blessed Trinity girls cross-country head coach, and the support from her teammates.
"Being with Blessed Trinity has been absolutely incredible," she said. "Coach Greg Johnson is the best coach I could ever ask for. He cares so much for the runners, and he focuses on individualism and creating a training set for one person that is best for them. And my teammates and I always push each other. They are sisters to me. I couldn't be more thankful to have that atmosphere."
Miniutti will now turn her attention to track and field where she competes in the 1600- and 3200-meter races. She will also continue to seek out a program to join at the collegiate level. She has had unofficial visits to Georgia Tech and Georgia and will soon visit Furman University. A focus for the junior will be finding a program where she feels like a part of a second family, which is how she feels at Blessed Trinity, she said.
In winning the Gatorade award, Miniutti can bestow a $1,000 grant to a local or national youth sports organization of her choosing. She is also now in the running for the Gatorade National Girls Cross-Country Runner of the Year award, which will be announced later this month.
Miniutti is the third North Fulton female athlete to earn the award in recent years. Lindsay Billings of Northview took the 2015-16 award, and Fellowship Christian's Emma Grace Hurley was named runner of the year for the 2014-15 season.