MILTON, Ga. — Milton's 2019 season ended Friday in the second round of the 7A state tournament with the Eagles falling to Marietta, 38-24. The Blue Devils jumped out to a 21-0 lead in the first half and never relented to deny Milton a chance to defend its 2018 state title. 
"My overwhelming feeling [after the game] was pride in our culture," Milton head coach Adam Clack said. "To see us go toe-to-toe with a team like Marietta, and honestly, not play our best game. Not to take anything away from them, but I felt like there were some opportunities we didn't seize in the first half, and they did. To keep seeing our kids fight back and never give up, it was a really cool moment for me to let loose on the sidelines and say 'Why not? Let's go for it.' And the kids kept fighting."
After cruising to victory in the first round, Milton faced a tough test in its matchup with Marietta. The Blue Devils' vaunted offense features several future D1 players such as quarterback Harrison Bailey (Tennessee), tight end Arik Gilbert (LSU), wide receivers Taji Johnson (Boston College) and Ricky White (Michigan State), and running back Kimani Vidal (Troy). And that's just the offense.
On the Blue Devils' first drive, Bailey found Vidal for a touchdown. On their next drive, Vidal ran for a touchdown from 15 yards out to give the Blue Devils a 14-0 lead. Marietta added to its lead early in the second quarter with a 3-yard touchdown run by Vidal, his third of the half.
With Milton's offense struggling to score and Marietta threatening to put the game away in the first half, the Eagles' defense came up with a momentum-shifting play.
Stephen Michaels intercepted Bailey's pass near midfield, and the Milton offense took over just inside Blue Devils' territory. On fourth-and-2, sophomore running back Jordan McDonald took a direct snap from shotgun and completed a pass to Jack Nickel, who outran Marietta defenders for a 32-yard score.
The Milton defense prevented Marietta from adding a score right before halftime, and the Blue Devils took a 21-7 lead into the break.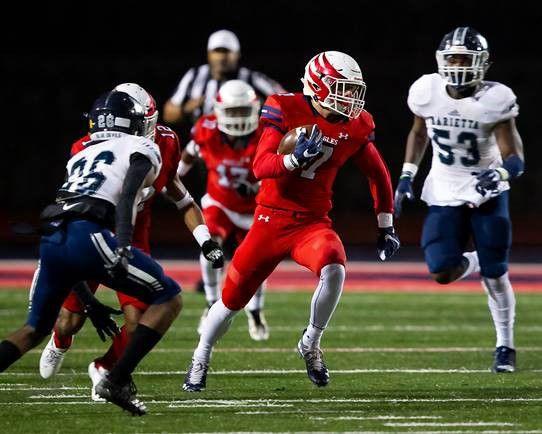 Milton kicked off to start the second half, but instead of kicking the ball deep, Clack elected to go for an onside kick. The gamble paid off, with the Eagles recovering to chip away at the momentum Marietta had built.
While the Eagles couldn't find the end zone after recovering the onside kick, they added a 37-yard field goal from Jason Aussin to make it a 21-10 game.
Marietta responded on its next drive with another touchdown — an 11-yard screen pass from Bailey to Vidal — and took a 28-10 lead halfway through the third quarter.
Vidal scored his fifth and final touchdown of the night early in the fourth, running the ball in from 4 yards out to put the Blue Devils up 35-10. They added a 29-yard field goal on their next drive to go up 38-10 on the Eagles with just over seven minutes remaining in the game.
The Eagles did not roll over.
The Milton offense fought its way down the field, and McDonald ran it in for a 6-yard touchdown to bring the score to 38-17 with less than five minutes to go.
Down three scores, the Eagles recovered another onside kick to keep their hopes at defending their 7A state title alive. The offense got the ball back and found the end zone in less than two minutes, with McDonald notching his third overall touchdown of the game.  
Though Milton recovered another onside kick with just over two minutes remaining, their comeback fell short.
"Football is a game of matchups," Clack said. "You got players and you got schemes, but at the end of the day it's going to come down to matchups. We knew this was going to be an extremely difficult matchup for us. When you can put three Division I receivers, a Division I running back and the all-time leader in Georgia passing records, that's going to stress us. Don't second guess the plan, and don't second guess the effort. Our kids were just a step off here or a fingertip there."
4Q | 1:27Marietta 38Milton 24The Eagles turn it over on downs, and it looks like this score will be the final. @MiltonEagles_FB kept it close against a tough opponent, but their season will end in the Sweet Sixteen.

— Zach Shugan (@ZachShugan) November 23, 2019
Milton went 8-4 overall this year in its third season under Clack, who is now the fifth winningest coach (30-9) in the program's 69-year history  The Eagles went undefeated in Region 5-AAAAAAA play for the second straight year before downing Central Gwinnett, 42-7, in the first round of the playoffs.