ATLANTA — Blessed Trinity secured its third straight state championship Friday night in a brawl against Oconee County, 17-14, and though they had raised the state championship trophy the two prior years, it was obvious the gravity of hoisting the hardware was not lost on those wearing Titans uniforms.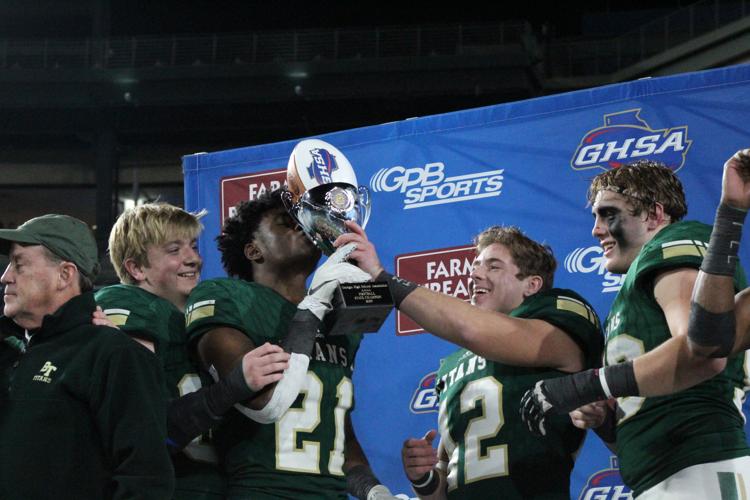 When the final whistle blew, senior cornerback Quinton Reese received a procession of hugs as tears of joy streaked his cheeks. Senior offensive/defensive lineman Jackson Filipowicz kissed the state title trophy with tears adding a sheen to his face paint. Senior running back Elijah Green carried a look of astonishment while celebrating with teammates.
While BT entered this season as the two-time defending champs, there were loads of question marks for the squad entering the year. One of the most successful senior classes in GHSA football history had graduated, and there were loads of new faces on the sidelines, both those wearing jerseys and those calling plays.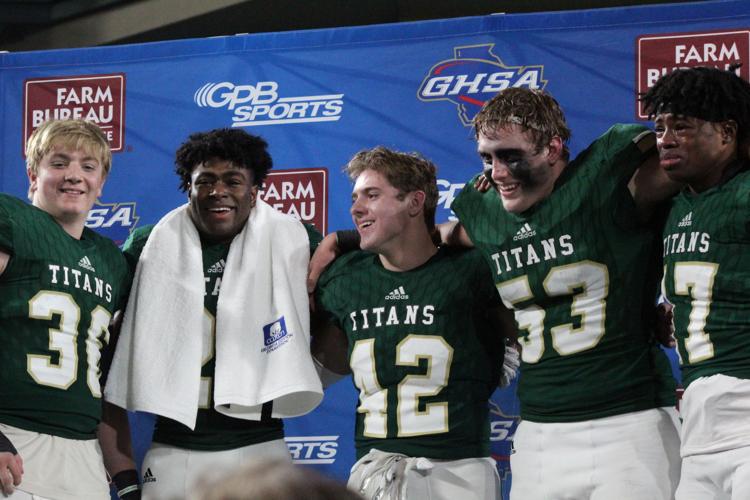 But the Titans, as dynasties do, continued to win.
"The win at Cartersville propelled us [in 2017], last year we felt like we had to win, but this is a whole new gig," head coach Tim McFarlin said. "A new coaching staff on defense, a whole new set of players on the field, gosh, they just played so hard tonight."
It was no easy sledding against the Warriors (13-2), but the Titans' M.O. of stingy defense and a powerful rushing attack propelled the team atop the championship podium.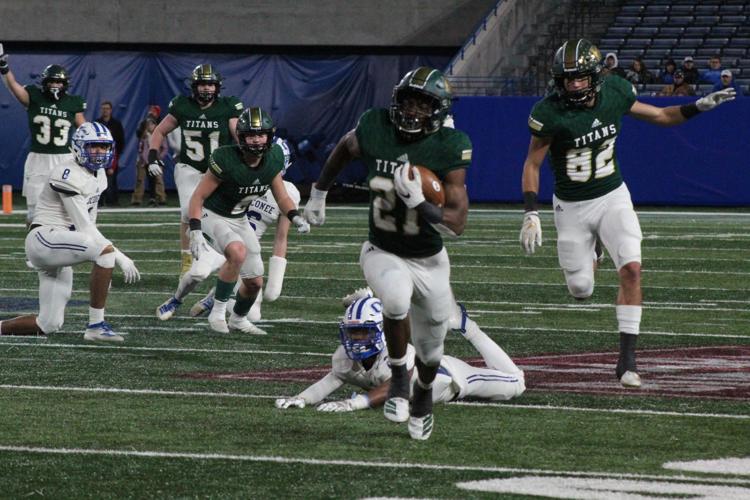 Oconee entered the game averaging around 150 yards rushing and passing per game, but BT allowed just 168 total yards in the contest. Oconee's Jimmy Boswell, a 1,000-yard rusher this season, was held to 38 yards on the ground.
Though BT (14-1) could not sustain pressure on Oconee quarterback Max Johnson, he was held to just 7-20 passing for 97 yards. Reese had the unenviable task much of the night of covering 6-foot-5 receiver Jack Johnson, but the cornerback held his ground and broke up several passes intended for the D-1 prospect. Carson Harof also batted away two passes intended for the quarterback's brother.
After a 50-yard drive on their opening possession and a 34-yard field goal from Aaron Werkheiser, BT's offense stalled until late in the second quarter.
The Titans trailed 7-3 with under two minutes remaining, but set up with a short field, BT needed just two plays to reclaim the lead with a 30-yard touchdown run from Green.   
BT forced another punt from Oconee and took over again on offense with under 30 seconds left in the half. That was plenty of time for Green to take a sweep play 66-yards down the sideline for the Titans' second touchdown in 65 seconds of play. Green had a standout night, rushing for 203 yards on 21 carries with both of BT's touchdowns. Justice Haynes had 55 yards on the ground.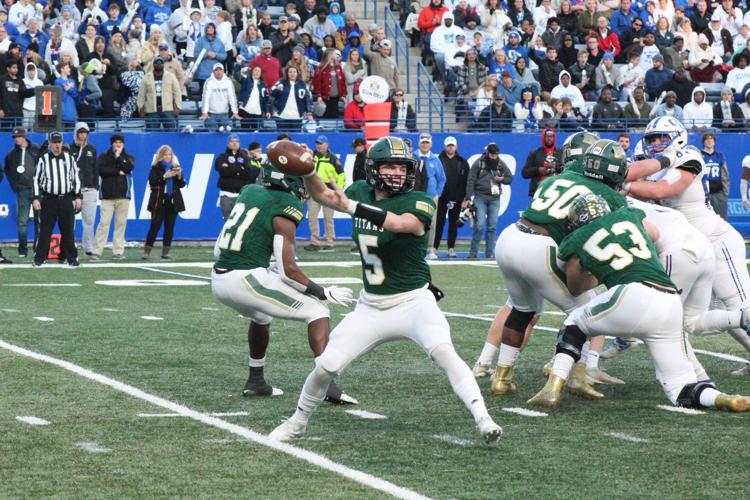 Oconee put together a 13-play drive late in the third quarter, aided by two third down conversions, and cut the lead to 17-14. The Warriors had just one possession in the fourth quarter and went three-and-out.
BT received the ball with just under nine minutes left in the game and used its backfield dual-threat of Green and Haynes to run out the clock.
However, the 17-play drive which ate just under nine minutes of clock was not without drama.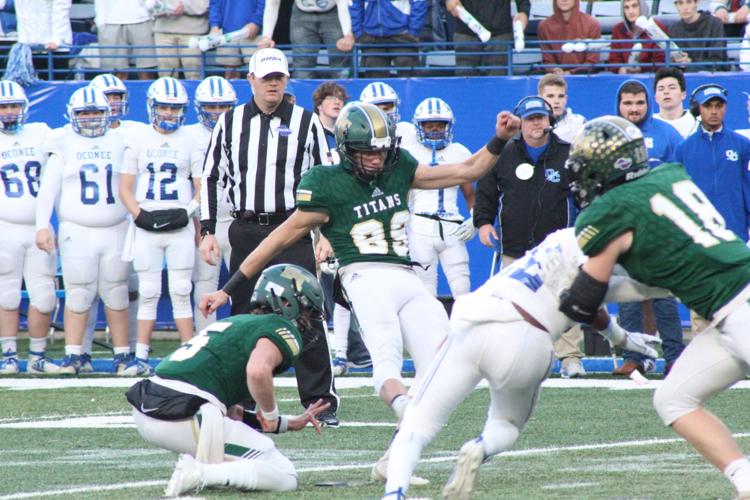 BT picked up two first downs on rushes from Haynes but faced third-and-14 on its own 30-yard line. Quarterback Duncan Reavis completed a rollout pass to Grayson Gilder, and the big target dragged defenders for a 38-yard gain and the all-important first down. Reavis was 7-11 passing for 78 yards.
With just over 3 minutes left, the Titans converted a fourth-and-2 with Harof taking a reverse play 10 yards to Oconee's 24-yard line.
The Titans still needed a bit more. Facing another fourth-and-2 from the Warriors' 6-yard line, BT elected to go for the conversion. It paid off with Green plowing ahead for a 5-yard gain to allow BT to take two kneels to secure the win.
 "We figured we had a three-point lead and I'd just soon have [Oconee] start down here with a minute to go, and I didn't want to kick off to them," McFarlin said. "We pulled one out of the hat with that call."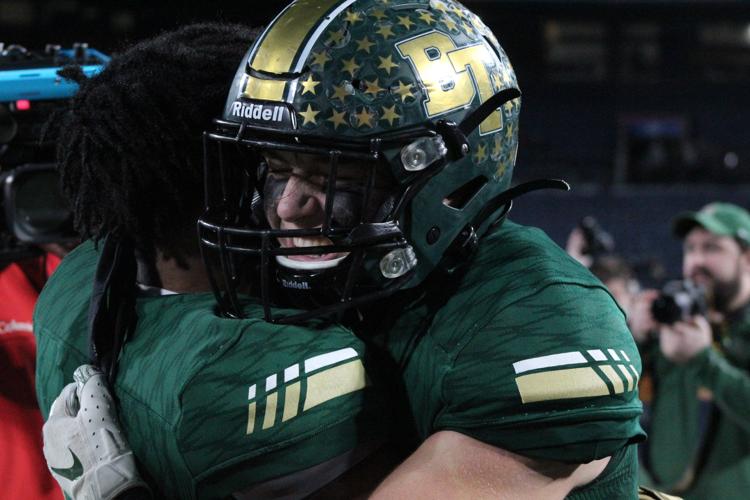 The Titan's demanding schedule, which including games against nine ranked opponents this season, proved beneficial in Saturday's tight contest with Oconee.
"Our region was so good," McFarlin said. "Marist was awesome. Denmark is outstanding. Flowery Branch, holy smoke, they are good. And for us to be able to play in those games, two overtime games, I think that probably may have been the difference for us tonight."   
Another major factor was the belief of the squad, especially among its senior class.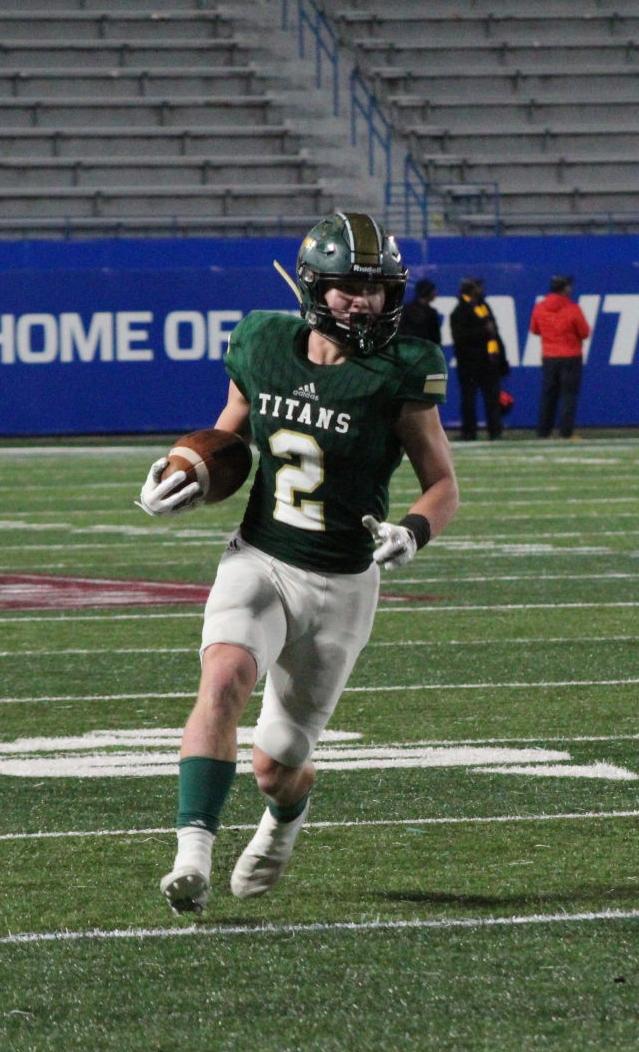 "All senior classes that win a state championship are special," McFarlin said. "And they'll have a bond that will carry them until the day they die. They will all get back together in 10, 20, 30, 40 50 years and talk about that night. This one was a little different, because this group of seniors won one game in the eighth grade, they won two games in 9th grade, two games on JV, and they were in the shadows of just such a great senior class last year. All they did was work hard. They're grinders and they did that again tonight."
Blessed Trinity is the ninth program in GHSA history to win three consecutive state championships. The Titans have reached the state finals in four of the last five seasons.