Most Americans have heard of eczema, a condition that causes red, itchy, and inflamed skin. Fewer however, are familiar with seborrheic dermatitis, also called sebopsoriasis and, in non-clinical terms, dandruff.  For infants, the condition is known as cradle cap and causes crusty, scaly patches on the scalp. Seborrheic dermatitis is a common skin condition that mainly affects your scalp and face, however, it can appear on any part of the body where there are a lot of oil-producing (sebaceous) glands.
Symptoms and causes of Seborrheic Dermatitis
Seborrheic dermatitis symptoms may include scaly, red skin, itching and burning, and skin flakes (dandruff).These symptoms can occur on the scalp, ears, side of the nose, eyebrows, eyelids, and chest. The affected area often appears greasy or wet with the skin beneath the scale and flakes being red in color. The scale can flake off and tends to be yellowish to white in color. The signs and symptoms may be more severe if you are stressed, and they tend to flare in cold, dry seasons. People of all skin colors and ages get seborrheic dermatitis, although infants up to three months old and adults between the ages of 30 and 60 are most susceptible.
Doctors do not yet know why some people get seborrheic dermatitis and others do not. It is known to be related to the yeast that normally lives on human skin, genetics, cold and dry climates, stress, overall health, and an irregular response by the immune system. Research has shown that seborrheic dermatitis is not an allergy and it does not cause internal harm to the body.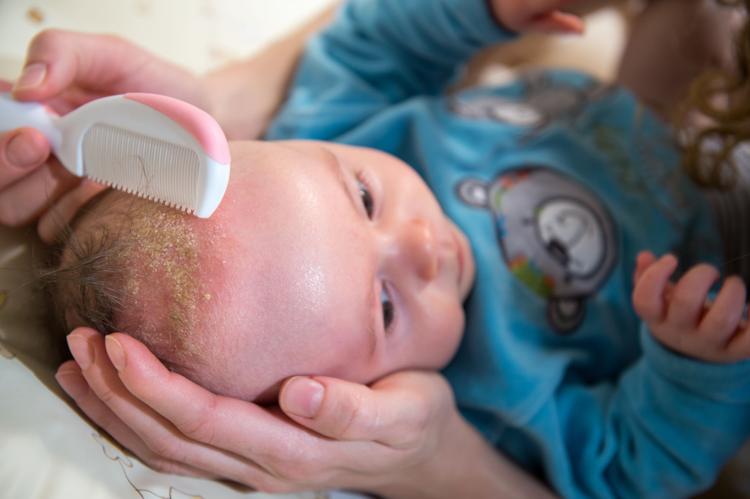 Diagnosis and treatment of Seborrheic Dermatitis
There is no one test for diagnosing seborrheic dermatitis. Commonly, your doctor will ask about your medical history and perform a physical examination of your skin. A skin biopsy (a procedure in which a small sample of skin is taken) may rarely be required to rule out other conditions that can mimic seborrheic dermatitis (psoriasis, eczema, or an allergic reaction). Each of these skin diseases require different treatment.
There is no known permanent cure for seborrheic dermatitis. Treatment is very effective, however, and can reduce flare-ups, bring relief, and control symptoms. The type of treatment a dermatologist prescribes varies with age and where the seborrheic dermatitis appears on the skin. The most common treatments focus on loosening and removing scale, reducing normal yeast colonization, reducing inflammation, and lessening itch. 
If you think you might have seborrheic dermatitis, please call our office at (770) 452-5667 to schedule an appointment.