As you and your older loved one are faced with the increasing challenges posed by COVID-19 and consider how to face current health care issues, it's time to consider the long-term benefits, increased safety and potential cost savings of live-in care. Providing appropriate care for those most at risk during a pandemic makes this a wonderful alternative that may be a perfect fit.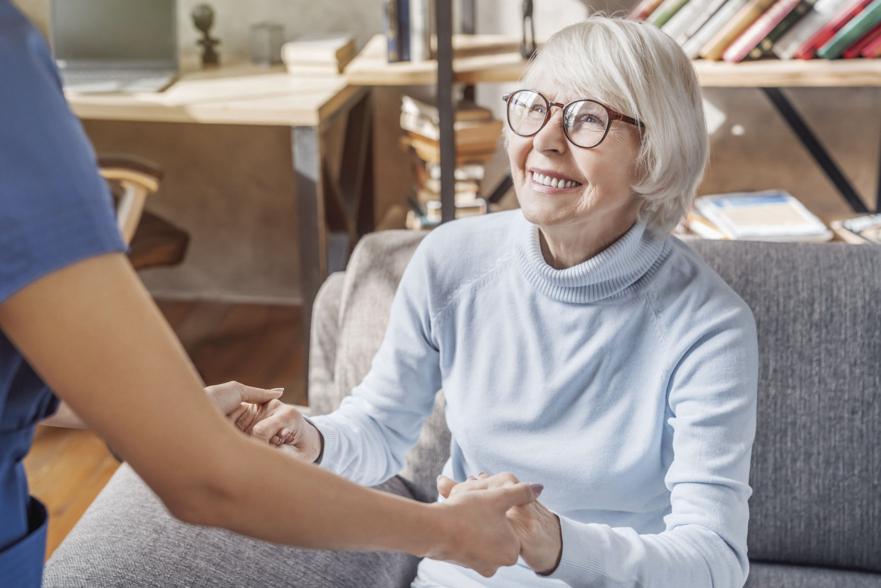 What is Live-In Care?
In time, we all need some help and in-home care provides both personal care and emotional support. Whether in your own home or an assisted living community, challenges like decreased mobility, increased fall dangers, occasional night time help or conditions like Alzheimer's and Parkinson's may make 24-hour support a necessary and ideal choice. Here's how 24-hour live-in care works.
A heart-centered skilled Home Helpers caregiver lives in your older loved one's home for at least four or five days a week, with another live-in caregiver completing the weekly schedule. The caregiver supplies all the daytime support care needed and sleeps there, so they are available at night for minimal quick toileting assistance or when emergencies might happen. A caregiver needs five hours of uninterrupted sleep and eight hours total sleep for a good night's rest. They will also take a break at opportune times, like when your loved one is napping, but always be there to provide a safe and secure environment.
The continuity of care a live-in caregiver provides is a major benefit for your older loved one. One-on-one care is round the clock, totally customized and dedicated to their special needs. There are only two caregivers involved, well trained in infection control. The warm emotional bonds formed with a carefully selected caregiver can truly help with the social isolation that can be devastating during these times. With no shift changes during a day, this reliability and constancy can create a safe, calming environment for your older loved one.
There are many additional advantages to live-in care. Cost savings can be considerable, as live-in care has a daily versus hourly fee. You get the security of 24-hour assistance but don't pay for sleep time for the caregiver. Your older loved one stays in their home with the familiar belongings and surroundings they prefer, or even remain with a beloved pet and still have the space, privacy and independence they desire.
During the increased challenges posed by a pandemic, a carefully matched live-in caregiver provides the security of a trained professional who can make sure connections with family members are maintained, manage safe interactions with friends and neighbors, handle package or food deliveries safely and allow your older loved one to thrive. Our caregivers wear protective gear like face masks and gloves when appropriate, can take frequent temperature readings, check vital signs and prompt frequent hand washing.
A carefully screened, trained and heart centered Home Helpers caregiver not only brings skills, but a heart centered approach that provides the best quality of life for our clients and their families. For a free in-home consultation to determine if live-in care is right for you, contact Home Helpers Home Care today at (678) 430-8511.