Village Park Senior Living's newest community, Village Park Milton, is nearing the final stages of construction and set to open in Spring 2020. On Wednesday, January 15th, Village Park with future residents celebrated another milestone in the community's development. Executive Director Deborah Signa and Village Park Milton's team of senior living consultants welcomed future residents to a ribbon-cutting ceremony showcasing the campus' beautiful cottages. Guests enjoyed hors d'oeuvres and champagne while getting a glimpse into their future home.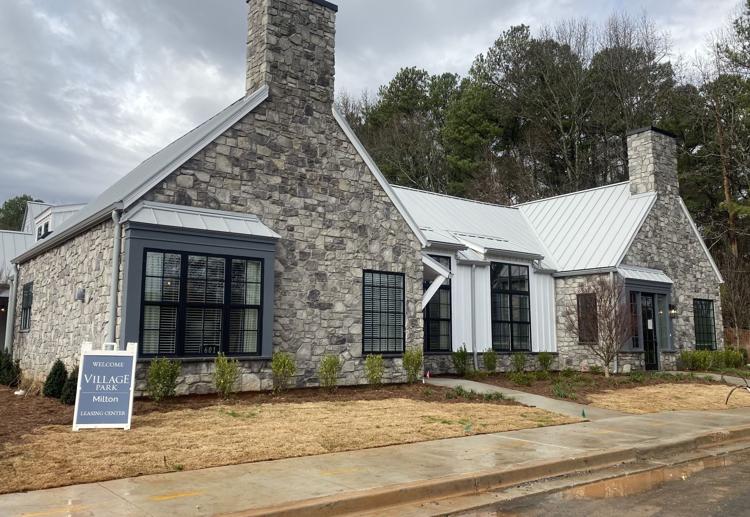 The two-bedroom cottage looked absolutely stunning, complete with 10-foot ceilings, a fireplace, and floor-to-ceiling windows for a light and fresh feel. Cozy yet spacious, future residents can comfortably entertain family and friends in their new homes with the added benefits of full access to the main building's services and amenities. Amenities include chef-driven dining options, a theater, hosted social and educational events, a fitness center, and on-site physical, occupational, and speech therapies just to name a few. 
"I'm really excited to enjoy a day at the saltwater pool with mom." Said a future resident's daughter when asked about what she was most excited for at Village Park Milton. 
In addition to the saltwater pool, other residents and families expressed excitement over the close access to Wills Park, especially the picturesque views of the Wills Park Equestrian Center. Home to the City of Alpharetta's Fourth of July fireworks show, a vibrant community garden, and other community events such as the Old Soldiers Day Parade, Wills Park is the heart of active living for locals. The park is also the perfect place for residents to walk their dogs this summer and fall. 
Beyond the many recreational features, Village Park Milton also offers flexible care and services. The community's adaptive care model includes bungalows and cottages, independent living, assisted living, and memory care. By licensing the entire community for assisted living, residents can easily transition their independent homes to assisted living without moving. Every aspect of the community is designed to help residents develop lasting relationships with their neighbors, caregivers, chefs, etc. in a home that adapts to their needs. ​
To explore Village Park Senior Living's latest community, stop by Village Park Milton's Leasing Center at 555 Wills Road, Alpharetta, GA 30009. You can also learn more at villageparkseniorliving.com or by calling (470) 509-4557.