When your living space fits your lifestyle, you can thrive at any age. That is the philosophy behind Celebration Village Forsyth, a 52-acre master-planned senior living community in Forsyth County with houses for sale and all-inclusive-priced apartments for rent. After only nine months of operation, we are thrilled to be named the Best Senior Living Community North Atlanta, 1st Runner Up Memory Care in North Atlanta and Best in Forsyth.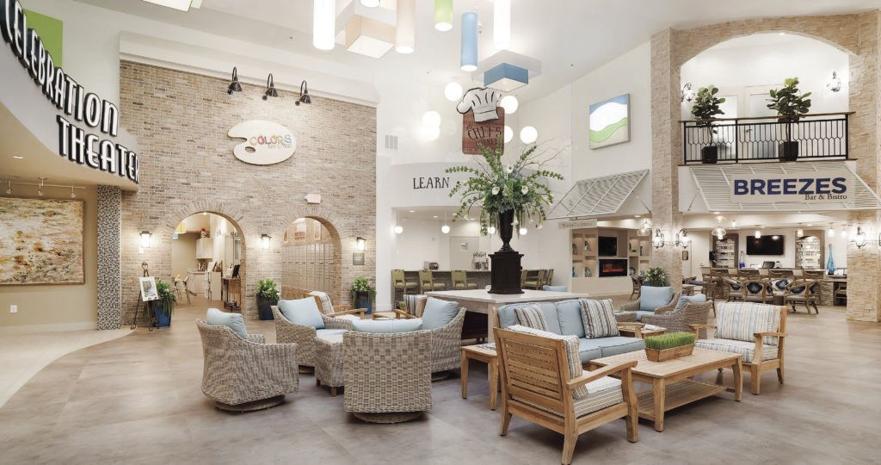 Celebration Village Forsyth is a first-in-class senior living community providing independent living, concierge living, assisted living and memory care in an ideal location where Suwanee, Johns Creek, Alpharetta and Cumming all come together.
We offer opportunities for residents and team members to improve their vitality, engagement, and sense of overall meaning and purpose.
Our goal is to provide aging-friendly environments that foster strong social connections, healthy lifestyles, all while reducing stress and increasing joy.  That message comes from our owner and management team at AgeWell Living LLC and is the core of what we do at Celebration Village.
Celebration Village Forsyth is crafted according to the Masterpiece Living philosophy, which supports aging as a precious part of life that should be embraced and used as a positive force. Every staff member – regardless of role – is trained to offer lifestyle support and coaching. Its dining options and amenities resemble resort-style store fronts, and programing is designed to support mental, physical, spiritual and intellectual acuity with a sense of purpose and meaning. Designed to nurture an independent yet carefree lifestyle, Celebration Village is a full age-in-place community with support services available to all our residents.
Atlanta-area residents are clearly craving this approach as we filled our independent-living neighborhood very quickly and recently added 58 more beautiful contemporary apartment homes that keep luxury in mind.  If a carefree, peace-of-mind, retirement lifestyle is what you or your loved ones have been looking for, give us a call at 770-886-6565 to set up a personal appointment and tour.