To the Class of 2020:
You represent the 14th graduating class, and we are excited to pay tribute to your amazing accomplishments during your years at King's Ridge Christian School.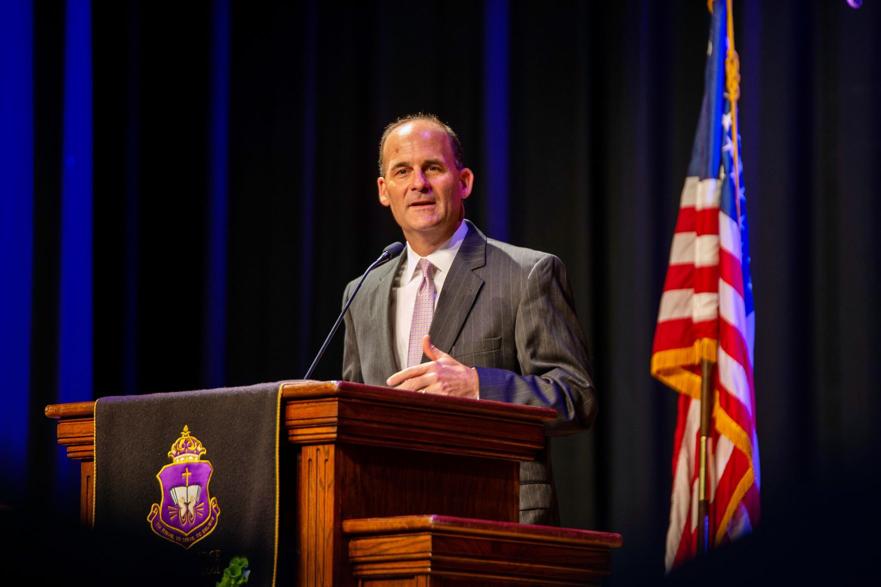 This class, without doubt, is a talented and creative group. Who could forget the phenomenal performances of Guys and Dolls, Thoroughly Modern Millie, Newsies and this year's electrifying performance of Crazy For You!
The 5th Annual Black & White Gala honors 38 incredibly gifted seniors, 35 graduating with honors in Fine Arts. A record number of have signed with the following universities: Savannah School of Art and Design, New York School of Visual Arts, Berklee School of Music, and Texas State University. Among other accolades, KRCS Fine Arts had 12 Region Literary Winners advance to the GHSA State Competition. These winners were awarded Literary Champions for the 3rd consecutive year.
55 of you, nearly 70% of your class, participated on 17 Varsity athletic teams this year alone. Three of you will compete in college athletics next year. In your four years as KRCS student-athletes, you have been a part of numerous playoff appearances in baseball, basketball, lacrosse, and soccer.
• 94% of you have maintained a cumulative GPA of 85 or better
• Your 2019 AP scores resulted in:
- 13 named AP Scholars by the College Board
- 11 named AP Scholar with Honor
- 6 named AP Scholar with Distinction
• Once your 2020 AP scores are completed, I know you will only increase these outstanding results.
• 50 seniors are in the National Honor Society
• Average SAT score for the Class of 2020 is 1190 (national SAT average is 1059 and state is 1058)
• Average ACT score for the Class of 2020 is 27 (national ACT average is 20 and state is 21)
You have made quite an impact on your school and community serving in many and diverse ways including 3rd Annual Moonlight Sonata, Interact Club, Chestnut Ridge (Nursing Center), Vision Warriors, Operation Christmas Child, Meals by Grace, Live A Yes, North Fulton Community Charities, Foster Care Services, International Justice Mission, Fellowship of Christian Athletes, Young Life, Human Trafficking Awareness Campaign, Rotary Action Group Against Slavery, and traveling abroad on mission trips.
You have been accepted to 261 different universities and in the fall, you will attend 39 universities in 18 different states. You have been offered more than $8 million dollars in academic, fine arts and athletic scholarships. Fourteen of you are "Lifers" which means you have been at King's Ridge Christian School since kindergarten.
Congratulations, Class of 2020.
We are very proud of you!
To God be the glory,
Dr. Jeff D. Williams
Head of School