NORTH FULTON, Ga. — Local schools are trying to send a clear message — while schools are shut down due to COVID-19, the entire campus is closed, and everyone should continue to practice social distancing.
The reminder comes after several area schools have seen students and families on school grounds during the shutdown, which runs statewide until at least March 31. In some cases, there have been groups together, which also raises concerns over social distancing.
Though the school doors are locked, some outdoor facilities can still be accessed. That has spurred several athletic directors to take to social media to remind students and athletes that access to fields is prohibited during the shutdown.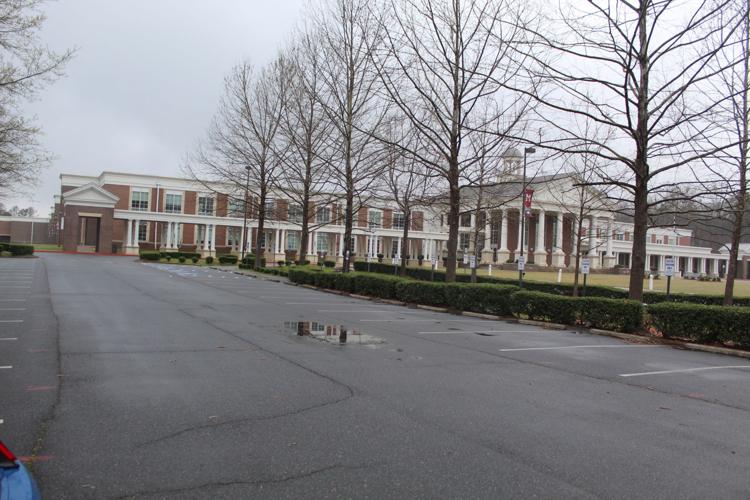 Ben Sutter, Roswell High School athletic director, said students and nearby families have been using the school's outdoor facilities during the shutdown.
"We have seen student athletes at our facilities, but the school also backs up to some neighborhoods, and there are some families that are used to being able to use our outdoor spaces," Sutter said. "As some [City of] Roswell parks are closing down, I think people are looking to get out."
Sutter is stressing that Roswell is not the place to do so, however.
"I don't think people are quite grasping what is going on," Sutter said. "We are practicing and preaching social distancing and trying to keep everything disinfected, and that includes keeping people off campus. I think people want a sense of normalcy, but these are not normal times. We are hoping by avoiding these locations and staying at home we'll see a decline in cases. Then hopefully we can see these campuses start back up."
On the other side of Roswell, Centennial High School has also seen people using, or attempting to use, its outdoor facilities.
"We have had evidence of people on campus trying to get access," Centennial Athletic Director Jeff Burch said. "And I have had parents who post on Facebook kids were playing lacrosse [at the school] or that there was a group of middle schoolers on campus. I think [all schools] around here have experienced it."
Burch said if the shutdown is done correctly and people adhere to social distancing, the issue could be over sooner rather than "fighting tooth and nail through this." However, he does sympathize with people, especially students, who want to use the school's facilities.
"This is awful for the kids, especially the ones who don't have a comfortable house, they may share a room with a sibling, or they don't have a yard," Burch said. "We understand their frustration and their desire to get out, but right now everything has to stay within their house and yard."
Burch is also instructing his athletes to not join private sport instruction or camps during the shutdown.
"A lot of young people feel invincible, but they are not," he said. "Look at the spring breakers in Florida. They showed they are not invincible and now they are bringing [the virus] home."
Burch said parents have a major role in ensuring their kids adhere to social distancing.
"We are encouraging our students to be safe, but especially for parents [to] know where kids are," he said. "If they are going up to school with 10 other kids, you lose the social distancing component."
Gary Sylvestri, Milton High School's athletic director, said he wants students to get outside, but not at school facilities.
"We always encourage kids to get outside and exercise, no doubt, but unfortunately they can't be on campus," Sylvestri said. "The best thing is to be home and really enforce social distancing."
The school shutdown has strained students, teachers, administrators and parents alike, but Sylvestri said it is an incredible education moment.
"It's a time for everyone to learn, and a great time for everyone to learn about themselves," he said. "We know it's tough times, but that fact is, we are all going through this together. We are pulling together and working toward a common goal. We will come out of this and be stronger for it."