NORTH FULTON — Resumption of in-person instruction in the Fulton County School System hit an early snag this month when two high schools promptly closed after incidents of COVID-19 cases triggered the district's protocol for closure.
All 100-plus schools across the district opened on Oct. 14 for students who wished to return to classrooms after seven months of remote learning. Approximately 60 percent of students opted to return to classrooms.
The return was short-lived at Cambridge High. Two positive cases among staff or students reported on Oct. 16 led to the quarantine of 141 individuals, prompting the building to close and students to revert to remote learning.
After a three-day pause while the school was deep cleaned and sanitized, students returned to school Oct. 23.
Banneker High in South Fulton also closed for three days after similar circumstances. A district spokesman said no other schools reported issues last week, but the threat of the virus remains.
As of Oct. 18, Fulton County Schools reported 59 cases of COVID among staff and students, with 489 quarantined. This includes numbers from Banneker and Cambridge high schools. In the previous reporting period ending Oct. 11, there were 50 positive cases and 254 in quarantine.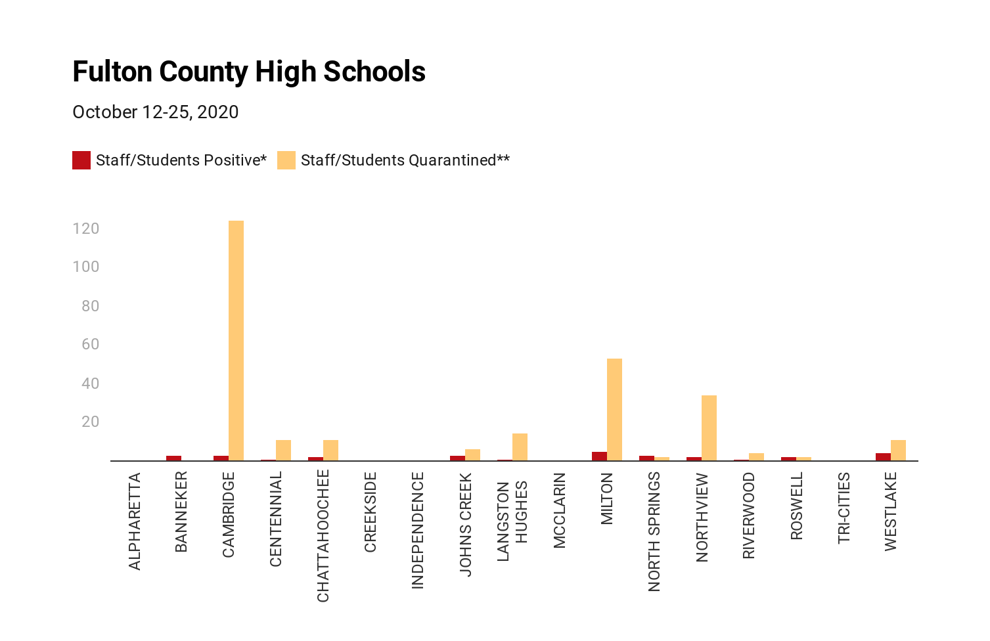 "We fully acknowledge there are going to be cases from time to time that will require us to act," said Brian Noyes, chief communications officer for the district. "We are committed to following the process we have outlined to keep our students and staff safe and limit disruption to learning."
The protocols for reopening and closing schools follow a plan developed by the district in partnership with the Fulton County Board of Health. Since the beginning of the crisis last spring, Fulton Schools Superintendent Mike Looney has stressed "data drives the decisions."
The return to face-to-face learning hinged on countywide data showing fewer than 100 positive cases of COVID out of a population of 100,000. That mark was reached in early October and allowed the schools to open for those who wished to return.
During a recent board meeting, Looney said shuttering all schools again, as it did in March after just one case of COVID, is unlikely. Much has been learned since then about keeping kids and schools safe, he said.
"Honestly, looking back that wasn't necessary," Looney said. "The assumption is [the district] will remain open unless the Fulton Board of Health or the state Department of Health gives us the recommendation to close."
He outlined the three-tiered closing process:
Level 1 (1-2 positive COVID diagnosis) – Positive individual(s) would be isolated, along with those directly impacted. Learning would not be affected.
Level 2 (3+ positive COVID diagnosis) – Level 1 protocols, with the addition of learning may change to remote for up to 72 hours to allow for building disinfection/contact tracing, etc.
Level 3 – Additional factors as determined by the Fulton County Board of Health.
The temporary closing of Cambridge and Banneker was a Level 2 incident.
Fulton Schools has also implemented a self-reporting portal for parents to assist the district in mitigating the spread of COVID.
Looney stressed the importance of students and staff remaining home while they await COVID test results, or if they exhibit any symptoms of illness as flu season ramps up.
"If staff or students have flu-like symptoms, stay home and don't risk your health or the health of others," Looney said. "The only way we are going to be successful in [keeping] our schools open is if everyone works together toward that goal."
A district official acknowledged the school system continues to take direction from public health officials on the recent change by the CDC on what defines "close contact." The CDC now says 15 minutes of close contact with a COVID-positive person over a 24-hour period may pose a risk.