A bill to cap the accumulation of free college credits by high school students is fast-tracking its way through the Georgia Legislature and may be one of the first education bills to land on Gov. Brian Kemp's desk this session.
House Bill 44 seeks to tighten guidelines for the state's dual enrollment program in which high school students can take college classes paid for by the state. Lawmakers describe the actions as necessary "guardrails" on an increasingly popular — and costly — program. 
The dual enrollment program began nearly two decades ago by former Gov. Zell Miller to increase the number of students going on to college, and to ease the financial burden.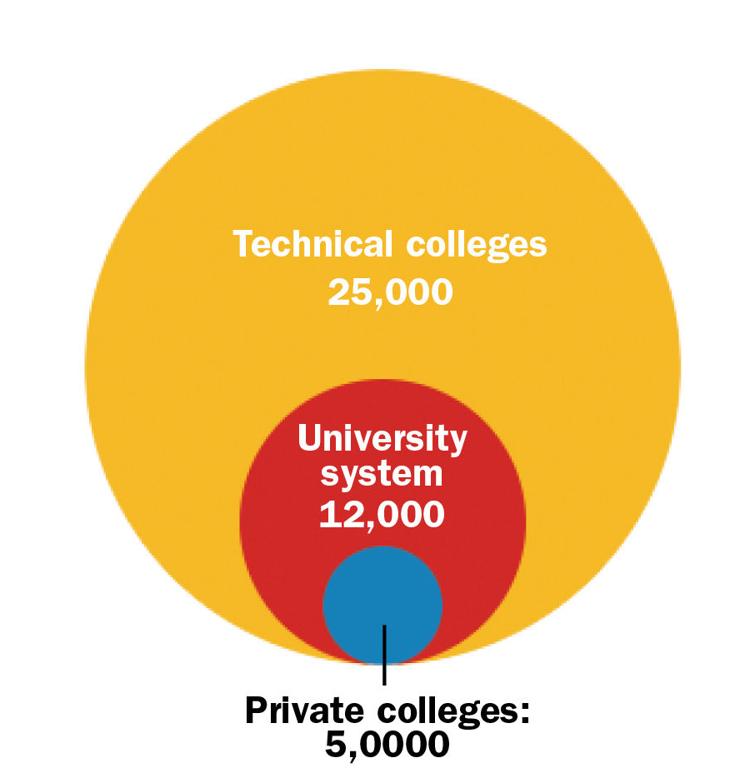 In 2016, the program expanded under the "Move On When Ready" initiative which opened options — and the state's wallet — to attract even more students. The number of students in the program jumped by nearly 40 percent that year. 
Currently about 42,000 in 176 school districts are enrolled in dual enrollment courses, including more than 2,000 students in the Fulton County School System.
Fulton officials also have seen the program numbers rise, especially after 2016 with the expansion of the program to more students. 
Fulton County Schools Assistant Superintendent Chris Matthews, who oversees Student Support Services, said students have numerous options available now to get a jump on college.
"Increasingly Fulton County School students have utilized dual enrollment classes taught on our campuses and on college campuses," Matthews said. "These classes along with Advanced Placement allow students to earn college credits while attending high school [and] get a head start on their post-secondary careers."
While the program continues to be successful in preparing more students for college, based on studies by the Governor's Office of Student Achievement, it has also become a financial victim of its own success.
In the past five years, the cost to taxpayers for dual enrollment has increased by 325 percent, according to a 2019 audit, increasing from $18.5 million in 2014 to $78.8 million in 2018.  This year the state budget proposes allocating $108 million to cover tuition, fees and books.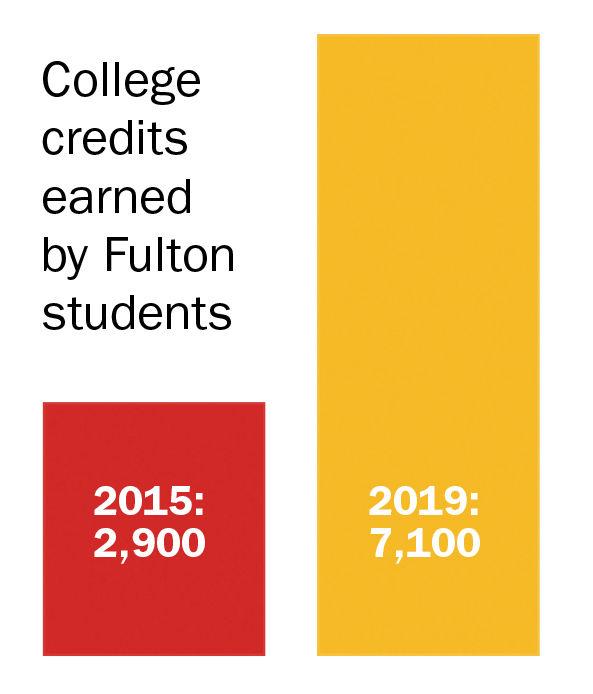 Along with escalating costs, the Georgia Department of Audits and Accounts also noted a lack of checks and balances in the program. The audit found examples of students taking aerobics classes paid for by the state, and students being approved for credit hours well beyond the limit of 15 credits a semester. 
One student cited in the 40-page audit accumulated 64 credit hours in a single semester while others earned credits far in excess of graduation requirements.  
Under HB 444, students can earn a maximum of 30 college credit hours through dual enrollment. It also limits participation primarily to 11th and 12th grade students. Ninth and 10th graders may still participate in some circumstances. Provisions will be made for students currently enrolled in the program.

High school students who wish to earn more than 30 college credits — the equivalent of one year of college — will either have to pay the tuition or use their allotment of HOPE Scholarship credits for the excess hours.
Any retake of courses will not be funded by the state, and after withdrawing from two dual enrollment courses the student will no longer be eligible for the program.
The proposed changes under HB 444 are estimated to save from $15-$17 million annually. The bill was passed by the House during the last legislative session. The House will now consider the current bill with the Senate amendments added last week.