There is news this month from Hacienda Hudson: specifically, Wife of Mine has taken up watercolor painting!
This is something that she has wanted to do for a long time, and now she has the opportunity. A growing collection of watercolors now decorates our house, and I've got to say that I think she's pretty good (though I may be a teeny bit biased).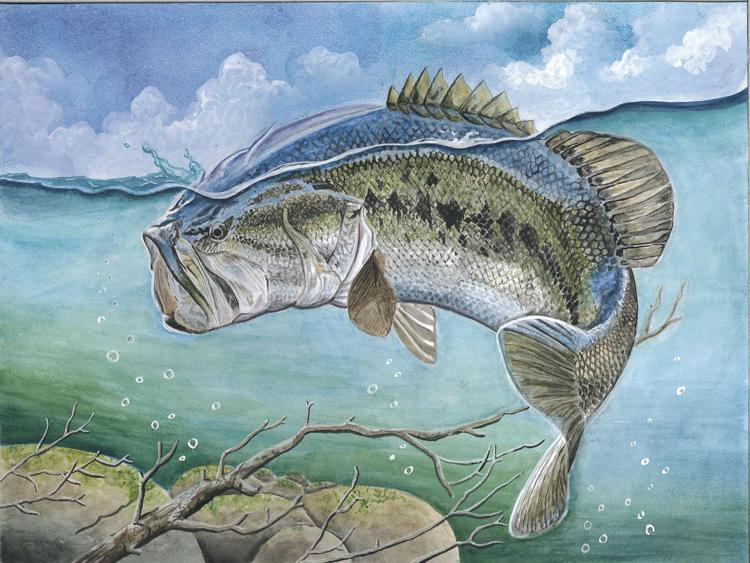 So far, she's painted a number of really neat flowers and landscapes, plus (how to put it) one very intriguing llama. You don't ordinarily think of llamas as subjects for watercolor artistry. There may be a reason for that.
Anyway, one of the subjects on my wife's to-paint list is a brook trout. I've told her that what I want for my birthday (it's in April, in case you want to know) is one of her paintings, signed and framed so I can hang it near my desk. I can't think of anything more special than that.
The only sad thing about all that is that she's not still in elementary, middle, or high school – for if she were, then she could enter that future trout masterpiece in the annual Wildlife Forever State-Fish Art Contest.
Yes, it's really a thing.
The State-Fish Art contest was born in 1997 and was inspired by a fifth grade homework assignment after a student found that there was not a lot of good info on state fish across the United States.
This contest was established to help address that deficit, and for more than two decades it's been educating kids, teachers, and parents about things aquatic and fishy.
That sounds like a good plan to me.
This contest is aimed at children and youth from kindergarten through 12th grade, with several age categories. Some entrants are part of a class which tackled the challenge as part of a project or lesson series, but others are just individual students who enjoy art and like fish, too. In other words, it's open to every child who wants to give it a go.
I hope lots of kids will do just that.
The idea is simple: create an original illustration featuring a fish chosen from the official State-Fish List.
Each submission has to adhere to some guidelines. It must be horizontally oriented (9 inches high by 12 inches wide), not signed or initialed on the front, and not matted or framed.
Entrants in most categories will also need to submit a short essay (one side of one page) on their chosen fish species – and the appropriate entry form. Then it's all mailed to the address at the top of that form (note that Georgia has its own special entry form). Submission deadline is March 31, and judging will take place in April.
One neat thing about all of this is that the fun (and the learning) begins right away, starting with the matter of choosing a fish. From the fish list, for example, you'll learn that Georgia actually has three state fish: the largemouth bass (freshwater), red drum (saltwater), and the southern Appalachian brook trout (coldwater).
And right below the Georgia list you'll learn that the state fish of Hawaii is the "humuhumunukunukuapua'a"? Did you know that? I didn't, but I do now.
Entries will be evaluated for state fish awards and possibly (depending on the fish species you choose) for other awards in several special award categories. Special awards include the "Invader Crusader" award for art featuring an invasive species, plus the "Guy Harvey Award" for entries featuring saltwater or anadromous state fish, and a new category this year (the International Fish Migration Award) for art featuring migratory fish and waters they rely on. There's also the "Smile Award," which was established to "celebrate the many unique interpretations of fish." That one sounds like fun. Check the website for details on how to be considered for these many awards.
What does it take to do well in this competition? You can gain some insights by checking out the "Judge's Wisdom & Sample Artwork" section of the website to see what previous judges had to say.
One, for example, noted the importance of telling a story with your art. "Think about the fish and think about its environment," the judge noted., "What is the fish doing in the picture? What message do you want to share…and how do you want [people] to feel when they view it?"
Another noted a preference for originality and creativity. "If I can tell that an artist tried to mimic someone else's work," this judge said, "it isn't as strong as an artist who takes a risk by making the work their own."
Yet another commented on being drawn to "works that have a lot of color in them (or detail if they are black and white)."
So. Are there some resident kids nearby? Round 'em up. Then choose some fish, get out those paints or pencils or pastels – and have at it.
And if you they do create some fish art, take a photo and send it my way. I'd love to see what they create.
For details, complete rules, entry forms and other info on this competition, visit statefishart.org.