Sometimes it's the little things that matter – but at other times it's the big things that cause all the excitement.
One such "big thing" came to light recently on the Etowah River when Georgia Department of Natural Resources fisheries biologists found a 19-pound lake sturgeon in the river, the largest lake sturgeon found during sampling within the Coosa River basin since DNR's sturgeon re-introduction program began in 2002.
Lake sturgeon once ranged from the Great Lakes down into the Mississippi, Missouri, Tennessee and Coosa River system. They were once common in Georgia waters. It's an ancient fish, the biologists tell us, adding that it dates all the way back to the days of the dinosaurs.
Lake sturgeon have an unmistakable appearance that might be described as "primitive svelte." According to Georgia DNR, they are "cartilaginous," meaning that they are almost completely boneless.
And they look really, really cool.
DNR describes them as having a "sucker-like mouth, shark-like tail, sensitive barbels (whiskers) under the snout, and bony scutes (plates) along the sides and top of their body." Imagine a creature that looks like a cross between a dinosaur, a shark, and a submarine, perhaps with a little catfish thrown in, and you've got the right idea.
Lake sturgeons are long-lived fish. Within their current range, males live more than 50 years, while females may live 80 years or so. In the past, individual fish more than 100 years old have been documented. These fish get big, too, and can reach weights of more than 100 pounds.
At one time lake sturgeon were considered "nuisance" fish. In the mid-1800s, however, someone discovered that they could be good to eat and that their eggs made great caviar. That was good news for gourmets but bad news for sturgeon.
More bad news came in the form of a one-two punch from a boom in dam construction (which blocked upstream spawning runs) paired with increasingly polluted water. Combined with overfishing, sturgeon populations through their original range plummeted to an estimated 1 percent of what they once had been.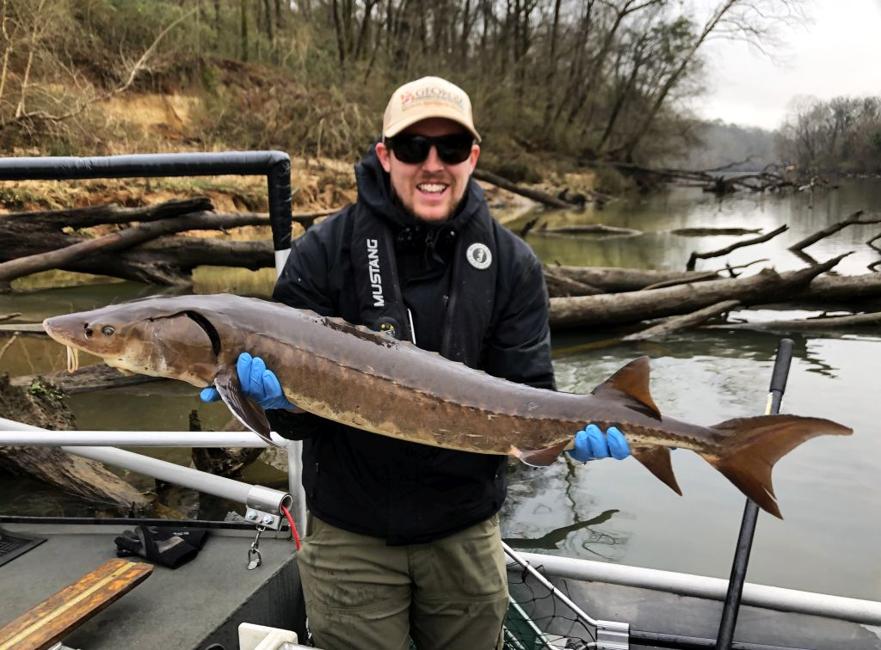 Georgia waters were no exception. In fact, until the 2002 reintroduction program began, fish survey data could not confirm a single sturgeon from the Coosa Basin after 1959.
But state wildlife officials wanted to bring sturgeon back. In 1999, the state began sturgeon rearing experiments at Georgia's Summerville Hatchery in Chattooga County, between Rome and Summerville, using eggs brought down from Wisconsin. The hatchery staff figured out how to raise the fish to a size (about 4 inches) where they could be released.
Then – in 2002 – the first sturgeon fry were released into the Oostanaula River, one of several rivers in the Coosa Basin.
Over the years, sturgeon stockings have continued. Are they working? Well, judging from that 19-pounder that turned up in January, the reintroduced fish are settling comfortably into their new homes.
In fact, that particular fish had been tagged by University of Georgia fisheries researchers in 2006, at which time it weighed only 2 pounds.
It's done a bit of growing since then!
Since lake sturgeon grow so slowly, it may be decades before sturgeon harvest will be permitted. However, since these fish are clearly re-establishing themselves in Georgia's rivers, it's also inevitable that anglers will catch one from time to time. If you do happen to find a lake sturgeon on the end of your line, remember that lake sturgeon cannot be kept. Signs posted on potential lake sturgeon waters remind anglers of that fact, adding that it's important for fisherfolk to share info about such catches with Department of Natural Resources.
If you encounter a lake sturgeon, note the date and location (and take a photo if you can) and let the DNR's Fisheries Management Section of the Wildlife Resources Division know about it. You can reach them at (706) 295-6102, and when you do you'll know that you're doing your part to help bring a timeless fish species back to Georgia's waters.