FULTON COUNTY, Ga. — The public had a unique opportunity to hear from the judges who make up Superior Court of Fulton County on Feb. 25, thanks to the Student Leadership Johns Creek.
Organized by the Secretary of State Ambassadors, a sub-group of Student Leadership Johns Creek, 12 of the court's 20 judges attended. The format allowed students to ask each judge a question, with a Q&A with the audience following.
The questions ranged from informative "Which cases go to the Superior Court?" — to fun — "What's one thing that would surprise most people about judges?" — to challenging — "What role does race play in our criminal justice system?"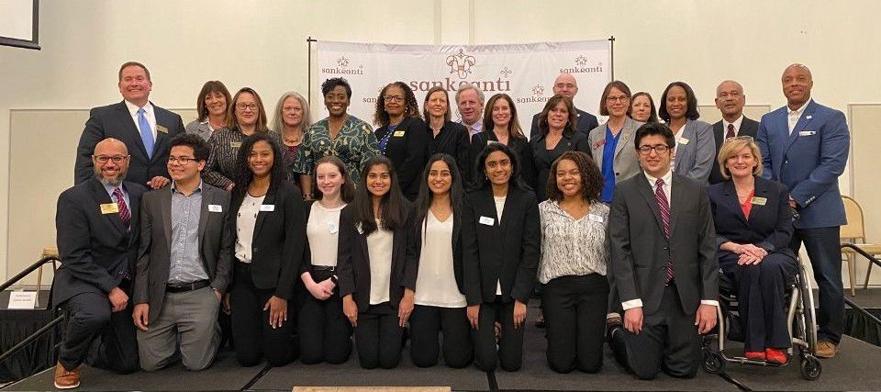 "Justice is supposed to be blind," Judge Eric Dunaway said. "While I don't consider race [in sentencing], I can't say it's not a factor in our criminal justice system … As a prosecutor and now as a judge, most of what we see is young African American men, for whatever reason: education, poverty, policing." 
Several judges shared their thoughts on how the criminal justice system could be improved, especially for juvenile offenders. Suggestions included raising the age suspects can be charged as an adult and eliminating the mandatory minimum sentence for armed robbery. 
"We need to be able to fashion sentences that hold young people accountable for making poor choices but give them some sense of hope so that if they make better choices they still have an opportunity for a better life before them," Judge Kimberly Adams said. 
Investing resources in early intervention and recidivism reduction programs were also a popular thread. Judges said the perennial challenge is, of course, funding. 
"That's never a good answer because who wants our taxes raised?" Judge Emily Richardson joked. "But the Fulton County court system is very overwhelmed. We're a large county, and there are a lot of crimes."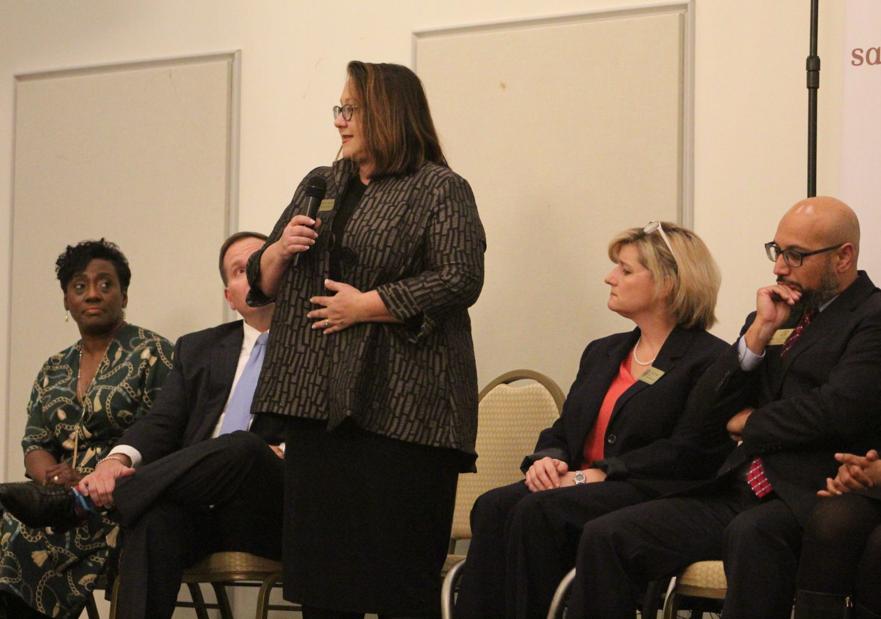 The judges talked about how their varied backgrounds, whether they focused on criminal, family, business or some other area of law, shape their work as judges. Although many imagine judges as serious and solitary, the judges said their work is actual very collaborative.  
For attendees, the forum was a rare chance to mingle with judges outside the confines of a courtroom.
"The court system, with what seems like a myriad of different courts, has been a bit of an enigma for me," said Robert Frame, a Johns Creek resident who attended the event. "However, last night cleared a lot of that up and, while I don't know how they did it, having virtually all of the Superior Court judges there to share their comments and feeling with us was truly an awesome experience."
This year's Secretary of State Ambassadors, who organized the event, are Ann Philip, Yasmin Shalim, Ting Dong, Olivia Shaffer, Caelyn DeSouza, Lydia Grace Logan, Kian Kermani, Jayla Melvin and Omeed Kalan. 
The 12 judges in attendance were Kimberly Adams, Chris Brasher, Rachelle Carnesale, Eric Dunaway, Belinda Edwards, Kelly Ellerbe, Kevin Farmer, Rachel Krause, Shawn LaGrua, Shukura Millender, Emily Richardson and Paige Whitaker.