FULTON COUNTY — Volunteers took to streets and shelters Jan. 23 to get a picture of Fulton County's homelessness population.
The U.S. Department of Housing and Urban Development requires that local governments conduct this Point in Time count each year. The count provides communities with an understanding of the demographics of its homeless population — such as age, race, veteran status or history of mental illness — and determines how federal funds will be allocated.
"The purpose of it is to try to get as much data as possible around the issue of homelessness," Fulton County Commissioner Bob Ellis said. "What does the homeless population look like? Is it families, children, adults, male, female? So we can try to figure out the best ways to approach the challenges of homelessness as a community."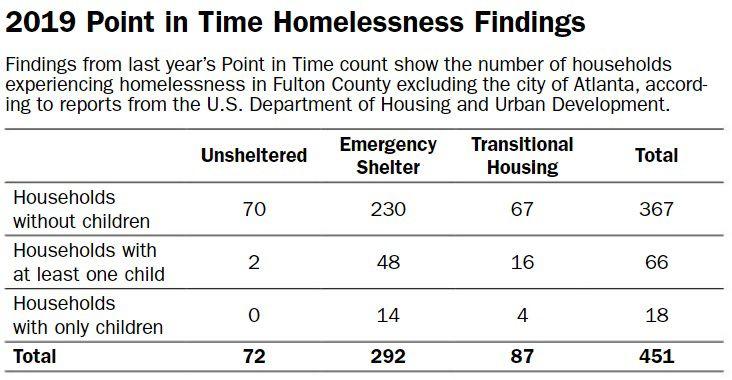 The rate of homelessness in Fulton County dropped significantly between 2010 and 2018 but remained far higher than similarly sized communities, according to a county report. Fulton County is paradoxically one of the wealthiest in the nation, but it also ranks high in income inequality, with 16 percent of the population living below the poverty line, according to U.S. Census Data.
Fulton County partners with nonprofits like North Fulton Community Charities, the Drake House, Home Stretch, Family Promise and Community Assistance Center to provide temporary housing and other services to families in crisis.
"Those organizations have done a good job working together to try to meet the needs that emerge from within the North Fulton footprint," Ellis said. "I don't think that the best solutions are going to come from a government entity attempting to work on its own. I think that's it's going to be something that's in partnership with many organizations."
Ellis said by volunteering for the count over the past few years, he's gained a better understanding of the unique challenges of suburban homelessness.
"In North Fulton and suburban settings in general, the look and feel of it has trended to be families and older individuals, who often times have jobs yet find themselves in stretches of temporary homelessness," Ellis said.
These individuals often are living out of a car and finding a public bathroom to clean up each day, which may be because there are not as many options for shelters in the suburbs, Ellis said.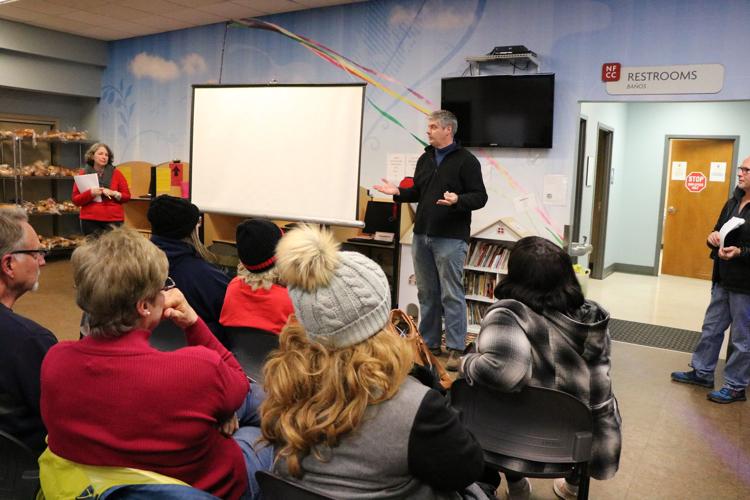 "They're working, they're sending their kids to school, but for a variety of reasons — whether its loss of job, break up of marriage, a health issue — they've found themselves in a temporary state of homelessness," Ellis said.
Though families experiencing temporary homelessness is more common in the suburbs, Ellis said he also sees examples of chronic homelessness, usually related to a chronic mental illness or substance abuse.
"Homelessness is a complex topic," Ellis said. "People find themselves in situations of homelessness for many different reasons. There's definitely not a one-size-fits-all solution to eliminate homelessness."
This year, Fulton County will take the first step on a project that could address chronic homelessness in a big way, Ellis said.
"One thing we have lacked as a county is a place outside our jail setting for a person with mental health challenges that are manifesting in behavior that is lawbreaking or highly disruptive," Ellis said. "If they wind up in a jail setting, many times it just causes the problem to get worse. While we're trying to deliver behavioral health services within that setting, it's not what it's designed for."
As part of the 2020 budget, the county will spend $275,000 on a behavioral health comprehensive plan, which will include a feasibility study for constructing a crisis stabilization center. The goal of crisis centers is to provide emergency support for individuals experiencing mental illness or substance abuse and divert them from incarceration.
Ellis, who represents Milton, Mountain Park, and large portions of Roswell, Alpharetta and Sandy Springs, recently announced his intention to seek re-election for the District 2 County Commission seat.