MILTON, Ga. — Several intersection improvements are in the works in Milton, and more orange barrels could soon be stationed along roadways in the coming months.
The extension of Charlotte Drive, dubbed the Northeast Crabapple Connector Project, is nearing the final stages. According to the city, the contractor is on schedule to complete the project in late March or early April. The project replaces the three-way stop with a traffic light with a roundabout. Charlotte Drive will also be extended from Mayfield Road to Birmingham Highway and will be flanked by future development.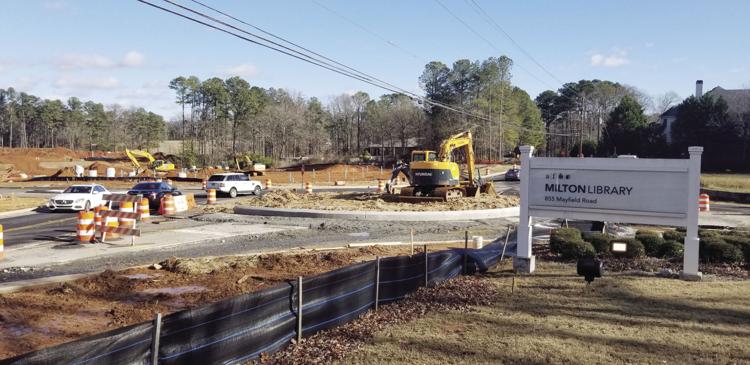 The traffic pattern at the intersection was changed in November to create a three-way interchange with stop signs. 
Milton is also set to open bidding in the coming months for construction of the three projects along Hopewell Road. Plans call for three roundabouts. The first is at Hopewell Road and Hamby Road. Another is at Hopewell Road and Thompson Road. The final roundabout will be at Hopewell at Bethany Bend and Bethany Way.
In 2018, the city mulled potential improvement projects to ease traffic at the intersection of Hopewell Road, Bethany Bend and Bethany Way. Adding to the challenge is the entrance of the Bethany Oaks subdivision. 
After presenting four potential options, the city chose to construct a roundabout at Bethany Bend along with a left lane turn lane on Hopewell Road at Bethany Way. The left turn from Bethany Way to Hopewell will be restricted by the use of a median. Bethany Oaks subdivision will have a full access entry and exit onto Hopewell and will have an exit-only drive connecting Bethany Oaks Pointe to Bethany Bend for access to the roundabout. 
The three Hopewell projects are all funded by the Transportation Special Purpose Local-Option Sales Tax. 
Milton has also opened the bidding for a company to conduct right of way acquisition for the future roundabout at Freemanville Road and Birmingham Road. The project will create a single-lane roundabout. 
While road improvement projects are underway, Milton will also be putting its speed limits under the microscope. The city allocated $125,000 in its 2020 budget to conduct a traffic study on the city's roads.
"The true purpose of this initiative is to evaluate and hopefully reduce speed limits on our collector roads when considering a host of variables, including vehicles entering from private residence, horse trailers trying to enter traffic, sight distances, etc.." a statement from the city said. "This initiative will involve significant public input so that we get a good assessment of what our community wants."