MILTON, Ga. — Milton is one step closer to connecting with the Big Creek Greenway.
The city approved a contract Jan. 22 to begin early engineering for paths beginning at Cambridge High School that will eventually connect to the Greenway.  
An updated GDOT plan calls for connecting and constructing sidewalks beginning along Cogburn Road near Cambridge High School that will connect with paths along Webb Road and Morris road north to McGinnis Ferry. 
Those paths will link with the interchange at McGinnis Ferry Road and Ga. 400, which is currently in its design phase. GDOT's intersection plan calls for trails that will connect to the Big Creek Greenway at Union Hill Park in Alpharetta. 
The trails along Cogburn Road, Webb Road and Morris Road will come with federal funding. The city showed favor for accepting the federal dollars last March, which will include $400,000 for preliminary engineering with a $100,000 match from Milton.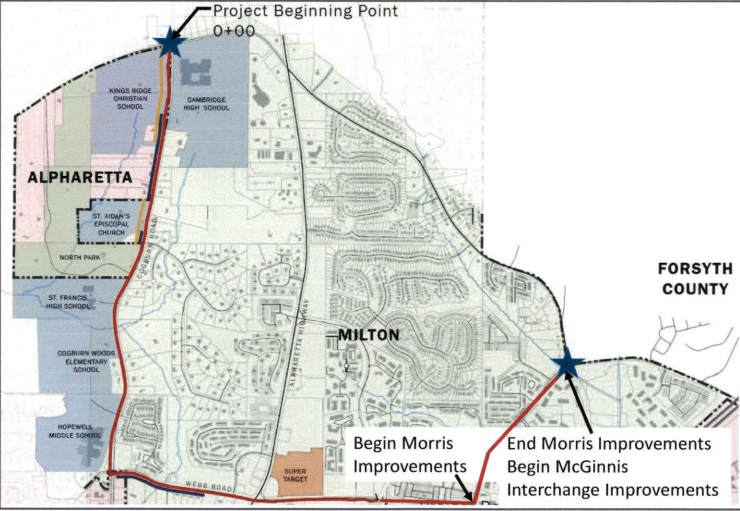 The City Council approved an agreement with Pond & Company consultants at its Jan. 22 meeting to begin the initial stages of engineering the project. The preliminary engineering phase should be completed by the end of the year. 
The project is among several potential connections to the Greenway. The concept study was funded by the cities of Milton and Alpharetta, the North Fulton Community Improvement District and federal dollars.
Milton Transportation Engineer Sara Leaders outlined the results of the study at last week's City Council meeting. 
One option could be connecting to the trailhead at Marconi Drive in Alpharetta via Windward Parkway, or using Windward Parkway to tie into a future Greenway connection by Forsyth County and Alpharetta. 
Another plan outlined the potential for the TSPLOST-funded widening of Morris Road. The outline includes a multi-use path on the northern side of the thoroughfare up to Bethany Bend, which could allow for a connection in Forsyth County. 
Leaders said a connection along Webb Bridge Road identified in the study could be sidetracked because of GDOT's managed lane project on Ga. 400, which calls for placing an interchange near there.
The study also drew a pedestrian connection beginning at the eastern end of Webb Road across Ga. 400. However, Leaders said this is a long-range project and it has no funding.