MILTON, Ga. — The state of Milton is "strong," and 2020 is poised to be another year of growth and progress for the city. That was the message from Milton Mayor Joe Lockwood at the city's annual State of the City address Jan. 30 at City Hall.
Lockwood and the heads of each of the city's departments outlined the city's 2019 accomplishments and looked ahead to what residents can expect to see this year.
"It's been an honor to serve this community for the past 13 years along with our council members, our staff, and most importantly, you guys, our citizens," Lockwood said. "I've seen how much we've grown since our incorporation, and I'm pleased to say the state of our city is strong. We aren't just growing in numbers. In just our 13th year as a city, we are growing as a community and growing into our own."
Lockwood said the city is continuing to create a sense of place, and positive steps were taken in 2019 to move forward, including breaking ground on the city's new public safety complex. The 40,000-square foot facility, located on 3.5-acres along Cambridge High School Road, will house the city's court, police headquarters and Fire Station 44. The station will be the first in Milton to be built by the city, and Lockwood assured the audience it "won't be the last."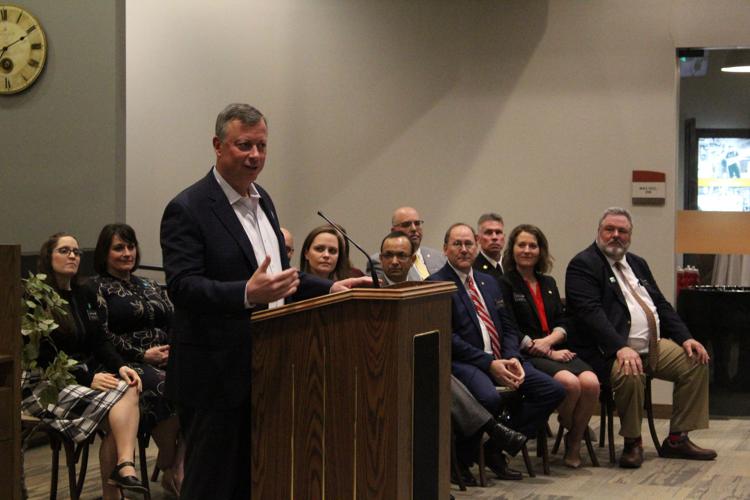 The mayor also outlined three initiatives the city will undertake in 2020 to uphold its character.
"We know that our rural heritage and beautiful scenery sets Milton apart, and we need to protect this proud, unique identity," Lockwood said.
Milton is currently in the initial stages of drafting an equestrian/agricultural zoning district that Lockwood said will create regulations to preserve and incentivize those uses.
"The horse on our city logo means a lot to us, that's why it's critical for us to preserve that heritage," he said.
The city continued to use Greenspace Bond dollars to preserve land in 2019, and Lockwood said Milton will add to the 390 acres it has safeguarded from development this year.
Milton is also set to finalize its revised tree ordinance.
Community Development Director Parag Agrawal said seven projects are currently in the works in Crabapple that will create a "lively downtown" in the near future. His department will also focus on creating more walkability around the city, he said.
Public Works Director Robert Drewry outlined some of the city's transportation projects, including the Charlotte Drive extension in downtown Crabapple set to be completed in late March or early April.
"We are confident that this improvement will help reduce the traffic in the downtown Crabapple area," Drewry said.  
Economic Development Director Sarah LaDart outlined new initiatives to boost the business climate the city undertook in 2019, including Corridor Conversations and Meet Me in Milton. She also announced the formation of the Milton Business Council which aims to promote the city's businesses under the banner of the Greater North Fulton Chamber of Commerce.
LaDart also charted changes to the city's alcohol ordinances that could pave the way for additional business opportunities in Milton if approved.
Parks and Recreation Director Jim Cregge said 2019 was a year in which Milton could invest in its own parks, a new direction after its parks-sharing agreement with Alpharetta ended. The city has recently added new programs, constructed a lacrosse wall at Bell Memorial Park and finalized the purchase of the former United Sports Complex on Cox Road
"2020 can be our best year yet," Cregge said. "We are grateful and excited for what is to come."
Finance Director Bernadette Harvill said the city was honored twice last year for sound financial reporting, and City Clerk Susie Gordon said the city's new public records system will streamline the open records process and soon go live. Human Resources Director Sam Trager summarized new health initiatives for city staff and reported that over 25 city employees were hired in 2019, including three department heads.
Community Outreach Manager Courtney Spriggs told the audience about the city's new comprehensive internship program, and Court of Clerk Brooke Lappin explained how Milton's new e-court system will streamline and enhance the city's court.  
Police Chief Rich Austin and Fire Chief Robert Edgar each heralded the city's new public works complex, with Austin calling it a symbol of Milton Police's progress.