MILTON, Ga. — Three Cambridge High School students are running a program to help transition middle school students to high school and develop vital life skills. 
The Skills of Adolescence program was spearheaded by Cambridge students and SkillsUSA members Phillip-Michael Collins, Michael Hudson and Chesney Zillweger, and has grown from a small group to an official connections class at Hopewell Middle School.
In December 2018, Collins approached Hopewell Middle Administration with a proposal for a club of 20 members that would take eighth grade students and promote leadership qualities and prepare students for issues they may face during high school. 
"We called [the issues] the seven dream killers, because these issues threaten every adolescent's dream for the future," Collins said.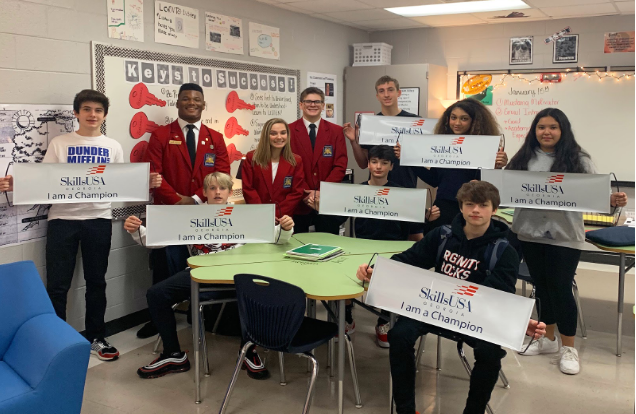 Collins was made aware of the significance of the seven issues after working with award-winning author Kit Cummings, he said.
"Kit left an incredible impact on me and gave me the confidence to believe I could be the one that make a difference in my community," Collins said. 
The instruction also includes the framework for the SkillsUSA program. Collins said the program's focus on personal, workplace and technical skills enables students to become world-class workers, leaders and citizens. 
The three Cambridge students also incorporated a curriculum created with Hopewell teacher Geri Southall, Collins' former teacher. Collins said Southhall strongly advocated for the class, and it was made possible by her efforts. 
Since then, the group has swelled from 20 members to becoming an official connections class with over 100 students. Collins, Hudson and Zillweger teach the class during late-start days at Cambridge. 
"We were given a golden opportunity," Collins said. "The faith that Hopewell put in us was extraordinary, and we knew exactly what we wanted to do with it. We finally realized it wasn't enough to just take bad habits away, we needed to introduce fresh habits to replace the old."