It is easy to question the existence of ultra-performance SUVs.
It could be argued that it is simply demand. People are leaving sedans, coupes, wagons and hatchbacks in the bottom of the toy pit while they run to play with their shiny new SUV, and some want their new plaything to be quick. Maybe some people just want the practicality of a hatch and big cargo area that can be supplemented by folding rear seats. There are surely those that are willing to sacrifice some fuel economy, aerodynamics and low center of gravity for a higher driving position. And of course, there are those weirdos who actually still take their SUVs off asphalt. 
I'm sure those factors, or perhaps a myriad of combinations, motivates buyers to drive off dealership lots in hot SUVs, but I think I finally found the real reason. They are just grand tourers in high heels.
What defines a grand tourer can be debatable, but generally they offer luxury appointments, distinct styling, a decent dose of practicality, a blend of corner carving capability and smooth sailing, and the ability to hustle or be happy to soak up leisurely highway miles.
And if that's how we define a grand tourer, it could be argued that high-performance SUVs are just GT's that hit a vertical growth spurt. Or at least, that's what I am going to argue.
In that case, Mercedes-AMG, from its smallest, least powerful performance SUVs to its most powerful are creating some fun-to-drive, solid GTs.
I recently spent a week behind the GLE 63 S, the second largest and most powerful of AMG's SUV offerings with over 600 hp on tap, before a 7-day jaunt with the GLA 35, the smallest and least powerful (though still potent) SUV wearing an AMG badge.
There are a bevy of differences between the two models that go well beyond size and power, but what they both have in common is a refined appearance inside and out, everyday usability and serious, smile-inducing power and performance.
2021 MERCEDES-AMG GLE 63 S
Okay, there is at least one more reason people may want a high-performance SUV. I discovered this motivation after picking up a load of groceries, nowhere near filling the GLE's spacious cargo area. As I sat at a red light, I looked around the near dozen lanes of traffic I could see, all filled in the afternoon rush hour. Of all the cars I saw — there had to be over 75 — none could hold a candle to the sheer power and swiftness of the GLE 63 S. With a hard press of the throttle, I could have easily forced the beer in the back to evacuate its aluminum housing and scrambled the eggs.
To boot, my tester was a standard-roofed GLE, not the "coupe," so I could smoke everybody else on the road and would look unassuming before doing so.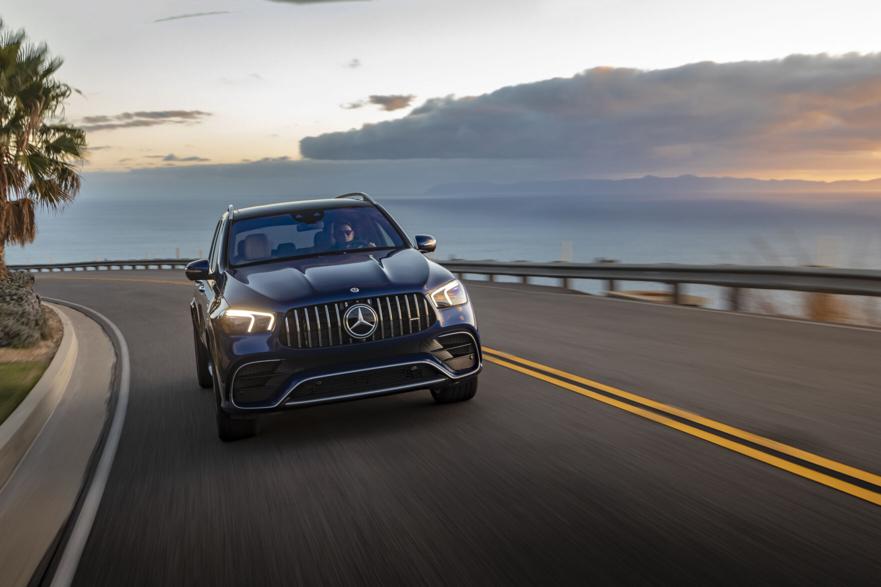 Behind the dinner-plate-sized Merc logo of the 63 S and its AMG-specific grille is a 4-liter, twin turbo V8 serving up 603 horsepower that will rocket the sizeable GLE to 60 in 3.7 seconds and on to an electronically limited max speed over 174 mph.  
That is a lot of numbers in a sentence to say this — the 63 S is quick. Damn quick.
Running late to get the kids to soccer practice? Just put your foot down a bit, and you'll be there on time, and the V8 will provide a booming, growling soundtrack the whole way.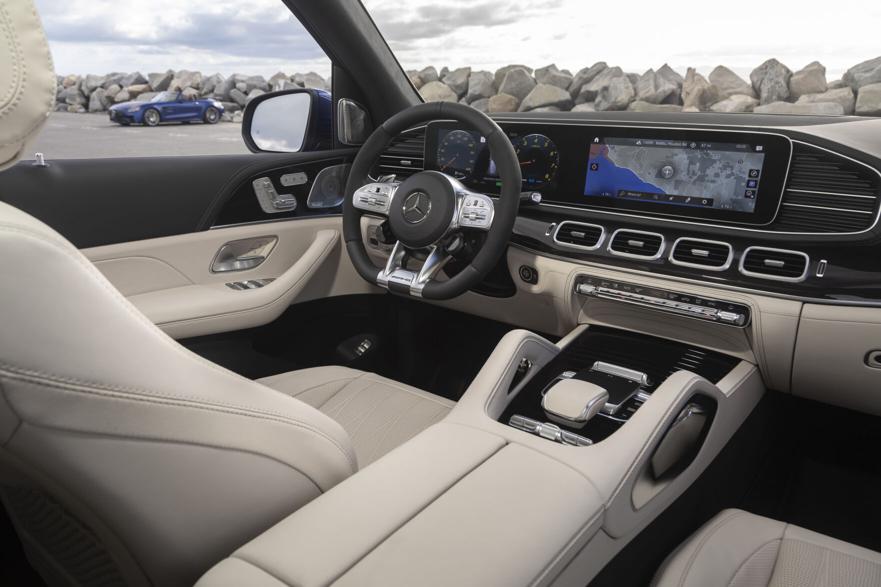 The 63 is smooth and swift in its power delivery, aided by an EQ Boost starter-alternator system that delivers 21 horsepower and nearly 200 pound-feet of torque in short bursts for aggressive acceleration input. So, while the snails spool, the V8 is still receiving a boost in power, eliminating any discernable lag.  
The generator also directs GLE's hybrid functions and completely erases the shutter typically associated with an auto stop/start feature.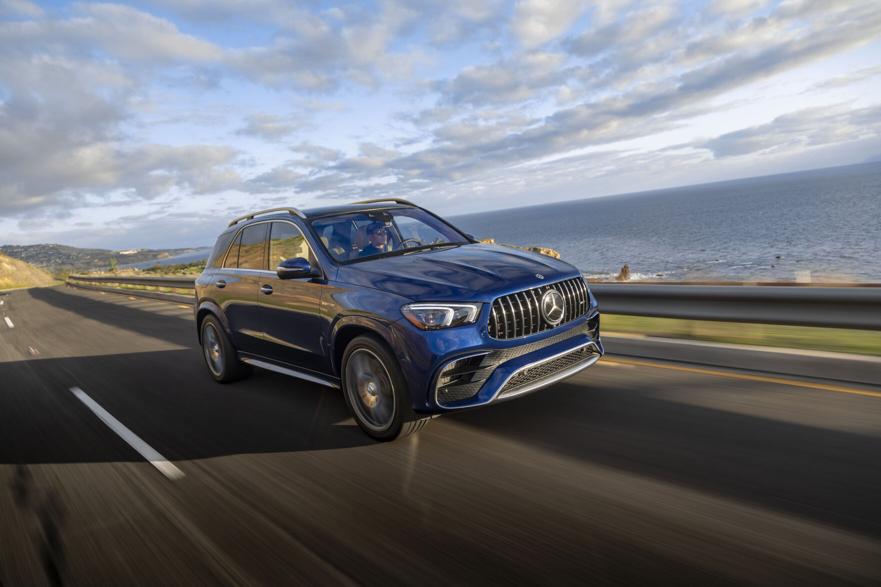 The GLE 63 S isn't just big power and no personality. AMG has gone all out in keeping the 2.5-ton SUV steady in cornering. Along with adjustable dampers and a bevy of driving modes, the standard Active Ride Control system fits two independent, electro-mechanical actuators on the front a rear axle which twist active antiroll bars to keep the 63 from leaning in corners.
The speed at which the 63 can corner without falling over on itself defies logic. Maybe physics.
The 63 S is certainly exciting in spirited jaunts, but as an SUV-cum-GT, it also needs to be practical and usable for every day. Those with bad backs may say the ride is a bit harsh, even in comfort mode, but I'd be perfectly willing to sacrifice a stiff jolt here and there to have the AMG stay so composed while attacking corners.
And with its large dimensions, there are loads of space for people and things. The back seat and cargo area are particularly spacious (though coupe versions cut down on headroom), and electronic folding seats make loading it up a cinch.
The 63 S also succeeds in providing lux accommodations, like dual 12.3-inch screens, Nappa leather seats with cooling and heating functions, a Burmester surround sound system, heated and cooled front cupholders, LED ambient lighting and other features. There are also plenty of options to further enhance the cabin.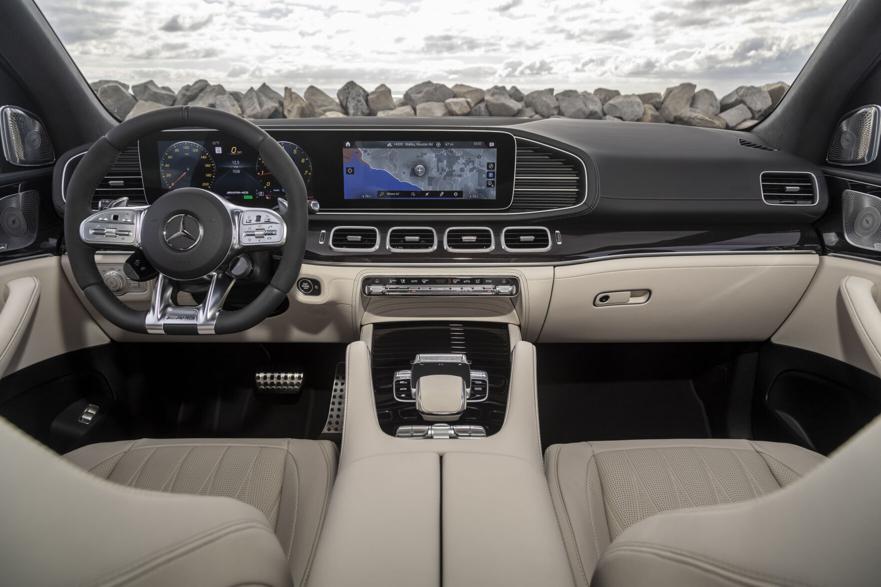 For those who want a spacious, high-riding GT with absurd power, the GLE 63 S is about as good as it gets. With a kid in tow and a wife with baby fever, I'd have to take it over the GLA 35. You know, if as a journalist for a weekly newspaper I could afford its $114,000 starting price. But for those who want something tinier and reasonable, AMG's smallest and least powerful offering is still a hoot to drive.
2021 MERCEDES-AMG GLA 35
The GLA 35 provides the kind of upscale cabin, driver aids and accommodations of the GLE, just in a smaller package as an entry to the world of AMG SUVs.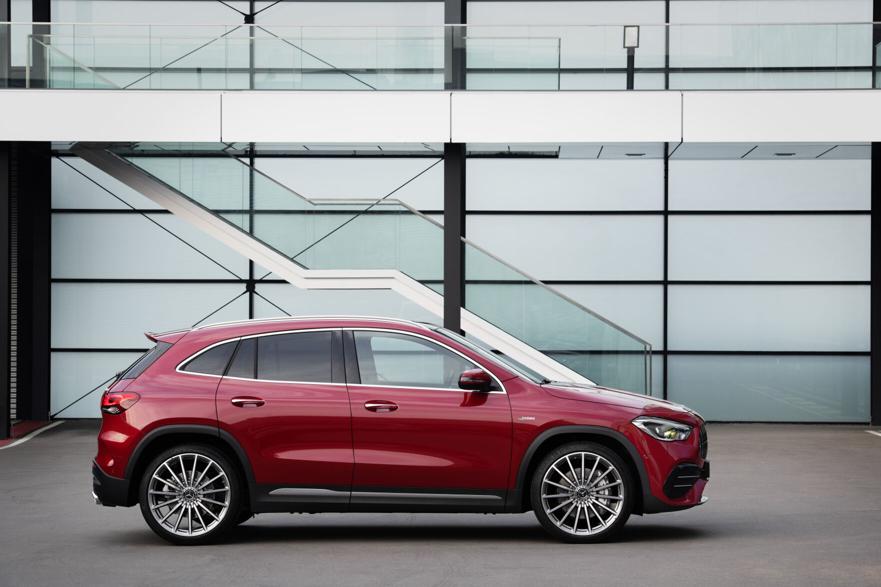 Of course, those more minute figures translate to power, but the 35 is far from a slouch. A 2-liter, turbocharged four-cylinder offering over 300 horsepower propels the GLA from a stop to 60 mph in five seconds. That's some seriously impressive performance for something that can easily slot itself in the "compact" spots of a parking deck.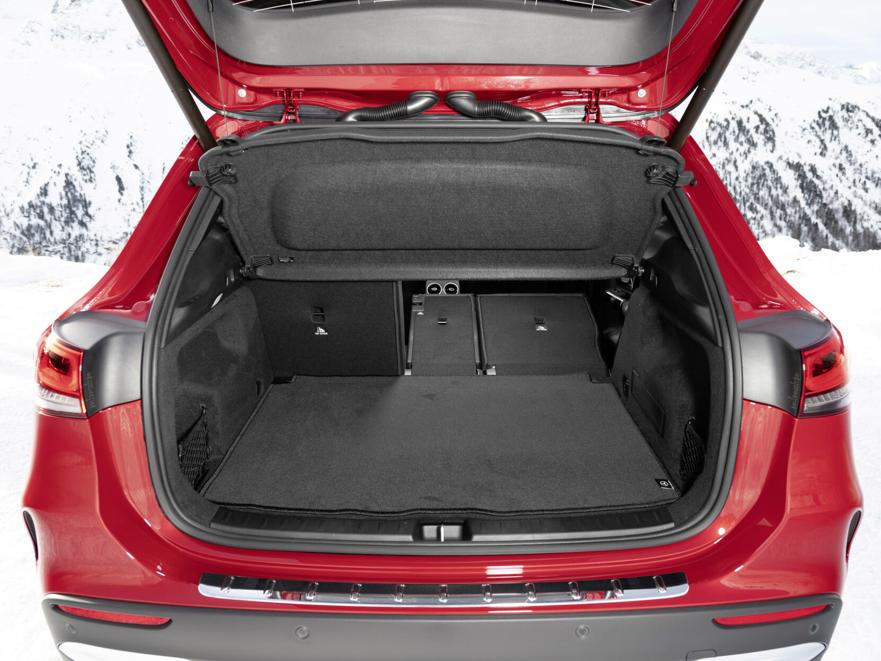 When thrashing around the little AMG, the dual-clutch auto with paddle shifters provides quick changes in sport driving modes, but leaving it to its own devices is not much, if any, of a sacrifice in performance.
Grip is ample through corners, and though it doesn't have the wide stance of the GLE, the 35 stays composed around bendy bits. Steering is quick and direct, though a bit lifeless, and brake feel is spectacular.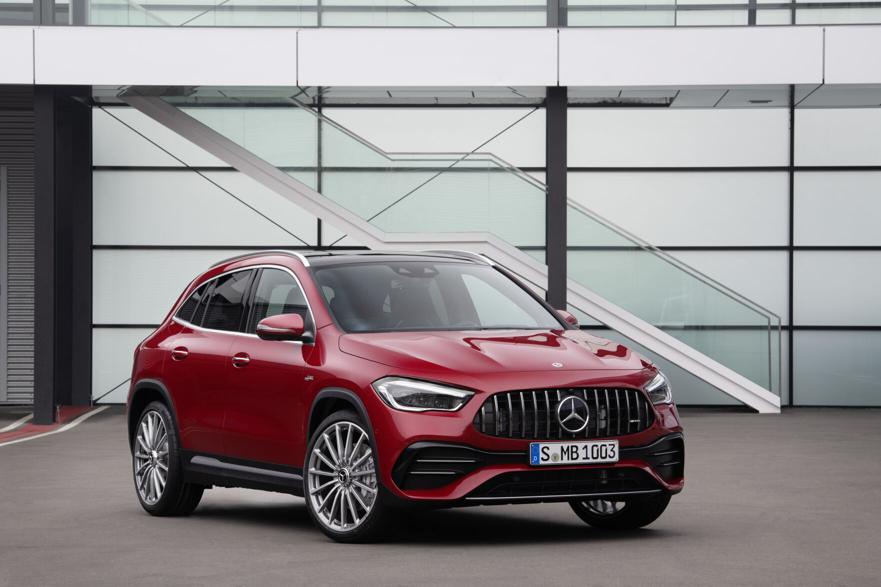 The GLA certainly delivers in the performance department, but to be a good GT is still needs some practicality and comfort. Yes, I'm still making that point.
In that regard, the 35 provides respectable cargo space and passenger room for a compact, but the ride can be harsh.
The sport-tuned suspension and large wheels — this tiny SUV can be fitted with 20- or 21-inch wheels — can be jarring over lumps and bumps, and hard, thin-walled Continental tires cause passengers to feel every crack or uneven patch on the roadway.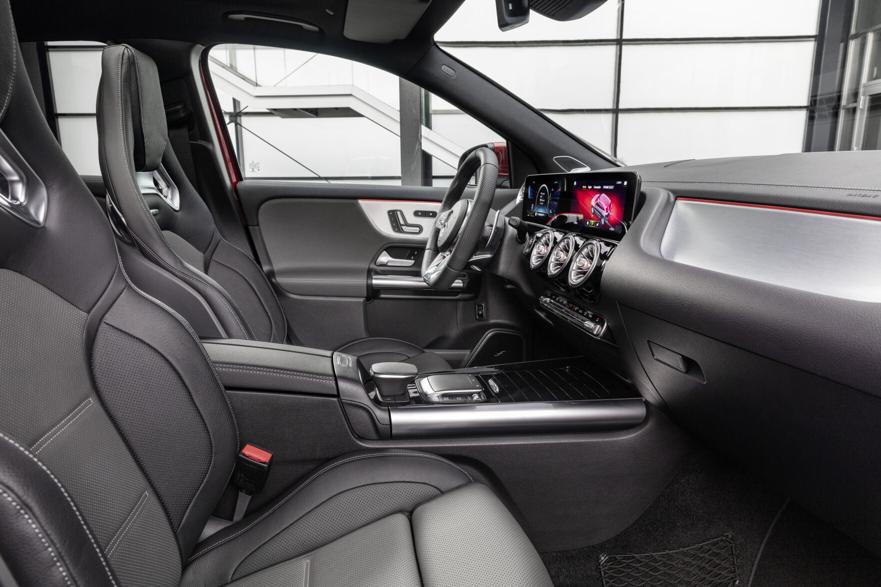 And yes, I do realize just a few paragraphs ago I talked about sacrificing some ride comfort for performance with the GLE 63 S, but the stiffness is more pronounced in the GLA.
Still, the GLA 35 provides the good time behind the wheel that should be expected of something wearing an AMG badge with plenty of creature comforts along for the ride.
The proliferation of performance SUVs is clearly here for the long run, and it is easier to see why if we view them as tall GTs. And if you want a GT SUV that is A-OK, consider AMG.