JOHNS CREEK, Ga. — From elected officials to a teenage entrepreneur, fulfilling untapped potential was the theme at the Johns Creek Chamber of Commerce's Jan. 14 Chicks in Charge.  
The all-day event featured four women leaders sharing stories about the paths taken and obstacles overcome on their career journey. This was the third Chicks in Charge event hosted by the Johns Creek Chamber and Emory Johns Creek Hospital.
This year's four guest speakers were Fulton County Commissioner Liz Hausmann, canine search and rescue expert Vicki Bemont, teenage nonprofit founder Samruddhi Panse and Fulton Chief Magistrate Judge Cassandra Kirk. 
Hausmann spoke about fighting to be taken seriously as the chairman of the Fulton County Republican Party in the early 2000s, to surprising herself by running for the county school board, to eventually serving on the inaugural Johns Creek City Council. 
"I was happy to be the worker bee, the person in the background," Hausmann said. "I had never, ever thought about running for office."
However, once elected to the Board of Education, Hausman found she was grateful for the opportunity. 
"It was one of the most gratifying experiences," she said. "I learned about all corners of Fulton County, about what makes us unique and the growth that was expected … When someone calls you with a problem with their child, and you're able to help them, that is so satisfying." 
In 2010, she stepped down from the Johns Creek City Council to run for the Fulton County Board of Commissioners. She said initially her role was to push back against the south Fulton commissioners. 
"When I went down there, I decided I didn't want to be a bomb thrower, but I did say 'no' a lot," she said. 
Since the district lines were redrawn creating three north Fulton seats, Hausmann said the board has vastly improved its financial management, department leadership and data collection and transparency. Hausmann ended with a call for more women to step up to leadership.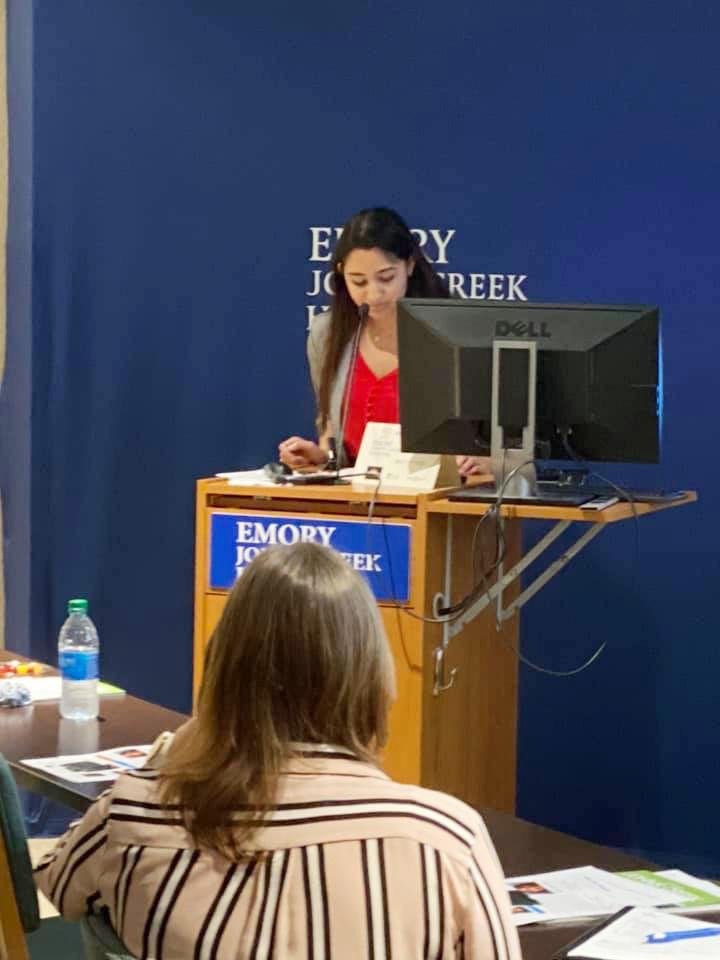 "I don't want to be the only woman in the room," she said. "We have to do a better job supporting each other, and nurturing each other, not nit picking each other or being jealous of each other."
Next up, Vicki Bemont shared stories from her career in human remains detection, including a week searching in the aftermath of Hurricane Katrina, a search for a missing member of the Saudi Royal Family and an appearance on NBC's "Dateline." Bemont said she has wanted to work with dogs her entire life, but it took years to find her calling in search and rescue. 
"My passion for dogs began in the crib," she said. "My first word was 'puppy.'"
As a teenager she began breeding American Kennel Club show dogs, and she continues to work as a judge today. She also trains dogs in Tennessee. In the mid-1990s, she became interested in canine search and rescue. 
She spoke about the long certification process, the different types of search and rescue and how she landed on working with cadaver dogs. Bemont said she found meaning through bringing closure to families who lost loved ones. 
"Searchers are androgynous," Bemont said. "They don't really care if you're male or female. They care if you're good, but I think that women bring a special compassion and sensitivity to the search that some men don't." 
At 17-years old, Samruddhi Panse has already found a calling as the founder of a nonprofit. The Compass Movement works to raise teen mental health awareness and combat the stigma surrounding suicide and depression. 
"So many people feel like they were isolated, like they're the only people who were going through what they are dealing with," she said. "Mental health is too big an issue for any person to deal with it on their own, so I that's why I started Compass Movement."
Panse and other high school students, with the guidance of licensed counselor Carmy Howard, run a blog where teens can share their stories and advice for people struggling with mental illness. 
"We're trying to stop the snowball before it gets too big," Panse said. 
Panse shared lessons she had learned from starting Compass Movement and her missteps along the way. 
"Every mistake you make is an opportunity to grow," Panse said. "That was the hardest thing to learn, but it was also the most important. There are so many moments that if I had listened to what I was told and the people who tried to bring me down, I wouldn't be here today."
Wrapping up the seminar was Cassandra Kirk, Chief Magistrate Judge of Fulton County. Serving 200,000 people each year, Fulton County Magistrate Court is the busiest court in the Southeast, Kirk said. She spoke on her journey to her current post, including running for office last year. 
"I think the reason that I'm here today is because what I saw as the worst year of my life, was actually the best year of my life," Kirk said of the election
Kirk spoke about challenges she has overcome as a woman in a male-dominated field and thanked the men who helped open the door for her. 
"For me, part of God's providence in putting mentors in my life is that I am getting support even when I don't realize it," she said.