JOHNS CREEK — The Johns Creek Veterans Association reported April 27 that the city's newly installed Vietnam Veterans Memorial had been vandalized over the prior weekend. 
Located at the city's Veterans Memorial Walk in Newtown Park, the "Wall That Heals" is a half scale replica of the national memorial in Washington, D.C.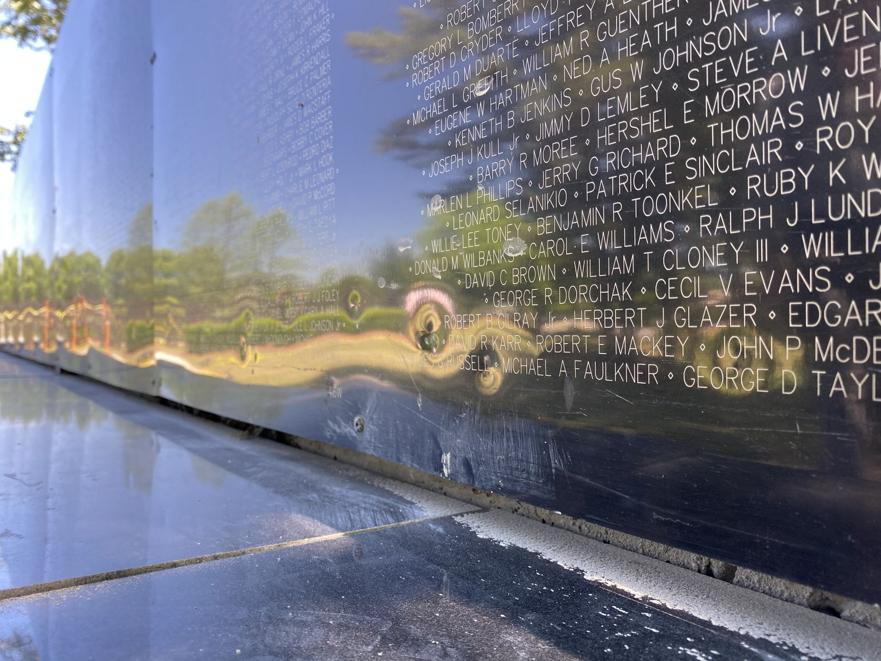 "Friday we were there power-washing it," Johns Creek Veterans Association President Mike Mizell said. "We left late that afternoon, and when we came in Monday morning about 8:30, one of the guys that had been helping us said, 'Did you see this?'"
There were dents that appeared to be made with a hammer and long scrape marks similar to when a car is keyed, Mizell said. Some of the damage went right through the names of fallen service members.
"It was not perfect when we bought it," Mizell said. "It had been touring the country, so there were some nicks and scratches, but not to the extent of the damage that was done. It's kind of crazy that somebody would do something like that."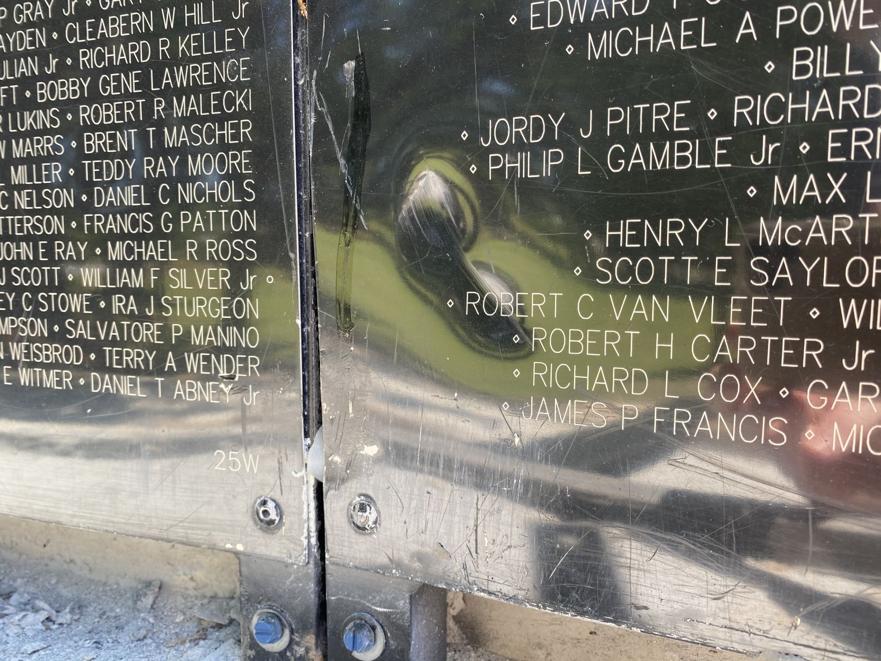 Police have asked anyone with information to call 678-474-1600.
"It's absolutely reprehensible that it happened," Johns Creek City Manager Ed Densmore said. "It's not a matter of if. When we find these people, we will definitely prosecute them."
At that Monday's meeting, the city council asked Densmore to look into what security measures could deter future vandalism. Densmore promised to look into it when more is known about the incident.
Councilman John Bradberry, himself a Marine Corps veteran, condemned the crime and asked people to separate their opinions on the war from their treatment of veterans.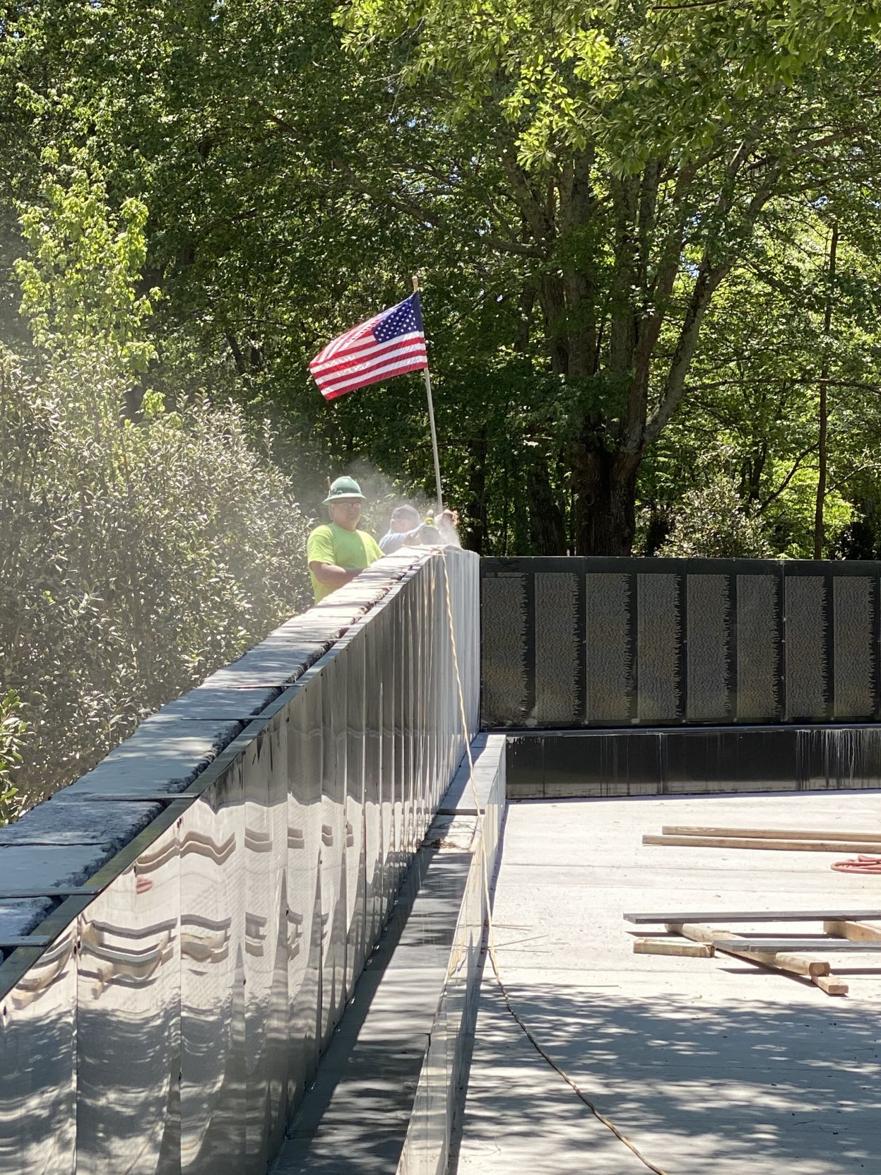 "Even if a person doesn't agree with what we did in Vietnam, people need to realize that most of the people on that wall were kids who were recently out of high school," Bradberry said. "They gave the ultimate sacrifice not because of any master plan of the United State of America, but many times just to protect their buddy that was next to them."
Before social distancing measures set in, the city planned to officially debut the wall March 28. The city broke ground on the installation last summer. The celebration has now been delayed a second time, as uncooperative weather prevented the original plan for a November 2019 ribbon cutting.
The veterans group is using the extra time to continue to make improvements to the memorial. Mizell said they plan to add black granite benches and more colorful landscaping. Longterm, the group would like to add replicas of The Three Soldiers statue and the Vietnam Women's Memorial.
"There's a lot of things we can still do," Mizell said. "Every little thing is geared to making it nicer and something that veterans in the entire community can enjoy."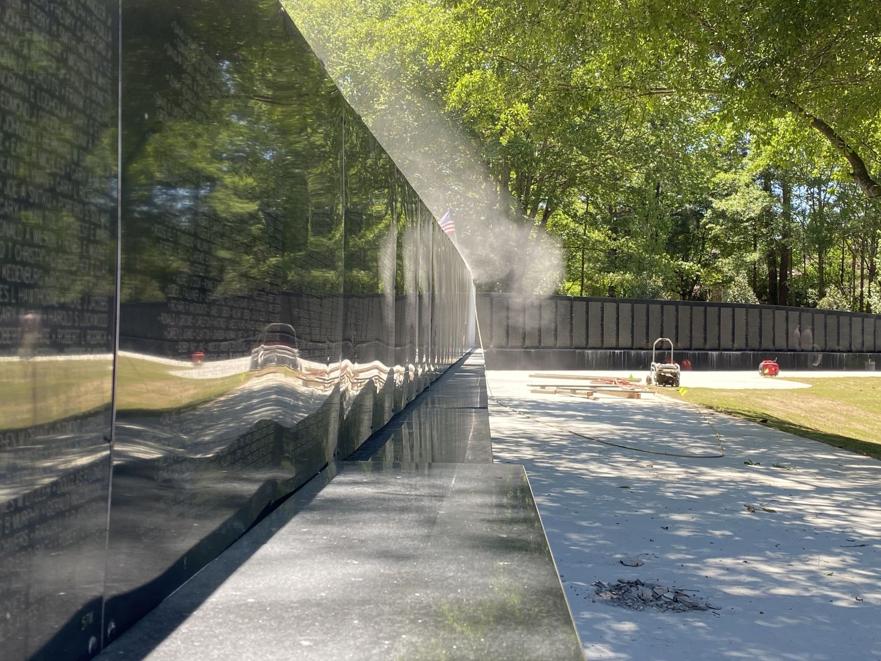 Like the National Vietnam Veterans Memorial Wall in D.C., the "Wall That Heals" is a black chevron with more than 58,000 names of U.S. service members who lost their lives or were missing in action in Vietnam.
Since its beginnings in 1996, the "Wall That Heals" project has toured a replica of the memorial to nearly 600 communities, including Johns Creek in spring 2017. In May 2018, the city announced it would become the permanent home of one of the retired replicas.
Other retired replicas draw an average of 65,000 visitors a year. During its 2017 visit, the monument drew around 8,500 people.
Several individuals and organizations have helped make the installation possible, including the Veterans Association, Johns Creek Convention and Visitors Bureau, Johns Creek Chamber of Commerce and John and Cori Davenport.
Somber site made even sadder
Construction crews continue work Friday installing The Wall That Heals at Veterans Memorial Walk in Johns Creek's Newtown Park. Officials reported that vandals had damaged several sections of the wall, possibly with a hammer and sharp instrument, sometime over the previous weekend. The Vietnam veterans memorial is a black chevron with more than 58,000 names of U.S. service members who lost their lives or were missing in action in Vietnam. 
Donations, to help with the costs of repairs or future improvements, can be made at jcvets.org or by mail at JCVA at Park Place of Newtown Park, 3125 Old Alabama Rd, Johns Creek, GA 30022.
The vandalism was a minor setback in a project that has otherwise enjoyed widespread support.
"It's not going to put us down," Mizell said. "It's not going to stop us. I'm a little disappointed that someone would see a need to do something like that, but we're going to keep moving on."