JOHNS CREEK, Ga. — About three dozen people gathered in Newtown Park Sept. 19 for a ceremony in honor and recognition of America's prisoners of war and those who are still missing in action.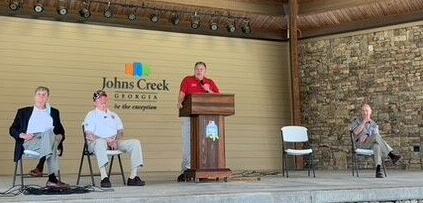 "We must never forget, freedom is not free. Someone has to pay for it," Georgia Military Hall of Fame Inductee Roger Wise said.
In 1979, President Jimmy Carter deemed the third Friday of every September National POW/MIA Recognition Day.
Georgia Military Veterans Hall of Fame Director and Chairman Col. Rick White started planning the Johns Creek event after speaking with good friend Bill Robinson, the longest-held enlisted prisoner of war in American history. When White found out Robinson would be in Georgia for POW/MIA Recognition Day, he invited him to attend the Johns Creek ceremony.
Three other Air Force POWs, Kevin Cheney, Wayne Waddell and Ron Mastin, shared their stories with veterans, family members and Johns Creek citizens.
"The community of Johns Creek, I'm very proud to say, is a very patriotic city," White said. "This is a Purple Heart city and we get their total support. We don't normally have a ceremony for POW/MIA Day, so this is a big deal."
Johns Creek Newtown Park is home to the 4-acre Veterans Memorial Walk and the Wall That Heals. The walk features a trail with black, granite monuments recognizing each conflict involving American armed forces since World War I. It also includes special monuments to Purple Heart recipients and POW/MIAs and women in service.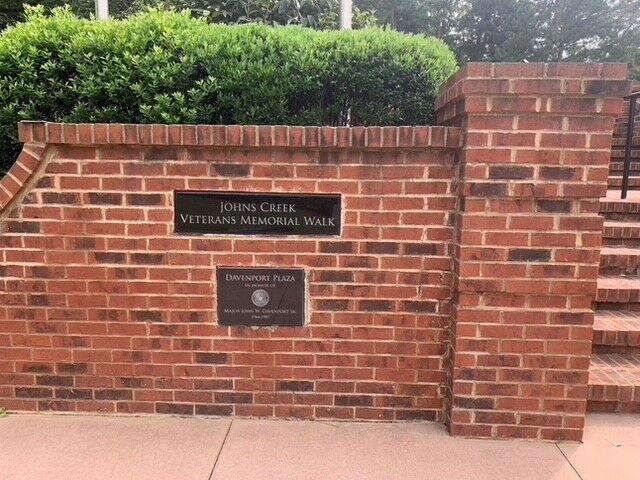 Johns Creek acquired The Wall That Heals, a 250-foot replica of the Washington D.C. Vietnam Veterans Memorial, in March 2020.
"Most Americans don't realize that there are still 81,000 veterans unaccounted for who have served in wars all over the world," said Mike Mizell, Johns Creek Veterans Association president. "That means there are 81,000 families out there who don't know the status of that veteran or where they are. These are the few that sacrifice so much."
Kevin Cheney, a prisoner of war for nine months in Vietnam, recalled how he had been held with his college roommate's father, a Colonel Guarino at the Hanoi Hilton. Cheney was able to use a tapping communication system to tell Guarino that his wife still had a photograph of the two of them hanging above the mantel in their home. The other men in Guarino's cell told Cheney that his message brought the colonel hope.
"Being single and shot down, not fun," Cheney said. "But that one moment, being able to do that for Colonel Guarino, made it worthwhile."
Ron Mastin, a prisoner of war for six years and one month, shared the three things that kept him going during his first months in captivity. He relied on communications with other prisoners through their tapping code, setting goals or plans for the next day and the strength of his own character to endure the punishment.
While progress has been made in finding those who are still missing in action in Vietnam, Robinson said it is the citizen's responsibility to help bring them home. Robinson explained that they are running out of time to find those who are still missing in action because of the acidic soil in Vietnam.
"It is our responsibility to keep pressure on our elected officials to make sure that they are never forgotten," Robinson said. "In this great land of ours, some people dream the dream, some live the dream and the armed forces defend that dream."