JOHNS CREEK, Ga. — Nine local high school students led a virtual debate Sept. 30 featuring the two candidates for the Georgia House District 50 seat.
The students, part of the Johns Creek Student Ambassadors Program, prepared questions and moderated an online debate between incumbent Representative Angelika Kausche, and former Johns Creek City Councilman Jay Lin.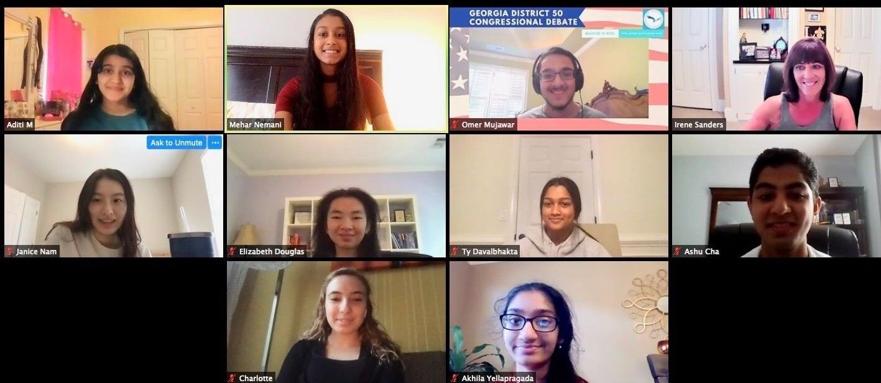 Student Leadership Johns Creek is a two-year competitive program that accepts applicants from the four high schools that serve Johns Creek — Centennial, Chattahoochee, Johns Creek and Northview. In pre-COVID times, nine students from each school could be nominated for the Secretary of State Student Ambassador Program, a competition to engage civic involvement. Although the program was canceled this year, nine local students went ahead and formed their own group, the Johns Creek Student Ambassadors Program.
Omer Mujawar, a junior at Johns Creek High School, acted as moderator for the debate and kept the candidates to time.
Acknowledging the limits of a virtual format, Mujawar said the biggest benefit was the community's access to information.
"Because of the format of the debate, we can get more participants to participate in local politics from the comfort from their own home," Mujawar said. "This debate is all about the community and connecting the governed with those who govern. Connecting the served with those in government whose purpose is to serve us."
The students posed questions related to current events like the pandemic, economy, climate change, police-violence, and healthcare and how the candidates would handle those issues in Johns Creek.
Democrat Rep. Kausche said she would continue to lead Johns Creek and represent the community. She especially focused on the issue of healthcare in the time of pandemic.
"My goal will be to continue on the path where I've begun," Kausche said. "Continuing to be your voice in the State House, listening to your concerns, representing you to the best of my abilities and talking about the issues that are dear to all of us."
Republican Lin said he backs small business, and the economy is his priority.
"My campaign is about preserving the American dream," Lin said. "It is about safety, accountability and prosperity. I believe these are the issues that people in Johns Creek care about."
Mehar Nemani, a junior at Centennial High School, helped curate and propose questions for the candidates. She said the questions selected had the utmost relevance to the current situation of our community.
"I think it is very important for local citizens to stay informed about candidates and upcoming elections, and while many might not believe so, local government is very important," Nemani said. "I am proud to say that even a pandemic can't stop our team."
Janice Nam, a senior at Northview High School, said the debates are important now more than ever for for people to see what matters to their candidates.
"Personally, I love the fact that people in my community, my school even, are standing up for their beliefs," Nam said. "However, in order to grow, we must listen to each other. That is why I think events like our debate are so important. We are encouraging neighbors, citizens, voters, to listen."
Other students participating in the forum were Aditi Mohan, Elizabeth Douglas, Ty Davalbhakta, Charlotte Lichtenfeld, Ashu Chakragiri, and Akhila Yellapragada. Tina Dong, a member of last year's ambassadors team is the student adviser, and the group is led by Irene Sanders, executive director of Student Leadership Johns Creek.
The debate can be viewed on the Student Leadership Johns Creek Facebook page. On Oct. 8 from 6-7 p.m., the group will host another debate between candidates Dr. Michelle Au and Matt Reeves for the Georgia State Senate District 48 seat. This debate can be viewed either on Facebook Live or Zoom.