JOHNS CREEK, Ga. — The City of Johns Creek announced June 15 that Police Chief Chris Byers had been placed on administrative leave pending an internal investigation.
Byers drew criticism for a post on his personal Facebook page criticizing local pastors for their support of the Black Lives Matter movement, which, he said, glorifies the killing of police.
The public comment section of the June 15 council meeting included several calls for Byers to resign or be fired.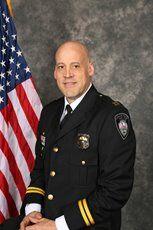 Johns Creek City Manager Ed Densmore said in a statement that the decision to open the internal investigation was made after conversations with community members, police officers and city staff and that the probe will look into allegations unrelated to his social media post.
In opening remarks to the City Council, Mayor Mike Bodker said that while he is grateful for the wide range of racial and ethnic diversity in Johns Creek, the challenges of the health crisis, economic uncertainty and racial injustice have left the city in need of repair.
"Our community is hurt, hurting from what is happening here in Johns Creek and hurting from what is happening across our nation," Bodker said.
Police Maj. Roland Castro has been appointed to serve as interim head of the Police Department.
Byers had only held the position of police chief since late March, after the city's first police chief Ed Densmore was appointed city manage. Byers has been with the department