Johns Creek, Ga. — For Tony Dagnino, his neighbor's dog is more than a best friend, he is his life-saver. Root Beer, or Rudy, a 3-year-old boxer mix, was the first to discover Dagnino was trapped beneath his car on Sunday, Sept. 13.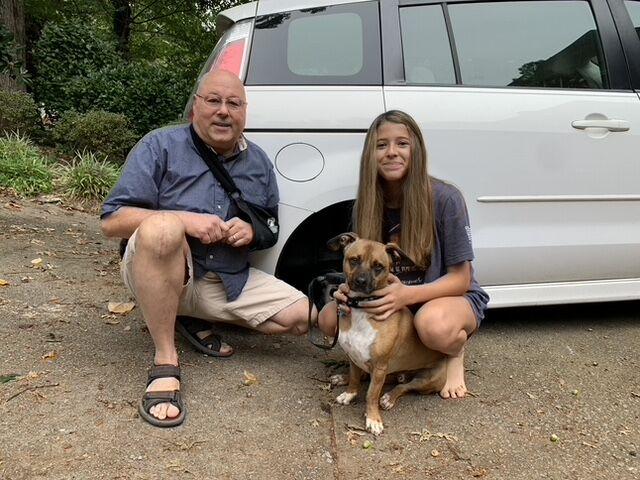 Dagnino had been trying to fix the suspension on a car for his 15-year-old son when the jack gave out causing the car to come down on top of him.
"I felt this tremendous weight on top of me, and when I realized what had happened, I started screaming my wife's name," Dagnino said. "It felt like an eternity, and then I said 'I don't want my family to find me like this,' so I started trying to scream louder and banging a wrench on the side of the car."
Emily Troung, Dagnino's neighbor, let her dog Rudy outside around 2 p.m. She thinks Rudy must have heard Dagnino's muffled cries because he took off across the street. Troung's 13-year-old daughter, Ella, heard her dog barking and saw him at the top of the Dagnino's driveway, so she went outside to retrieve him.
As Ella approached the dirveway, she saw Tony stuck underneath his car, and she began to call for help.
"I was panicking," Ella said. "I started yelling 'help, help,' and the neighbors came out to lift the car off of him."
The car was in a position so that none of the neighbors, or even Tony's wife, Lisa, would have been able to see him had Rudy and Ella not noticed.
"I couldn't see or hear him from where I was sitting in the front of the house," Lisa said. "I saw Rudy at the top of the driveway and thought it was strange that he had come over here."
Two of their neighbors were working to get the car off of Dagnino when Lisa came outside with her two kids, Nicholas and Annalisa. The five of them were able to lift the car enough that Dagnino was able to slide out from underneath. Dagnino said he thinks he would have lost consciousness had he been under there for much longer.
"I'm really lucky," Dagnino said. "This could have easily gone a different way, and instead of being here my family could be planning a funeral."
Dagnino suffered a broken collarbone and rib. He also needed stitches on his knee and has multiple bruises and contusions. His ER doctor told him that had it not been for Rudy, he might not have survived the incident. Dagnino is recovering at home with his family and trying to decide what kind of treat he needs to get for his "best pal" Rudy.