JOHNS CREEK, Ga. — Each day, tens of thousands of commuters drive down Medlock Bridge Road and pass a car wash at State Bridge Road without realizing they are passing a piece of history. 
Tucked behind the car wash and Publix is a 2-acre cemetery, the burial site of men and woman who were enslaved on the land that became Johns Creek. Those who know about the site, mostly a small but devoted group of historians and preservationists, refer to it as the Macedonia Cemetery.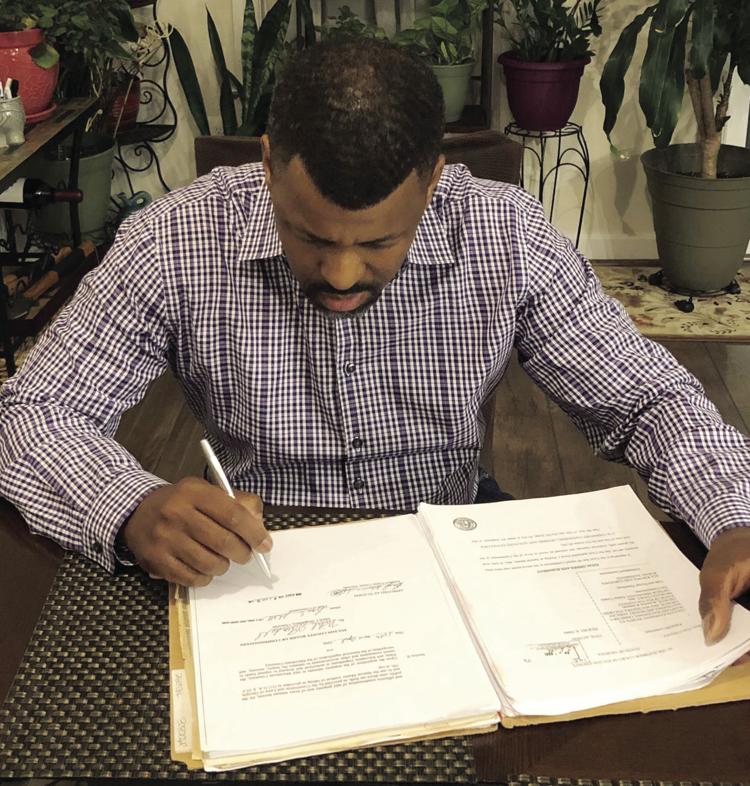 The Johns Creek Historical Society has worked to uncover the history of the graveyard but much is still unknown. Even more unclear is the site's future and whether the City of Johns Creek can reconcile its plans with the wishes of the families of those buried there.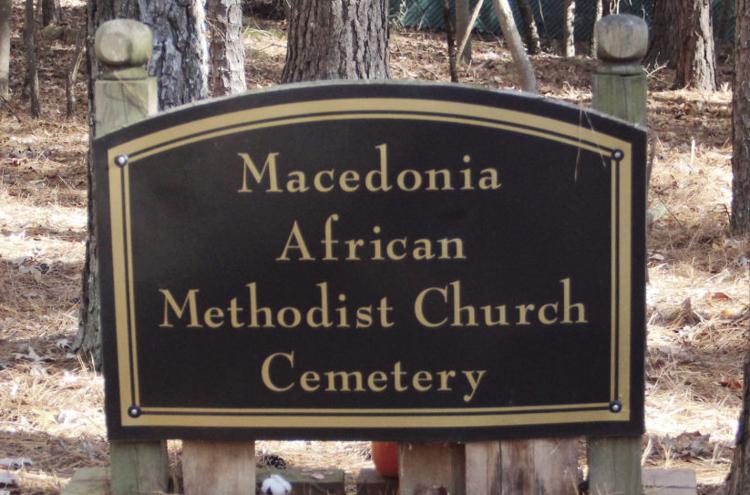 The Macedonia Cemetery is one of 13 cemeteries within the city limits. While the others are owned and maintained by churches or families, the City of Johns Creek took over grounds maintenance in 2016. However, who actually owns the property is unclear. 
The cemetery is believed to have originally been part of a plantation owned by Georgia Morgan Waters in the early 19th century and the burial place of the Waters family slaves. 
George Waters was the son of a British officer and a half-Cherokee woman. He served on the Cherokee Nation Supreme Court and owned a ferry and plantation around what is today the Atlanta Athletic Club. 
By 1905, the Macedonia African Methodist Church took over the property. The church eventually disbanded around the 1990s, and the building was destroyed sometime before 2002. 
There are about 50 graves, marked and unmarked on the site, according to a 2016 Department of Transportation report. The oldest grave dates to 1893, according to a 2012 study by the University of Georgia College of Environment and Design. The most recent graves are from the 1970s.   
April Waters is one of about 20 names identified at the grave site, with a death date of Oct. 15, 1910 at age 65, according to GDOT reports. 
Johns Creek Historical Society President Joan Compton said the story she had heard about April Waters was that she was a slave of George Waters who was freed at the time of his death in 1852. 
April was believed to be part of a group of slaves to sail to Liberia, a country in West Africa. About 3 in 4 African Americans who immigrated to Liberia during this time died from tropical diseases within a few years. April was believed to have been one of the lucky few who survived and returned to America. 
This version of history was shared in GDOT reports and news articles as recently as 2017. However, primary document research has uncovered many flaws with that story. 
First, George Waters's will shows that about 49 of his slaves were freed upon his death, but April was not one of them. April was to be bequeathed to the children of George's daughter Catherine, and therefore, April remained a slave until the end of the Civil War. 
Second, April's name does not appear on ship manifests of freed slaves sailing to Liberia. It is likely April never left the United States. 
Third, April was not a woman as assumed. In 1867, April Waters signed a Reconstruction Oath to obtain the right to vote. Finding this document showed researchers that April Waters was a man, because women did not receive the right to vote until 1920.
Other documents show that April worked as a freedman around Duluth until his death. Some of his descendants live in the Duluth area today. 
One of April's descendants, Madyun Shahid, helped uncover research into the man that history had forgotten. 
Shahid is a Marine veteran who was raised in Atlanta and now lives in Virginia. His interest in genealogy began in high school when he volunteered at the Atlanta Public Library. 
"During that time [around 1988], they had a genealogy floor," he said. "I would take breaks and go down and scroll through microfilm and look at old censuses."
Through this research, Shahid realized he had cousins in Duluth he had never met before. He continued researching his family history for decades.
"Every year, I would do a little bit more and more research," he said. 
In 2001, Shahid connected with a direct descendant of the landowner George Waters. They shared their research with each other, and she connected him to a founding member of the Johns Creek Historical Society, Ed Malowney, who had been researching April Waters in an effort to preserve the cemetery.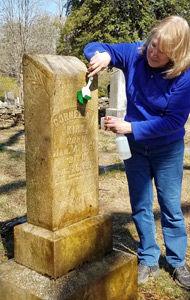 "One day, I Googled 'April Waters' and found articles from different papers about what they were doing at the cemetery," Shahid said. "I started looking on Ancestry.com and found connections from my father to grandfather to April Waters, who was my great-great grandfather."
Shahid said his new focus has become the preservation of the cemetery. 
"I want to try to see, if through my family and any other families that are out there, if there's a way to make it into some sort of memorial garden," he said. 
Between the time the church dissolved around the 1990s and when the city took over maintenance, the cemetery fell into disrepair. At one point, litter was rampant. There are no fences or means to prevent trespassing, no clear delineation of where the graveyard begins or ends. Many headstones are broken and missing. 
But it's not too late to beautify the cemetery, Shahid said. He imagines descendants buying bricks to create a walkway through the cemetery.  
"Landscape it, make it into a memorial garden and make it into a teaching moment," he said. "Even if it was a blemish on our history, we can turn it into a teaching moment."
"It would mean a lot knowing that my great-great grandkids won't have to do a whole lot of research," he continued. "They'll be able to make a connection there." 
The Macedonia Cemetery had a starring role in efforts to resist development in the 1990s. It received attention again in 2016 in a movement to stop billboards from going up, but since then it's been pushed to the wings. 
This year and last, the council considered allocating tourism product development dollars to the site, but both times the idea was quickly dismissed. 
"I think there's a very respectful conversation that this city has to have at some point," Mayor Mike Bodker said. "I'm all for us owning the property and for us getting it under control, and getting it cleaned up and protected, but there's a huge leap to go from that to opening it up to the public and turning it into a destination/historic sight."
Bodker said the city needed to know if that's what the families of those buried at the cemetery would want, how the site would handle needs like parking, and how it would impact the neighboring St Ives Country Club.  
Shahid said it would mean a lot to see Johns Creek recognize all the people who helped build it.  
"It would show that Johns Creek is leading the way for other cities in America," he said. "During that time, it was pretty bad, and it's not something that's talked about a lot. But this country is great, and it's good to see we can come back from that."