JOHNS CREEK — Nic Stone says she writes the books she wishes she could have read when she was growing up. 
"I didn't see a lot of books about people that looked like me when I was young," Stone said. "I wanted to write stories where the black kid gets to be a hero, but it was scary because I had never really seen it."
Stone, a graduate of Norcross High School who still lives in metro Atlanta, burst onto the literary scene in 2017 with New York Times bestselling "Dear Martin." The book tells the story of Justyce McAllister, a black student at an Atlanta prep school who begins writing letters to the Rev. Dr. Martin Luther King Jr., as the young man grapples with racism and police shootings.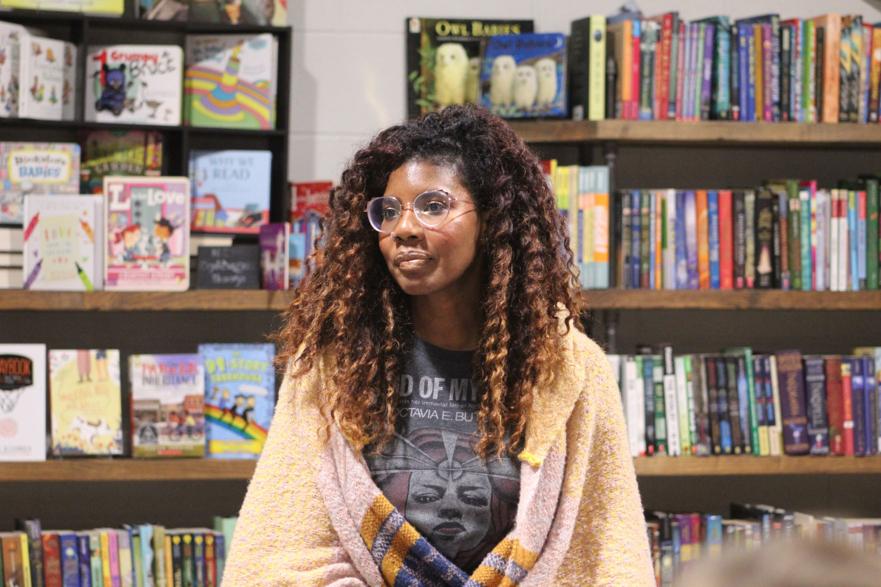 Stone said she was inspired to write the book after the death of Jordan Davis, a black high school student who was fatally shot over an argument about loud music, and after the birth of her son.
"Hearing about a person that was like the person I just made losing his life over something so dumb, it really hit me hard," Stone said. 
She said it was also written in response to seeing people quote King in opposition to protests against police killings and systematic racism in the criminal justice system. 
"Dr. King got into a lot of trouble just trying to make the world a better place," Stone said, pointing to her tattoo of the number from King's mug shot. "To hear somebody say that he wouldn't have supported people doing that exact same thing, that really made me mad."
Since the success of "Dear Martin," Stone has published "Odd One Out," which features LGBTQ high schoolers, "Jackpot," about a teen who sells a winning lottery ticket, and "Clean Getaway," which follows an 11-year-old black boy and his white grandmother on a cross-country road trip.
In May, Stone will publish her first foray into fantasy with "Shuri: A Black Panther Novel," about the tech-genius princess of Wakanda from Marvel comics and movies. 
Stone said writing a story with fantastical elements, like vibranium, was challenging and that she often had to sketch out scenes before she could describe them with words. At the same time, she said she enjoyed fleshing out the world of "Black Panther" and Shuri's backstory.
"Because I didn't have [books with black protagonists] during my most impressionable years, there was a part of me that didn't really believe in my own heroism," Stone said. "Seeing yourself reflected as a hero makes you believe that you can be a hero, so now I see it as my job to make sure you know that you already are a hero."
Stone spoke about the long journey to having her first book published and how her failures made her a better writer and a more confident person. She encouraged her audience to go after their dreams with focus and to not be afraid to fail.
"The impact she has on kids and the way she draws them out, I think it's truly life changing," Johns Creek Books and Gifts Co-owner Tina Newman said. "It's especially powerful here in such a small setting."
In addition to a Q&A and book signing, Stone gave away books to attendees who could answer trivia questions, including an unpublished manuscript of her upcoming book "Dear Justyce," a sequel to "Dear Martin."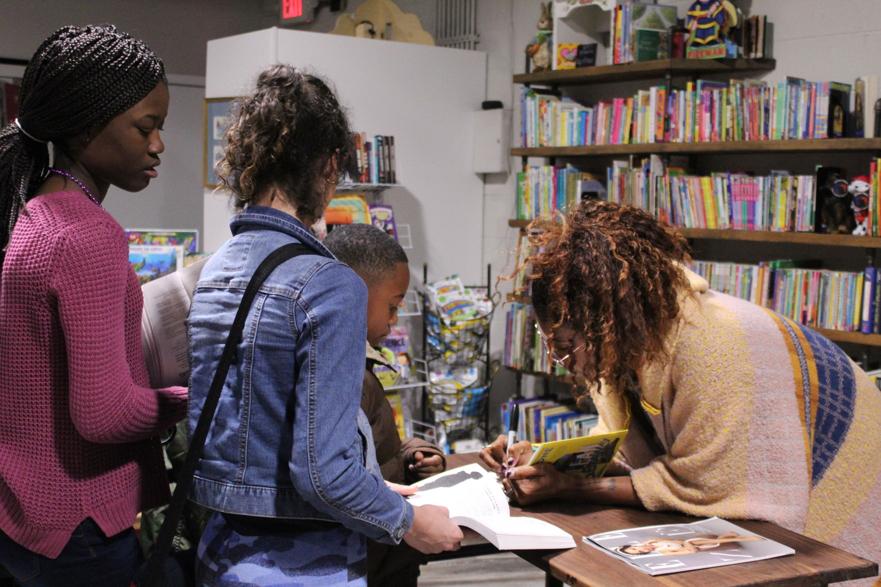 "We're so grateful she is willing to come here and support independent bookstores and have that more intimate experience," Newman said. 
Johns Creek Books and Gifts is at 6000 Medlock Bridge Road, Suite B500 in Johns Creek. It's next author event will be Thursday, March 26 from 4 to 6 p.m. with Patti Callahan, author of "Becoming Mrs. Lewis" and "The Favorite Daughter." 
The following night, Lisa See, author of "The Island of Sea Women" and "Snow Flower and the Secret Fan" will be in the store. For more information, visit johnscreekbooks.com.