FORSYTH COUNTY, Ga.—Forsyth County Board of Commissioners Chairwoman Laura Semanson declared a state of emergency in Forsyth County March 18.
"By declaring a State of Emergency, the county will be able to utilize personnel and financial resources to proactively ensure the safety of county residents," said Semanson.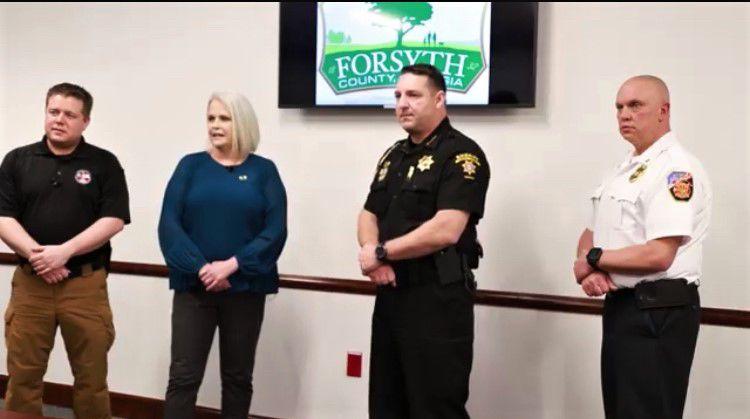 Semanson stood with public safety leaders and told the county that by declaring a State of Emergency it will allow the county "to move into a more proactive stance to be able to combat the threat of COVID-19" in Forsyth County.
"The intention of stating a state of emergency is for us to be more reactive, more responsive and to be able to act nimbly and quickly and be able to shift our resources whether they be personnel or finances to address problems as they present," Semanson said.
Sheriff Ron Freeman stressed that the declaration is "simply giving us [Forsyth County public safety leaders] additional authorities," adding that his office will now be looking at instances of price gouging.
"It is simply a change in the normal course of business of how your government works to allow us to better respond to any needs our community has regarding the needs of the current crisis," Freeman said.
Forsyth County Emergency Management, County Fire and the County Commission are prepared to provide residents with necessary services, Freeman said.
The County Administration building, all county offices on West Maple Street, the animal shelter and Code Compliance offices are closed to the public, Karen Shields, director Forsyth County Communications said. The County Administration Building will be closed, except during Board of Commissioner regular meetings and work sessions. Park and Recreation buildings and the county library have been closed since March 14.
"We feel like this is a prudent thing to do at this time to help flatten the curve of this disease," Semanson said.
Freeman said the Sheriff's Office may limit accessibility, but services will not suffer. If you dial 911, he said, "we're going to be there."
"Work with us, self-distance, eliminate trips you don't have to take," Freeman said. "I know it's tough, it's a change of how we do business, but we will get through this together and come out better than we were."