FORSYTH COUNTY, Ga. — Residents of south Forsyth got an opportunity to share their thoughts on design standards and branding ideas for the area at a special public input session Jan. 22 at the Sharon Forks Library.
Vanessa Bernstein-Goldman, Forsyth County deputy director of Planning and Community Development, representatives from TSW consulting and Arnett Muldrow Associates hosted the event. 
The project is part of the county's 2017 comprehensive plan, and the sub area input session was part of an effort by the county to create "a sense of place" and set standards for development of the area.
"We haven't had time to review statements, but through general conversations, we had a positive response," Bernstein-Goldman said. 
Roughly 50 people participated in the event which consisted of a review of illustrations and survey responses. 
Robbie Suite and Mary Ann Tweddle were in attendance and said they were impressed with the renderings showing pre-determined preferences.
"They're asking the people who live in the county, 'tell us what you want,' which is great," Tweddle said, adding that the two had been part of the decision-making process since September.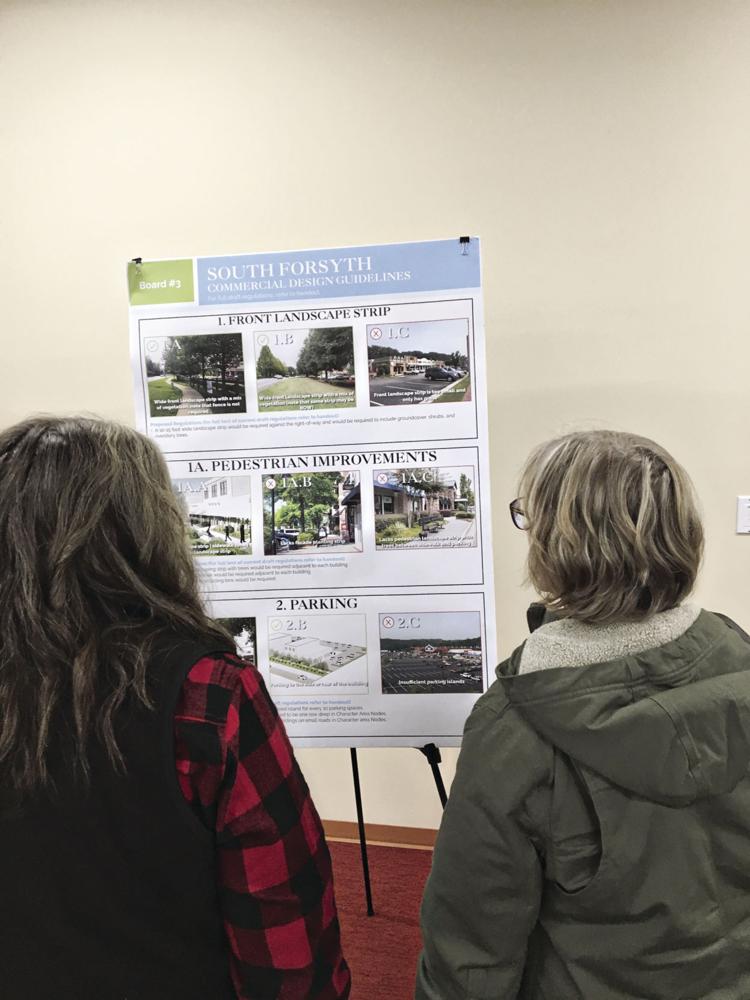 A three-day design workshop, held in September gathered citizen feedback concerning commercial standards and branding to help create a sense of identity for the southeastern portion of the county. TSW then drafted standards based on that public input and steering committee feedback. The results were presented to the community at Sharon Forks Library.
"We're basically saying, here's what we heard, here's how we interpreted it, let us know, is this what you envisioned or not," explained Alex Fite-Wassilak, TSW associate.
Feedback from the first open house will be incorporated and be presented to the public in February. 
Once refined, the draft will be presented by TSW to the county for final approval.
Building on a premise of hierarchy, the branding portion will include a logo that fits the county but highlights the area and its character. From there, the region would then be broken down to districts, such as "The Exchange" for the area including The Collection, for example. 
The illustrations showed interpretations of comments made during the workshop and designed to get further details from attendees, Fite-Wassilak said.
"I think the branding of the districts is wonderful," Suite commented. 
Sub-districts locations and names, along with individual brand designs will be created from feedback from the community, too. 
Commercial design was another component of the workshop last fall. Residents, property and business owners seemed pleased with the displayed representations.
"This is still in the formative process," Bernstein-Goldman said. 
Eventually the entire county will undergo the same process. 
Someone had to go first, Forsyth County Commission Chair Laura Semanson said.
The team will host the next open house February 24 at the Sharon Springs branch of the Forsyth County Public Library. That session runs from 5:30 to 8 p.m.