CUMMING, Ga. — Santa Claus stopped by the 2019 Mentor Me Christmas party Dec.13, bringing gifts, holiday cheer and plenty of Christmas spirit to over 100 children.
The party, sponsored by the Forsyth County Optimist Clubs, featured Christmas fun for the children and adult mentors, volunteers with the Forsyth County non-profit organization.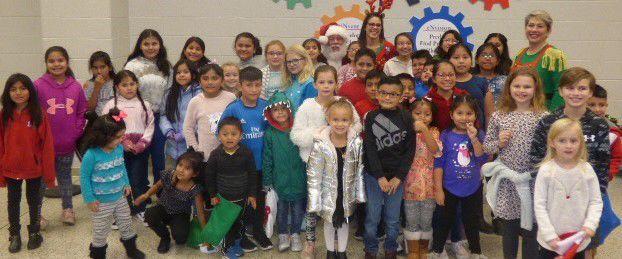 Santa handed out presents and took photos with each child during the event at Otwell Middle School.
"The holidays are a festive time for most of us, but it can be hard for some families," Sylvia Cardona, executive director of Mentor Me, said. "Our Optimist friends make sure every child in our program has a special evening of fun , games, a gift to take home, and of course, a visit from Santa. Seeing the smiles of children and watching them go home happy is a gift we cherish at Mentor Me."
Mentor Me North Georgia provides one-on-one mentoring relationships between volunteer adults and children, along with other mentoring programs. The nonprofit matches volunteer adults with children ages 6-17, who need and want a mentor. Men are matched with boys, and women are matched with girls. Most of the children in the mentoring program live in single-parent homes, or are living with grandparents or foster parents.   
"Children are our focus and priority," said Janna Schacklett, president of the Sawnee-Cumming Optimist Club. "As Optimist Club members in Forsyth County, we believe in constantly being part of the growth and positive development of children, pursuing the Optimist motto, 'Bringing Out the Best in Kids.'One person can make a difference. A group of Optimists can make a world of difference."
Mentor Me is a Forsyth County United Way agency. The organization depends on private donations for 50 percent of its funding. To volunteer or donate, contact Sylvia Cardona at 678-341-8028 or sylvia@mentormenorthga.org. Additional information can be found at www.mentormenorthga.org.