FORSYTH COUNTY, Ga. — Individuals will be asked about their memories of Lake Lanier's creation for an upcoming local history project, Paula Glover, promotions specialist for the Forsyth County Library said.
Specifically, people with memories of the construction of Buford Dam and how the community was affected by flooding the lake are asked to relive those moments to create an oral history of the body of water. Folklore, traditions and legends surrounding the lake are welcomed additions to the venture.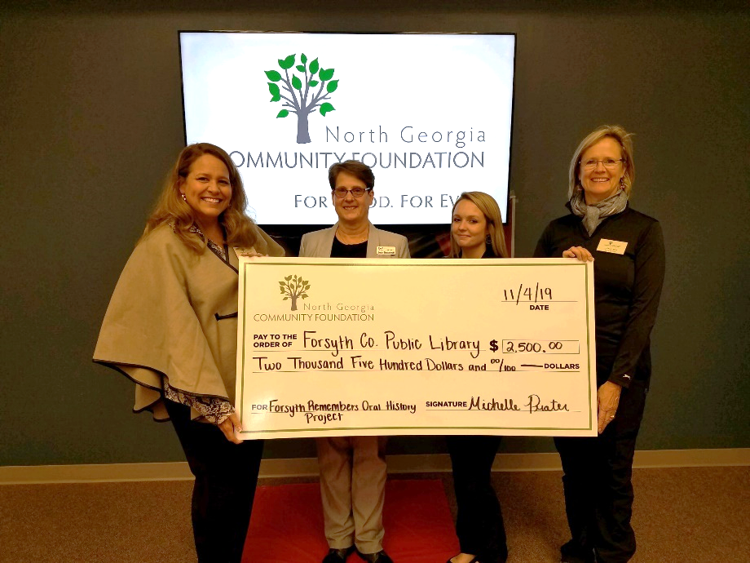 The lake's past is the next phase of the Forsyth Remembers project the library started over the summer with the 50th anniversary of the Apollo 11 lunar landing in 1969. At that time, staff collected audio recordings of interviews with area residents.
A community impact grant from the North Georgia Community Foundation funds the project and has enabled the library to purchase archival-quality recording equipment as the project continues, Glover said.
"We started small with the idea of a local oral history project," Joan Dudzinski, Forsyth County Library information services supervisor, said. "We used very basic equipment to capture the first interview recordings, but we realized that new skills and equipment would be necessary to create an archive that will stand the test of time."
Each of the four library branches are now equipped to conduct and record interviews for the Forsyth Remembers oral history project and will begin collecting stories on the 2020 theme, "Lake Lanier Memories," on Monday, Jan. 6. The collected interviews will be compiled into an oral history archive on the library's website later this year.
"We're grateful to the North Georgia Community Foundation for their support of Forsyth Remembers and our staff is already training and practicing with the new recording equipment this grant made possible," said Dudzinski.
The purpose of the Forsyth Remembers oral history project is to collect and archive moments of importance in history, with a special focus on recollections from residents, Glover said.
Those who want to share their memories should visit the Ask Us desk at any library location or call 770-781-9840 to schedule an interview.