FORSYTH COUNTY, Ga. — A local student has championed the cause of student creativity while schools have resorted to online learning the remainder of the 2020 school year. 
Shreya Kharidhi believes that "everything is art and everyone can art," so she's working to provide students with opportunities to be creative while at home.
"[Art] is a great way to express emotions and connect with others," the South Forsyth Middle School 7th grader said. "People who have trouble communicating verbally can always use art to share their thoughts. People who struggle with anxiety can release their emotions through art."
Kharidhi and her family were at Whitlow Elementary School recently distributing art supplies to more than 100 families who came for the school meal program.
NORTH METRO ATLANTA — All are dealing with some impacts to their lives as a result of COVID-…
"There are a lot of kids who can only create artwork at school because they don't have the supplies at home," she said. "These kids come from families that can't afford basic art supplies, like markers and crayons. That is why my family and I decided to distribute art supplies."
The art packages included a notebook, markers, pencils, crayons, glue sticks and hand sanitizer and were sorted by grade level.
The distribution was a success. The kids were happy to receive the supplies and left excited to go home and create their own masterpieces, Kharidhi said.
"Art has surrounded me my entire life and it has been helping me express myself for so long. I want others to have the same opportunity," the 13-year old said.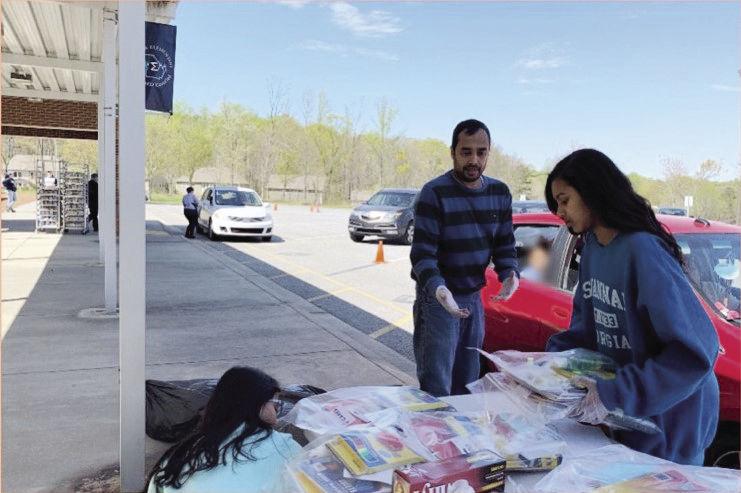 Kharidhi said she wants to keep giving art supplies to more students so she has created Art For Every1, a YouTube video explaining her mission and providing details for donations. Her plan is to distribute supplies at Sawnee Elementary once she has enough.
"When the kids are creating artwork, I hope they are able to feel free and show their inner creativity. I want them to release whatever is inside and forget, for a little bit, everything around them," she said.
Mindful that the coronavirus is contagious, Kharidhi and her family take precautions with donations and distributions.
"We are doing our best to keep everything safe and clean," she said. "All supplies delivered to our house are moved into the garage and we don't touch them for a couple days, to make sure any possible traces of the virus are eliminated. While handling the supplies, we are constantly washing our hands."
When they distribute the supplies, the family wears face masks and gloves and avoids touching their faces. They practice social distancing at all times, Kharidhi said.
She also started "Art for Autism," an art-based fundraiser to benefit The Autism Community in Action.
"I am excited to be doing something for our community during this difficult time," Kharidhi said.