FORSYTH COUNTY, Ga. — Authors are encouraged to write about things they know and that's exactly what Kristy Hamby did with her "Chicken Lips" books.
The series is a delightful tale of a cow with a peculiar name, and it even has its own hashtag, #beyourowncow. 
The second book, "Chicken Lips One Lucky Cow," shares the adventures of the bovine at the fair.
Hamby, a Forsyth County native, was eager to sprinkle touches of the area in her books.
"I love where I am from," she said. "Forsyth County shaped me, and I think it's a fun added bonus for readers to find these hidden pictures."
The hometown tidbits add more than a familiar touch. Some are deeply personal. Family members, landmarks and her own cow are instrumental in the charm of the story. So far, husband Toby hasn't made it into a book, though.
"I hid Poole's Mill bridge in both of my "Chicken Lips" books because I grew up down the street from it and have all these wonderful memories associated with being there," Hamby explained. "I hid 'KJ's in the clouds for my brother, Kaleb Joshua, who passed away."
Illustrations include her local church, the Cumming Fair and a band, all of which hold a special place in the writer's heart. 
The 34-year old Hamby wrote her first story as a first grader and knew it was her destiny.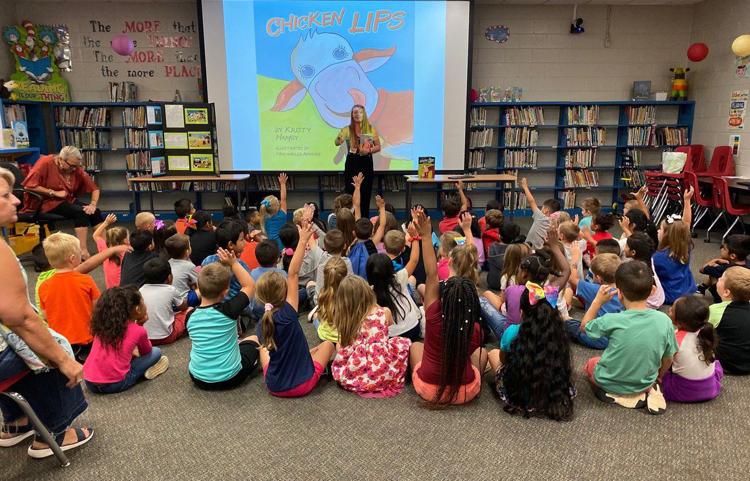 "I had an amazing first grade teacher, Mrs. Daigh, at Sawnee Elementary," she said. "I remember her having us make a little storybook in her class, and it was one of those little things that has just stuck with me and gave me a love of writing and building stories." 
Writing has been a steady companion for most of her life, so naturally she always daydreamed of being an author, the Forsyth Central High School graduate said. There are many stories to tell and so much to say, she added. 
In fact, Hamby says there are two more books in the works that are "completely different" and Hamby encourages her followers to "stay tuned." There will be a third "Chicken Lips" book, too.
The self-published author works diligently to promote her books and share their stories. She did 100 school appearances last year and has a target of 50 more this year — 49 have been scheduled so far. 
One of her favorite visits was returning to Sawnee Elementary.
"There were so many familiar teachers and friends there," she said. "It was like a welcome home party."
The local author has also visited Haw Creek Elementary School where the spine of her first "Chicken Lips" book is part of the décor.
"We're focusing on literacy and decorated the columns like books," June Tribble, Haw Creek Elementary School principal said.
Tribble was asked to select favorites and included "Chicken Lips" in addition to "Pinkalicious" and "Ferdinand the Bull," among others.
""Chicken Lips" speaks to children, they love farm animals, and Kristy is a local author," Tribble explained.
School visits entertain both the students and the author who fields questions like "can you get Chicken Lips out of your car and bring him in to meet us?" or "do your cows really eat popcorn?" and "does Chicken Lips give almond milk?" 
"I have so much fun with these kids keeping me laughing and young at heart," Hamby said. 
Despite so many appearances, promotions and writing, Hamby makes time for her priorities: family and church. In her spare time, she plays piano for her church choir and cheers on her son during baseball games. 
"I am so thankful that I finally found the courage to try this author journey," Hamby reflected. "It has most definitely been a learning curve and nerve-wracking at times, but I am so happy I pursued this path. I wholeheartedly thank everyone who has helped me along the way!"