Lanier Technical College has acknowledged two instructors for excellence in their fields.
Annette Baker, program director and instructor for Health Information Management Technology, was named the college's Rick Perkins Instructor of the Year Award Winner for 2020.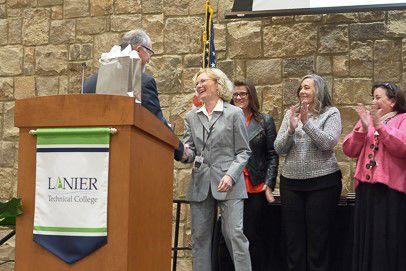 The announcement was made Dec.18 at the annual Lanier Technical College GOAL/Rick Perkins Award Luncheon at the Lanier Technical College Ramsey Conference Center.
"I am honored, truly honored," Baker said. "It's thrilling for me to come here every day. There's so much good that comes out of this college that I don't think that I can stand much more."
Baker gave a nod to her colleagues as she accepted the designation from Lanier Technical College President Ray Perrin.
"To all of the candidates, I am really truly honored to be mentioned alongside each of you because I see the perseverance and hard work that you bring every day to your programs," Baker said. "It's a privilege to work alongside of you."
Baker has been in the health information management technology industry for over 38 years and brings her experience and passion to help students excel in the classroom.
"One reason that Lanier Technical College is so successful is that we have our priorities straight," Baker said. "We put the students first, we put workforce and industry second, and we the staff, are third. The preservice and passion that everyone in this room puts into to their job each and every day, and that gives me inspiration and energy to keep going. When students come into the Health Information Management Technology program, I tell them that we are going to change the world. Thank you for changing my world."
The runner-up for the Rick Perkins Award was Joy Dyer, Hall campus cosmetology instructor.
The Rick Perkins Award is given annually by the Technical College System of Georgia to the Outstanding Instructor of the Year. In order to qualify at the state level, each of the system's 22 colleges select a winner at the local level who then goes on to compete in one of three regional competitions in March. From each region, three representatives are then sent on to the state competition which will be held in April at the Spring TCSG Leadership Conference.
Wendy Schuster, director of curriculum, instruction and professional development, was awarded the Blackboard Exemplary Program Course Award for her development of a course on Principles of Fraud Examination. 
After hundreds of hours of course development, Schuster's online course set a new standard for communication, online interaction and collaboration among online students at Lanier Technical College, according to the college. 
As the former chair of the Distance Education Committee at Lanier Tech, Schuster said she was aware of many of the strengths and weaknesses of online courses, which she used in creating her course. Schuster noted that the course created a strong sense of community among the online students.
"This award shows that this approach to online courses is what students' value and engage with, which improves the outcomes from online courses," Schuster said. 
Lanier Technical College is a unit of the Technical College System of Georgia. It has a 100 percent job placement rate in the past six out of seven years, plus a 100 percent in-field placement in 2018. The college offers over 50 programs of study in some of the nation's fastest-growing career fields including healthcare, energy, business and industry, and public or private service.