Proceeds from the two-month No Shave/Nail Cancer Fundraiser at the Sheriff's Office were distributed to The American Cancer Society, Supporting Adoption and Foster Families Together and the Benevolent Association Dedicated to Giving to Employees of Forsyth County Sheriff's Office. 
Male deputies and employees donated $50 per month and wore beards and facial hair for the months of November and December. For a donation of $35 a month, female deputies and employees wore any color nail polish they desired. 
Through the generosity of the deputies and employees, the Sheriff's Office raised nearly $15,000, the most ever raised during the annual campaign.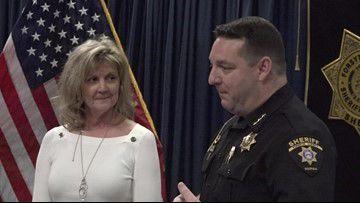 "Typically the monies raised had gone to the American Cancer Society," said Forsyth County Sheriff's spokeswoman Stacie Miller. "However, last year Sheriff Freeman decided that two additional local charities would also benefit from this fundraiser, and the Citizen Advisory Board members would choose the additional beneficiaries."
The American Cancer Society is committed to eliminating cancer. Efforts include fundraising, research, sharing expert information, support of patients and prevention awareness. The organization received a check in the amount of $7,235, the largest donation among the three. 
"We are beyond grateful to the men and women of Forsyth County Sherriff's Office for their generous donation to SAFFT," Natalie Milom, executive director said. "We thrive as a result of our community and are able to focus on the work of serving vulnerable children and families because of our community's generosity. These honorable men and women gave selflessly of their personal resources as a way to serve and protect families in Forsyth County and we couldn't be more thankful."  
SAFFT is a 501c (3) organization with a mission to protect children, rebuild families and empower caregivers. The Forsyth County charity received $3,617.
BADGE received a check in the amount of $3,618. The nonprofit's mission is to give back to employees of Forsyth County Service Organizations, through restoration of confidence, hope and peace of mind through financial and other support during unforeseen circumstances.
Anywhere from 100 to 150 employees participated in the two-month fundraiser, Freeman said.