FORSYTH COUNTY, Ga. — School district personnel and community members paid surprise visits to area classrooms Feb. 3 to honor educators named finalists for this year's Forsyth County Schools Teacher of the Year.
The educators received balloons and flowers as they heard the news from Forsyth County School Superintendent Jeff Bearden. 
In total, three elementary schools, two middle schools and two high school were represented. 
This year's finalists include Jenelle Crocker, media specialist at Johns Creek Elementary School. Crocker received her bachelor's degree from Liberty University and master's from Walden University. Her teaching career began in North Carolina in 2005. Crocker has been with Johns Creek since 2013. 
Katie Harwood is a science teacher at Piney Grove Middle School. She began teaching in 2004 and joined Forsyth County Schools in 2008. She earned both her bachelor's degree and master's degree from the State University of New York at Buffalo. Harwood earned her specialist's degree from Valdosta State University.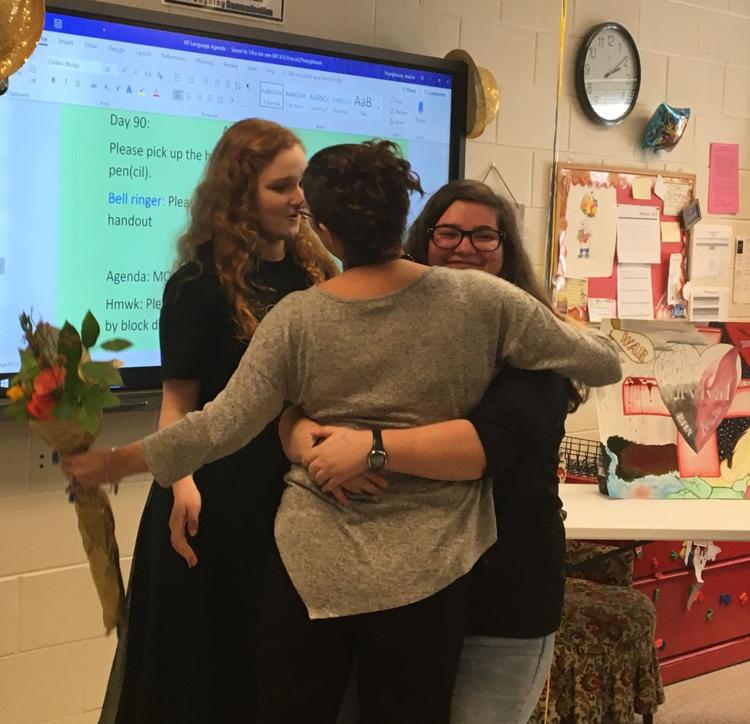 Alex Marbut teaches special education at Shiloh Point Elementary School. She is a University of Georgia alumna and has a master's degree from Georgia Southern University. Marbut's teaching career began in 2015 and she has been at Shiloh Point since 2017. 
Bill Robertson began teaching in 1995 after earning his bachelor's degree at Towson State University in Maryland. He earned a master's degree from Walden University and a doctorate at Walden University. Robertson starting in Forsyth County schools in 2007 and was one of the inaugural staff members at West Forsyth High School where he continues to teach social studies.
Megan Street is a fourth-grade teacher at Big Creek Elementary. Street holds a bachelor's degree from Georgia State University. She began teaching in 2011 and has been with Forsyth County Schools since 2016.
Otwell Middle School's reading teacher Lindsey Tumaliuan is the sixth finalist. After earning a bachelor's degree from the University of Georgia, Tumaliuan began teaching at Otwell in 2012.
Jessica Younghouse has been an English teacher at North Forsyth High School since 2006. She earned a bachelor's from Keene State College and her master's from Piedmont College. Her teaching career began in 2001. 
"Mrs. Younghouse goes out of her way to make learning fun, just look at her classroom," North Forsyth Principal Jeff Chaney told students in Younghouse's AP Literature class. "She's passionate about the curriculum and what you're talking about in class and what you're reading." 
Students were also full of praise.
"The best thing about Mrs. Younghouse is that she put everything in perspective," student Michael Stamey said. "That's a little different from other teachers, and it kind of helps all the students understand what's going on in the class. Even though this is an AP class, I feel like it's one of my easier courses because she puts everything in a way that makes sense and puts it into a perspective where I understand what's going on. That's what makes her a great teacher." 
Student Madison Unger agreed.
"One of the little things that I love about Mrs. Younghouse, not only is she a great teacher, she's also one of those teachers that you can really connect with," she said. "If something's going on with you, she's checks on you and says 'are you doing OK today?' It brightens my day."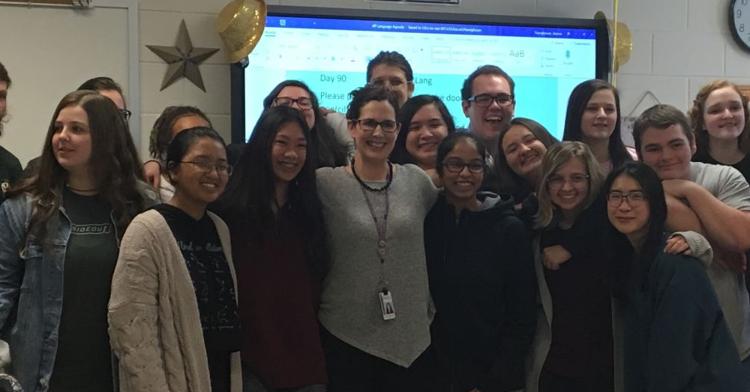 Younghouse reflected on the recognition. 
"I was pleasantly surprised and humbled to learn I was one of the Teacher of the Year finalists from Dr. Bearden's visit," Younghouse said. "Forsyth County is such a highly-regarded school system, and I feel blessed to be recognized for my work and grateful to work alongside such esteemed and supportive colleagues. I love my job; I enjoy teaching my students and helping them develop skills to secure their future dreams."
Forsyth County Chamber of Commerce CEO James McCoy presented flowers and balloons to each finalist. The organization is a partner in education for the school district. 
There is a three-tiered process to become Teacher of the Year, including applications, classroom videos, a five-minute speech and a 45-minute interview. The candidate with the highest combined score is named Forsyth County Schools Teacher of the Year for 2020, Samples said.  
The winner will be announced at the Celebration of Excellence luncheon in March at Lanier Conference Center and will receive a number of gifts, including a car courtesy of Andean Chevrolet.