FORSYTH COUNTY, Ga. — What has been a male-dominated sport for centuries is gaining popularity among females in Forsyth County and across the state. 
Wrestling is working its way to the girls' ranks locally with eight females from four different Forsyth County high schools participating during the 2018-2019 school year. North Forsyth had five. Forsyth Central, West Forsyth and Lambert each had one.
"That doesn't seem like a lot, but it is, it's eight girls from four schools," Forsyth County Athletic Director Nathan Turner said. "It's a new sport and the number of juniors is growing."
Turner was part of a coalition to promote girls' wrestling and get it sanctioned by the Georgia High School Association (GHSA). 
The first girls-only tournament was held last year, and the second will be Feb. 13-15.
"Girls have always been able to wrestle in the boys' tournament, but we started the girls-only event last year and expect it to grow significantly this year," Steve Figueroa, director of media relations for GHSA said.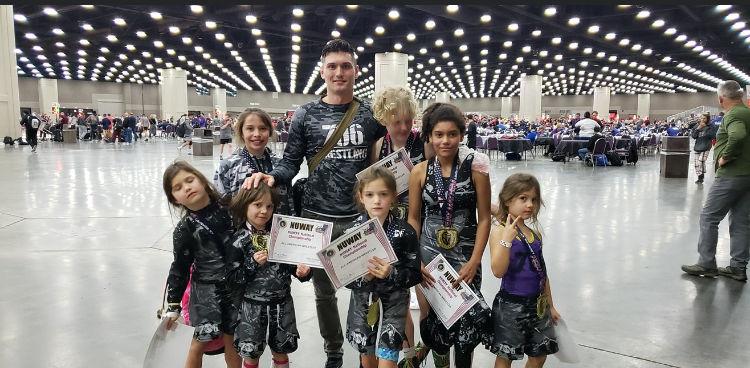 History was made in February 2019 when North Forsyth junior Sophia Eglian defeated Kiomy Morris in the 146-pound class, becoming the first girls' wrestling state champ and the first to hail from Forsyth County. Eglian, who won with a pin, had spent the previous two seasons wrestling for the North Forsyth boys team.  
Girls have the same chance as guys, and if they work as hard as they can, then they'll make a whole lot of difference in the world, Eglian said.
The sport is popular in lower grades, too. 
North Forsyth Junior Raiders allows middle school girls like Greta Garbuzovas and Artemis Eaton to only practice with them; there is no middle school team, so the girls cannot compete through the school system. They do, however, compete out of 706Wrestling under coach Chris Doerrer, and last year won state in the Team Georgia USA Wrestling Girls State tournament. 
Garbuzovas, 11, started wrestling through the Dawson County Park and Recreation program four years ago where she was the only girl. 
"You get to be rough," the sixth grader said. 
She was inspired after viewing a wrestling video online which seemed entertaining because there were throws, you wore headgear and it looked fun, she explained.
Doerrer has his daughters wrestling, too.
Priscilla, 5, wrestled in her first tournament Jan. 10 in Kentucky where competitors wrestled in all-girl brackets. She finished third.
Meanwhile, older sister Charlotte, 8, finished first in both age and weight in the same tournament. She also got her first bloody nose. Wrestling is "fun" and the bloody nose?  "It makes you tough," the Silver City student said.
Charlotte was also philosophical about competing.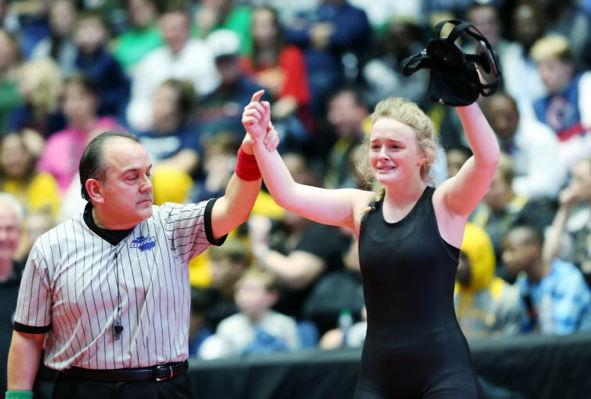 "It's not the winning, the medals or the certificates," she said. "It matters that you have fun."
Wrestling can be fun and it can also help pay for college. 
Kaylee Seabolt, attends Emmanuel College in Franklin Springs, Ga., thanks to her high school wrestling career in Lumpkin County. 
Seabolt, 19, began wrestling in 6th grade and continued the sport through high school where she was the sole female on the team. During her time as a LCHS Indian wrestler, she was a seven-time All-American, a six-time girls state champ, three-time SER Champion, one-time Georgia girls freestyle champion and a national folkstyle champion. She was team captain and a three-time varsity letter winner for cross country, track and wrestling. 
The pioneer of sorts for female wrestlers in metro Atlanta, Seabolt had words of encouragement.
"You're going to have to work twice as hard being a female in this sport, so walk out on the mat with confidence," the Kinesiology major said. "When you're at practice or competing, give it everything you've got. Never show weakness because it will give the boys an excuse to say you don't belong on the mat. Lastly, wrestle hard and show them what you got!" 
Georgia became the seventh state to reach official status with its Girls State Wrestling Championships, joining Hawaii, Texas, California, Washington, Tennessee and Alaska with state-sanctioned girls wrestling championships.