FORSYTH COUNTY, Ga. — Forsyth County Commission Chairwoman Laura Semanson presented the annual State of the County address Feb. 19, telling a crowd of more than 200 that the county continues to accommodate growth.
The event, sponsored by the Forsyth County Chamber of Commerce and South Forsyth Rotary, provided local business and community leaders with an account of how the county has performed over the past year and how it will address challenges ahead.
The state of the county is "one of growth, of change and of maturing as a home of over 236,000 people and 7,600 businesses, large, small and everything in between," Semanson said.
Once a sleepy little community on the outskirts of the outskirts of Atlanta, Forsyth County is now a dynamic community. People moved to Forsyth for the quality of life and the county has become the most desirable bedroom community in the metropolitan area, Semanson said. 
Reflecting over the past year, the District 5 commissioner shared that the county received the highest bond ratings possible from all three major bond rating agencies, Moody's, Standard & Poor's and Fitch, joining a select group of state and local governments across the country. 
Having a top rating from all three rating agencies is a pretty prestigious honor, Semanson said.
High bond ratings qualify governments for the lowest cost of borrowing. A subsequent six-year bond issue of nearly $100 million for SPLOST projects was sold with a "true interest cost" of 0.95 percent, or less than 1 percent annual interest.
County sets standards for growth
The county also made significant strides in building and design standards, and ordinances that protect the character and environmental quality of the area, and Semanson said those efforts will continue.
Economic growth continued in line with the 5-year strategic development plan, including $115 million in capital investments for the community and over 1,100 jobs countywide, Semanson said. 
"For 2020, we are on track for an even stronger year," Semanson said.
In an effort to keep tabs on that growth, Semanson said the county was instrumental in the creation of Forward Forsyth, a partnership between county government, Forsyth County Schools, Forsyth County Chamber of Commerce and the Forsyth County Development Authority. 
Going forward, Semanson said the county will continue to enhance services citizens are asking for. It will continue to engage citizens in charting the county's future and communicating through platforms like estatus, which provides access to documents within the county's Planning and Development Department. 
"2020 will also bring more transparency with access to electronic meeting agendas," Semanson said. "You'll see what we see."
Customer service within the county's various departments will be enhanced with a new 3-11 system for routing, recording and tracking resident inquiries so calls don't "go into a black hole," she said.
Passage of SPLOST VIII, she said, will provide improvements to community assets. The Big Creek Greenway will undergo improvement and construction. Lanierland Park will undergo expansion and will include a new Miracle League Park, she said. 
Looking back, the completion and widening projects of Sharon, Union Hill and Brookwood roadways were key, bringing much-needed mobility for citizens, she said. 
"There's more on the way for 2020, so break out the cones," Semanson said. 
District commissioners weigh in
The event also provided other commissioners a chance to highlight improvements in their districts.
District 1 Commissioner Molly Cooper said the widening of Ga. 20 will provide six lanes of travel, increasing opportunity for commercial businesses. More business, she said, will help add to the tax base and relieve homeowners of their property tax burden.
"We're going to continue with positive controlled growth," Cooper said. 
The new year will bring improvements to Sawnee Park including a new community center.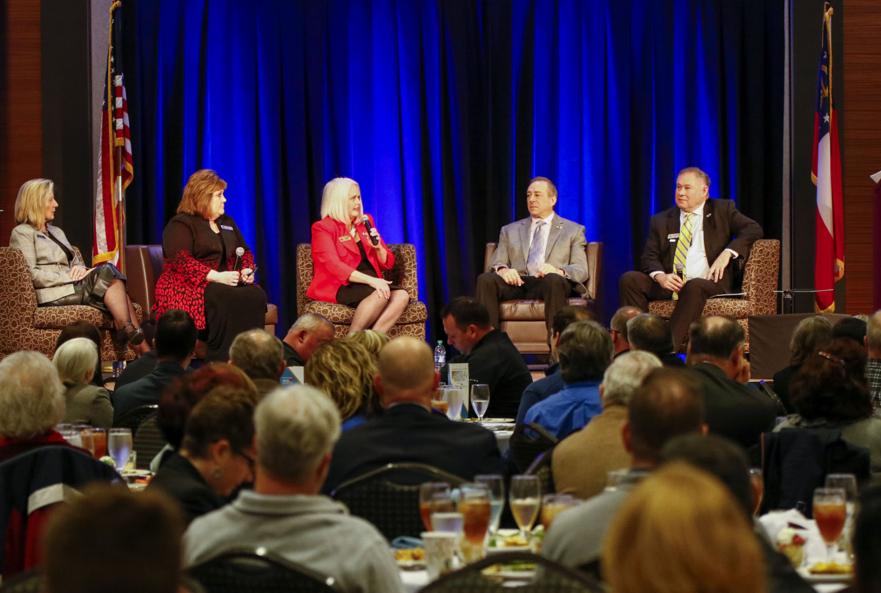 Dennis Brown, District 2 commissioner, spoke about the transportation changes that occurred in his district, including the work being done to create an intergovernmental agreement with Johns Creek and Alpharetta for McGinnis Ferry Road. Future roadway projects include the extension of Ronald Regan Parkway and phases 4 and 5 of Old Atlanta Road. Brown added that Halcyon, a multiuse development was completed in 2019. 
District 3 Commissioner Todd Levent said that Fire Station 11 will be built on Pittman Road and is expected to be completed this year. It will be manned by four firefighters instead of the usual three. Levent said he was also excited to share the start of Denmark Park within his district and the future of McGinnis Ferry Road.
District 4 Commissioner Cindy Jones Mills said the county was awarded a U.S. Department of Justice grant that focuses on mental illness and jails. 
"We're very, very fortunate that we now have the opportunity to start looking at recidivism and how we treat mental health in our jails," Mills said. 
She also said roadways are important for District 4 in 2020.
"The widening of Hwy. 369 is vital for transportation in the area and other projects," Mills said. "It's critical for the east-west trail system and it's critical for the Coal Mountain Town Center that I've been working on for a few years as well."
Semanson concluded that the county is ever-changing, but she believes it's positive change.
"We have our sights set on 2020 and our vision is clear. Our future looks bright," she said.