FORSYTH COUNTY, Ga. — A Forsyth County church offered Christian followers a creative option as they assembled for the ritual of receiving ashes on Ash Wednesday. 
Midway United Methodist Church in south Forsyth County literally took church outside the walls, said Julia Murray, communication and connections coordinator.
The church introduced "Ashes To Go" from 6:30 a.m. to 7:30 a.m. Ash Wednesday, Feb. 26. Church clergy stood outside the main building, distributing ashes to those who showed up. 
"We know that people are busy, so we want to make it easy for them to stay connected and grounded in their faith," Midway UMC's Senior Pastor Jennie Andone said. "It's important to take things that traditionally happen inside the church sanctuary out into the community."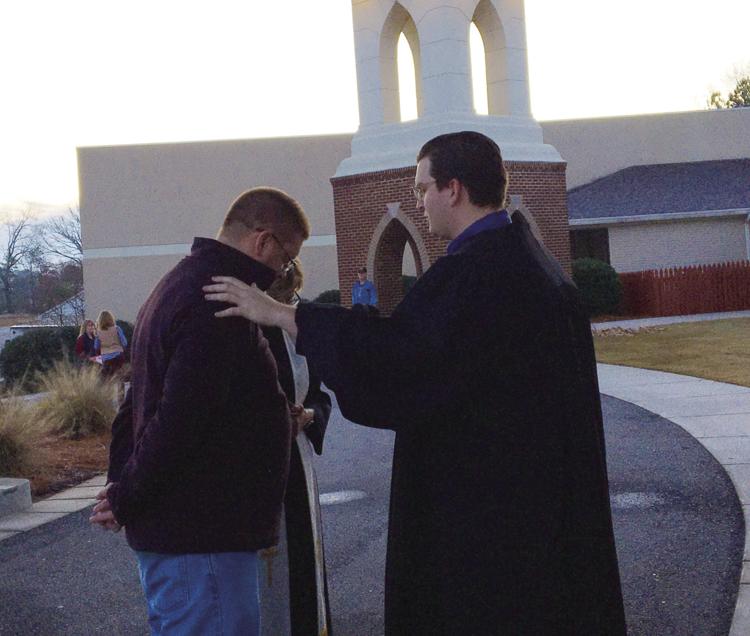 Andone and Assistant Pastor Brad Biggerstaff administered ashes to 32 people, including commuters, students and those whose professions offered little flexibility in work hours. By not having to leave their cars, those with compromised immune systems, mobility issues and little ones in car seats discovered a way to honor the day with some ease. 
The option was well-received.
David Dilworth was the first to receive ashes under the covered entrance.
"I loved the opportunity. It was a great way for me and other commuters to participate," Dilworth said on his way to work in Midtown Atlanta.
Anesthesiologist Pat Puma had work commitments all day that would have prevented her from attending a more formal service. 
Rick Craft walked up to the ministers to receive ashes.
"I didn't know if it was on foot or by car," the Alpharetta insurance representative said. "It's a fantastic idea. Ashes are ashes, and I'm Christian. This is a great way to fulfill an obligation as a Christian."
Several teachers said they were thrilled to be able to receive ashes to go. Early arrivals at school and no breaks during the day prohibited them from participating in the formal ceremony, they said.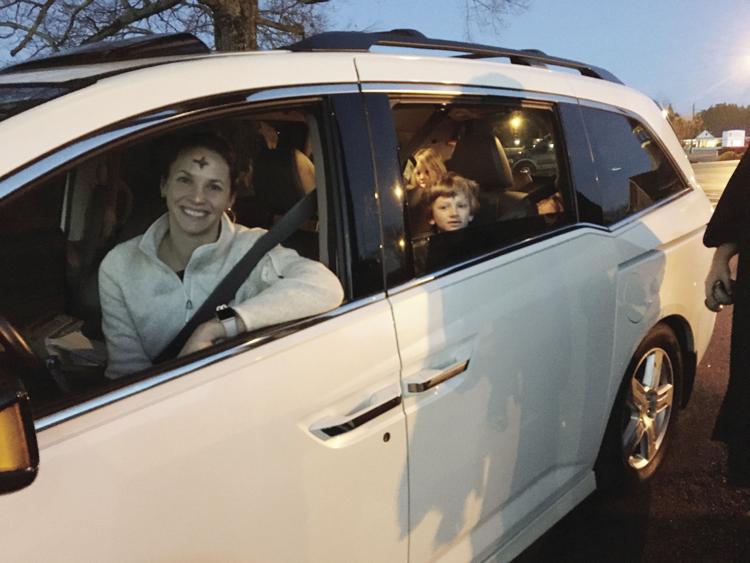 There was free coffee and donuts to fuel bodies as they went about the remainder of their day. 
"Ashes To Go" is also ideal for those who are, for whatever reason, distanced from God and don't feel comfortable going into a church — which can be intimidating — but want to observe the day's significance, Murray said.
The church recognized that life these days can seem impossible to carve out time to get to church, especially in the middle of the week, so they implemented the idea of "Ashes To Go," Murray added. 
"It's not a novel idea," Murray said. "It's been around for about a decade or so up North. We're excited to have the chance to have it here." 
Ash Wednesday is the traditional start of the season of Lent, the six weeks before Easter spent reflecting and spiritually preparing for Christ's resurrection on Easter.
"Ash Wednesday is an important day where we remember how loved we are by God," Andone said. "It sets the tone for the entire Lenten season. Easter Sunday doesn't stand alone – it has no meaning if you don't consider the events that lead up to it: Palm Sunday, the Last Supper, Good Friday." 
The event had a profound impact on church staff, too.
"This was literally meeting people where they are," Murray said. "The staff was so moved by the stories they heard about how touched people were to have this opportunity, prayer requests people made and fact that this was a huge need for folks who ordinarily couldn't have attended worship today, for countless reasons," Murray said.
Midway UMC also offered two worship services Ash Wednesday in its historic chapel, located behind the main building at 5025 Atlanta Highway, at the corner of Ga. 9 and Campground Road.