CUMMING, Ga. — The Cumming City Council unanimously voted at a Dec. 3 work session to adopt the Fiscal Year 2020 budget. 
The budget calls for spending of about $37.8 million, the bulk of it — $24 million — within the city's water and sewer fund which is paid for through customer fees for service.
The cost of running the city, listed under general fund spending, will dip in the coming year from $14.3 million in 2019 to $14.2 million in 2020.
Capital spending for one-time expenses, like vehicles and new roofs, will also dip slightly from 2019 at $545,000. The capital budget is funded through transfers from surplus revenues in the operating budget for the prior year.
Also at the Dec. 3 meeting, Mayor Troy Brumbalow proclaimed Dec. 2-6 "Greatest Gift Week." The proclamation was made in conjunction with efforts by the Forsyth Central High School DECA chapter to recognize and advocate for those with learning disabilities.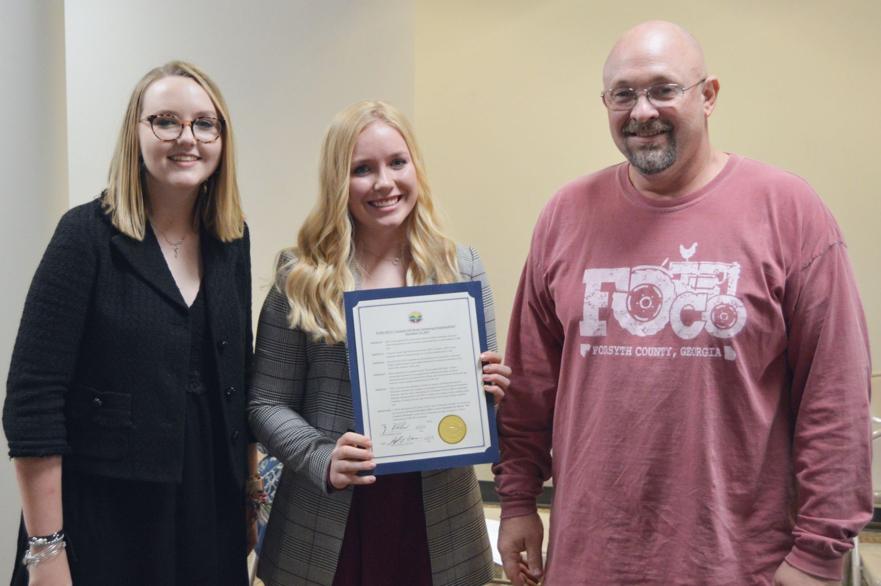 The student organization, which focuses on careers in business, promoted awareness of a different exceptionality each day, including Autism Spectrum Disorder, specific learning disabilities, orthopedic impairments, and severe and profound intellectual disabilities. The week culminated with a Christmas and holiday social, bringing exceptional students and general education students together to build relationships and celebrate the holidays. 
The Cumming Arts & Crafts Show will be Dec. 13 from 4 p.m. to 10 p.m. and Dec. 14 from 10 a.m. to 5 p.m. Brumbalow said.
City homeowners are asked to participate in an EPD lead and copper pipe study. Individuals whose houses were built in 1983 to 1988 are needed. Officials voted to offer a small financial compensation for the first 75 homeowners that sign up. Interested homeowners should call the Water Department at Cumming City Hall, 770-781-2020.