CUMMING, Ga. — Forsyth County and the City of Cumming will be the site of their first-ever marathon this fall.
Alex Rodriguez, owner of North GA Running Company and race coordinator, has been working for over a year to finalize details for the Nov. 8 event. 
Consisting of 26.1 miles, the marathon will take runners through the city and parts of Forsyth County in what Rodriguez calls "attractive and scenic parts of our city." There will be several water, medical and nutrition stations along with relay transition stations for participants of the four-person relay.
The day will also include a half-marathon (13.1 miles) and a 5K (3.1 miles).  
"I want to deliver a good event for outsiders, one that our hometown is proud to host," he said. 
The idea began about a year ago when Rodriguez was sharing his vision with a group of "crazy" friends. He chatted with Cumming Mayor Troy Brumbalow, who was in favor of the event. 
"It's great that we're able to do something like this, offer people a good time and a little bit of exercise," Brumbalow said. 
Rodriguez also worked with the Forsyth County Sheriff's Office, Cumming Police Department, Forsyth County Parks and Recreation, the Cumming Fairgrounds and Georgia Department of Transportation (GDOT) to ensure a safe and quality event. 
"Everyone's on board," he said. 
The collaboration is good for our city, Rodriguez said.
"It might be a slight inconvenience for a little while, but it will be great to have everyone see our town," he said.
It will also give the area a chance to show off the city.
"I'm proud for everyone to see it," Brumbalow added.
Rodriguez was the first to hold a half-marathon (13.1 miles) in Forsyth County. 
"Everyone thought we were crazy," he said. "We are crazy. Call me crazy, I don't mind. We're going to do this event and we're going to do it with pride. We're going to have a great product."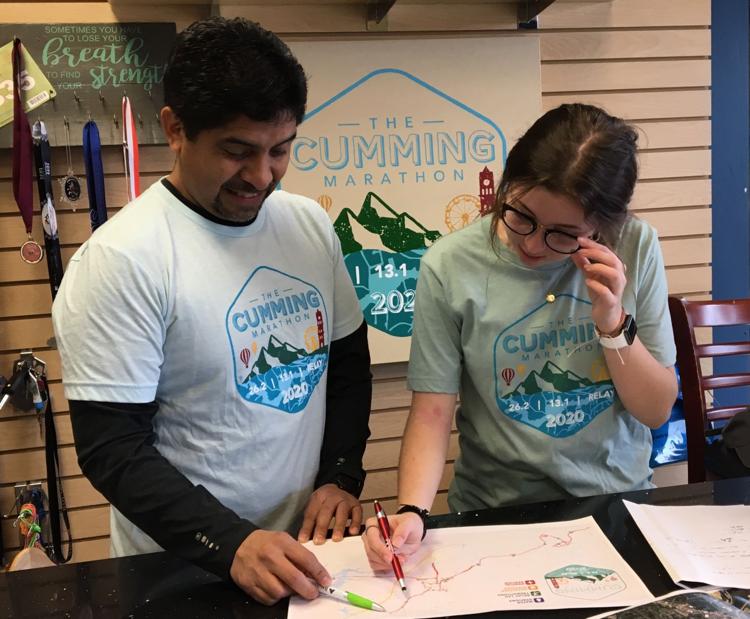 The race has its own website, thecummingmarathon.com, which went live Jan. 27. Medals and race T-shirts are being designed, but the logo is all set and highlights city landmarks. The Cumming Fair is represented, along with the city's clock tower, Sawnee Mountain and hot air balloons "because there's always hot air balloons here," Rodriguz said.
University of North Georgia graphic design major Tayler Harbin, designed the logo. Harbin has been instrumental in organizing the event and helps Rodriguez at his store.
The race will benefit the United Way of Forsyth County. 
Enthusiasm is building, even this early. More than 600 people have "liked" the event on Facebook.  
"I'm running the Cumming half because we finally have a half marathon right here in Cumming," local educator Kelly Fields said. "I'm so excited and I can't wait to run in my hometown and support a worthwhile cause in United Way." 
Fields ran her first half marathon in 2008. 
Runners will start the historic event — and finish it — at the Cumming Fairgrounds, running through the city, parts of the county and the greenway. 
There are opportunities for sponsoring the event, Rodriguez said, and he encourages potential sponsors to contact him via info@thecummingmarathon.com. Potential volunteers are encouraged to use the same email to sign up.
Michelle Daniel, director of tourism for the Forsyth County Chamber of Commerce, said the marathon is an ideal way to promote the area.
"The Cumming Marathon is an amazing way for running enthusiasts and their families to explore Cumming and Forsyth County," she said. "The event itself will be allow participants to get a taste of the local flavor with many incredible restaurants and breweries available to enjoy and the chance to run through historic landmarks and the city landscape featuring the charm of the City of Cumming."