FORSYTH COUNTY, Ga. — Close to 40 women from all walks of life came together on the blustery morning of Feb. 22 to begin construction of a home for one of their own. And they made history doing it.
The Women Build 2020 for Habitat for Humanity was the first of its kind for Habitat for Humanity-North Central Georgia. 
"We've done 'women build' days in the past, there hasn't been a women-dominated build," Habitat-NCG CEO Russ Hayes, said. "Sabrina [Kirkland] was talking to some female board members, and they took the idea and ran with it."
Kirkland is the director of community affairs for Habitat-NCG.
The women challenged themselves to build a house and raise the required $90,000 funding, Hayes said.
Financial support was provided by individual and corporate donations including Amazon, Sales Force and Travelers.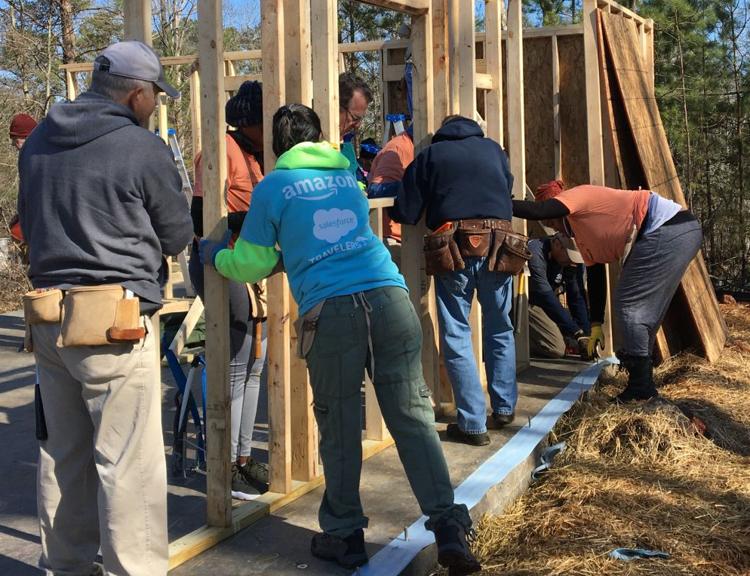 As the sun crept over the horizon that Saturday morning, the 38 women gathered for prayer, introductions, safety speeches and sponsor recognition. Among the additional sponsors were Taylor Commercial, Thompson Construction Group and Totally Running and Walking.
Homeowner Tishawna Loving and her family, son, Kylil, 18, and daughter, Kyla, 15, were introduced to the crowd of bundled volunteers and construction teams.
"Things were really tough for them in New York, and there was a lot of moving," Mary Lamond, director of family services for Habitat said introducing the family. 
"This — becoming a homeowner — was one of the biggest prayers for my children and myself," Loving said. "I did not see that in New York City."
Laura Lilly, co-chair of the Women Build, shared remarks about the process of the build, including a conversation she'd had with Sandra Woods, her co-chair for the project. 
"Last fall, Sandra and I were having a conversation about how there have been many new experiences along the way for so many of us," Lilly said. "I remember she commented something like, 'when God gives you a new experience that stretches you and challenges you, it means He has something big in store.' And then she added, 'so watch out!'"
Lilly said this is the beginning of a new journey for Tishawna, Kalil and Kyla and for the all-woman team.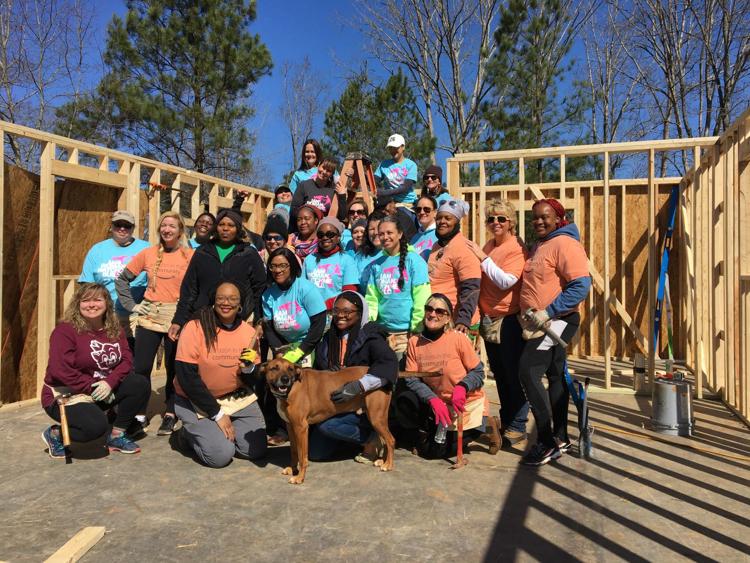 "So while this feels big — and it is big — it's really just the beginning of something really beautiful," Lilly said, pausing to control tears.
A humble Loving told the crowd that she appreciated each of them coming out to help build her three-bedroom, two-story home.
"God has blessed us in such a huge way because not only are we getting a house, we are getting to help build it and meeting some amazing women who are helping us build it as well," Loving said. "It doesn't get much better than that."
Looking at the crowd before her, Loving said, "this is amazing."
Lilly predicted the strength, the kindness and the friendship that has formed within this group of women will only continue to grow.
"Thank you to our hugely generous corporate sponsors, to our families and friends who supported us and made accommodations to that we can spend time working on this project and to the women who have given their time, their money — and most importantly — their love and their friendship as we stand together to make life a little easier for one of our own," Lilly said.
The Loving home and the home next door are being built simultaneously and together are known as "Jerry's Build" after Jerry Van Gundy, a long-time volunteer with Habitat who passed away last year.