FORSYTH COUNTY, Ga. — Forsyth County is set to begin mass vaccination events for certain residents beginning the week of Jan. 18.
Emergency Management Director Chris Grimes is urging patience as the county and its public health district attempts to accommodate thousands of vaccine requests.
"Please be patient," Grimes said at the Board of Commissioner's Jan. 12 work session. "We are going to work our best, the county is going to get behind this. But the best thing we can do is tell people to continue to be patient. We know a lot of people want the vaccine, and we want to get it out there, but patience is key."
More residents became eligible to receive the first dose of vaccinations on Jan. 11, including seniors, additional healthcare workers, long-term care facility staff and residents and law enforcement personnel.
Almost immediately, however, District 2 of the state Health Department, which includes Forsyth County, was inundated and overwhelmed with vaccine requests. The state is coordinating the vaccine rollout, with Forsyth's efforts "intended to supplement that of Public Health."
"We know (District 2) is struggling, we know they have a lot of challenges to try and get this vaccine out as quick as possible," Grimes said.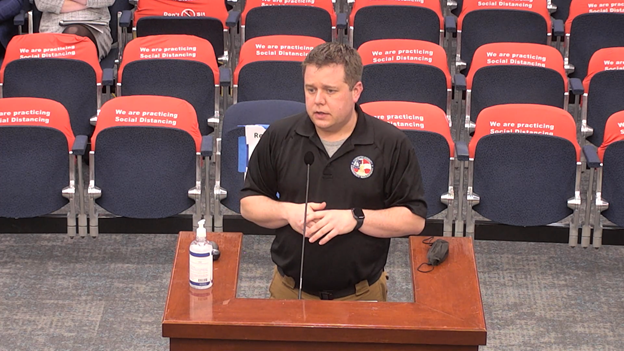 For its part, the county will begin mass vaccination events at two locations in Forsyth the week of Jan. 18, but those not already registered will have to continue to wait. Soon after a sign-up link was put online, the first two weeks of appointment were filled.
More appointments will be made available, but Grimes said the county will not move forward with scheduling more events until the vaccines have been secured. Grimes said he expects the county to administer the Moderna vaccine, but that is subject to change depending on availability.
Doses will be distributed to those eligible at two locations. On Tuesday, Jan. 19 and 26, vaccinations will be administered at First Redeemer Church at 2100 Peachtree Parkway. On Wednesday, Jan. 20 and 27, Browns Bridge Church at 3860 Browns Bridge Road will host a vaccination event. Doses will be administered from 9 a.m. to 5 p.m. each day at both locations. Each location is expected to distribute 600 vaccines per day available by appointment only.
The county expects to hold additional events at the two locations. Those who received their first dose on Jan. 19 will return after four weeks for their second dose, Grimes said. 
When more appointments are available, residents can register on the county's website, forsythco.com, or through District 2 Public Health call center. Grimes said more appointments will only be available when the county has secured additional vaccines. If the county's allocation of doses increases, Grimes said the dates and/or locations for mass vaccination events may expand.
Those receiving vaccinations will need to bring a photo ID, a copy of their health insurance form (though one is not required to receive the vaccine) and complete a Department of Public Health form.
To distribute doses, the county will employ members of Forsyth County Fire, nurses and a pharmacist from Northside Forsyth, and members of Public Health. Sheriff's Office volunteers will also be present for security and to direct traffic, enter data and assist with other tasks.
Nurses and licensed practical nurses can volunteer for the events by searching "Forsyth County responders" at servga.gov.
Those unable to register for the county's distribution dates can still secure a vaccine through an appointment with Public Health, through a doctor's office or at pharmacies if doses are available, Grimes said. The county is also in talks with the Chamber of Commerce, and Grimes said businesses in the county with private health clinics will be able to sign up to dispense vaccines to their employees.